Jeremy Hunt set to earn nearly £17m for the sale of education website business amid NHS crisis
The sale will make Mr Hunt the richest person in the Cabinet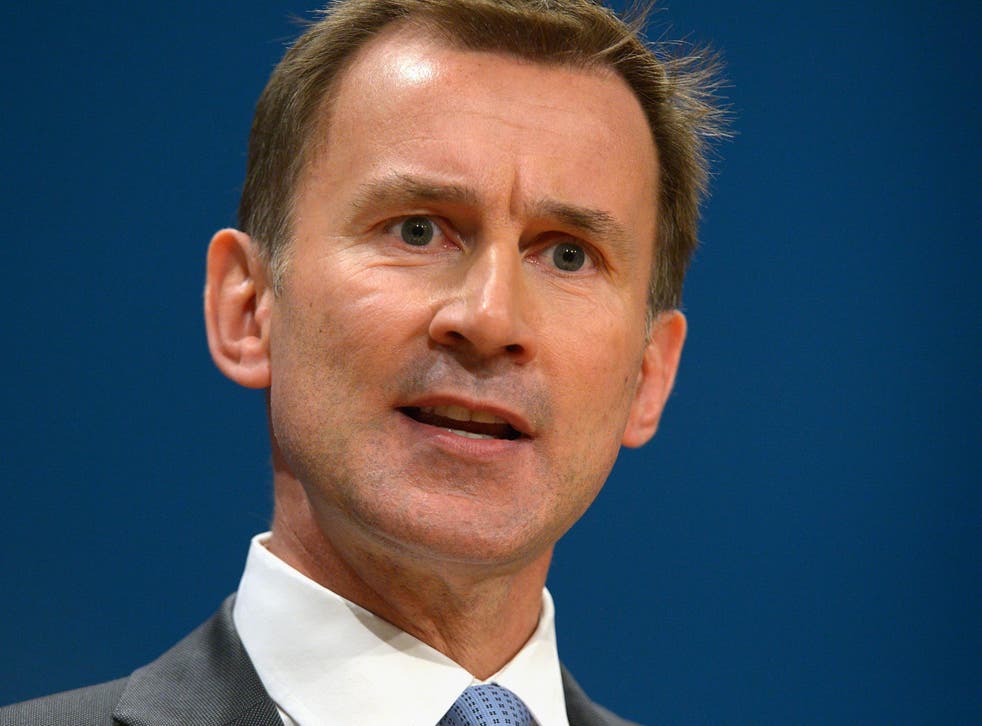 Jeremy Hunt is to land a £15 million windfall from an education company he helped to set up as he faces mounting pressure over the latest crisis in the NHS.
Hotcourses – the company Mr Hunt established with business partner Mike Elms in 1996 – is on the verge of being sold for between £30 and £35 million.
Papers filed at Companies House show that Mr Hunt owns approximately 48 per cent of the business, meaning he stands to make up to £16.8 million if the company sells for £35 million.
Jeremy Hunt says only 'one or two hospitals' are in trouble despite claims of a humanitarian crisis
Mr Hunt's own claim in the registry of members' interests states that he owns just 15 per cent of the business, which employs around 200 people.
It is thought the sale would make Mr Hunt the wealthiest MP in the Cabinet.
It is understood Mr Hunt stood down as a director in 2009 and has played no active role in the business since becoming an MP in 2005, but his share of the company has continued to net him substantial sums of money.
The timing of this reported deal could prove awkward for Mr Hunt, with the government facing the wrath of many GPs who say they feel "scapegoated" by plans to make surgeries open seven days a week.
The Health Secretary has already made a fortune from Hotcourses, which claims to be the world's largest education course database, making profits of more than £2 million in the year to July 2015.
Hotcourses, which has offices in London, Sydney, Boston and India, acquired the UK's leading university ranking website, The Complete University Guide, in October 2015.
Mr Hunt, a former Culture Secretary, has already received millions in dividends, including almost £1 million last year.
The Oxford graduate set up Hotcourses after returning from two years in Japan, where he taught English and learned Japanese.
The company's website is used by universities to market their own courses, and one of its major clients is the British Council, a charity and public body.
The prospective buyer of Hotcourses is understood to be an Australasian company who operate in the education sector.
Mr Hunt was criticised for keeping a low profile last week after the Red Cross described the current situation in the NHS as "a humanitarian crisis", fuelling a furious political row and denials from government ministers.
The Independent has approached Mr Hunt's office for a comment.
Jeremy Hunt says only 'one or two hospitals' are in trouble despite claims of a humanitarian crisis
Doctors issued warnings that patient safety is being compromised after Mr Hunt ditched the four hour target for patients waiting to be seen in Accident and Emergency departments.
Mr Hunt said "only one or two" hospitals were in trouble, and claimed a significant number of those turning up at A&E were not genuine emergency cases – but came under fire after recent cases of people dying on trolleys as they waited to be seen.
Join our new commenting forum
Join thought-provoking conversations, follow other Independent readers and see their replies