'Jihadi John': Cage representative storms off Sky News accusing Kay Burley of Islamophobia
The presenter asked how he felt about Isis beheadings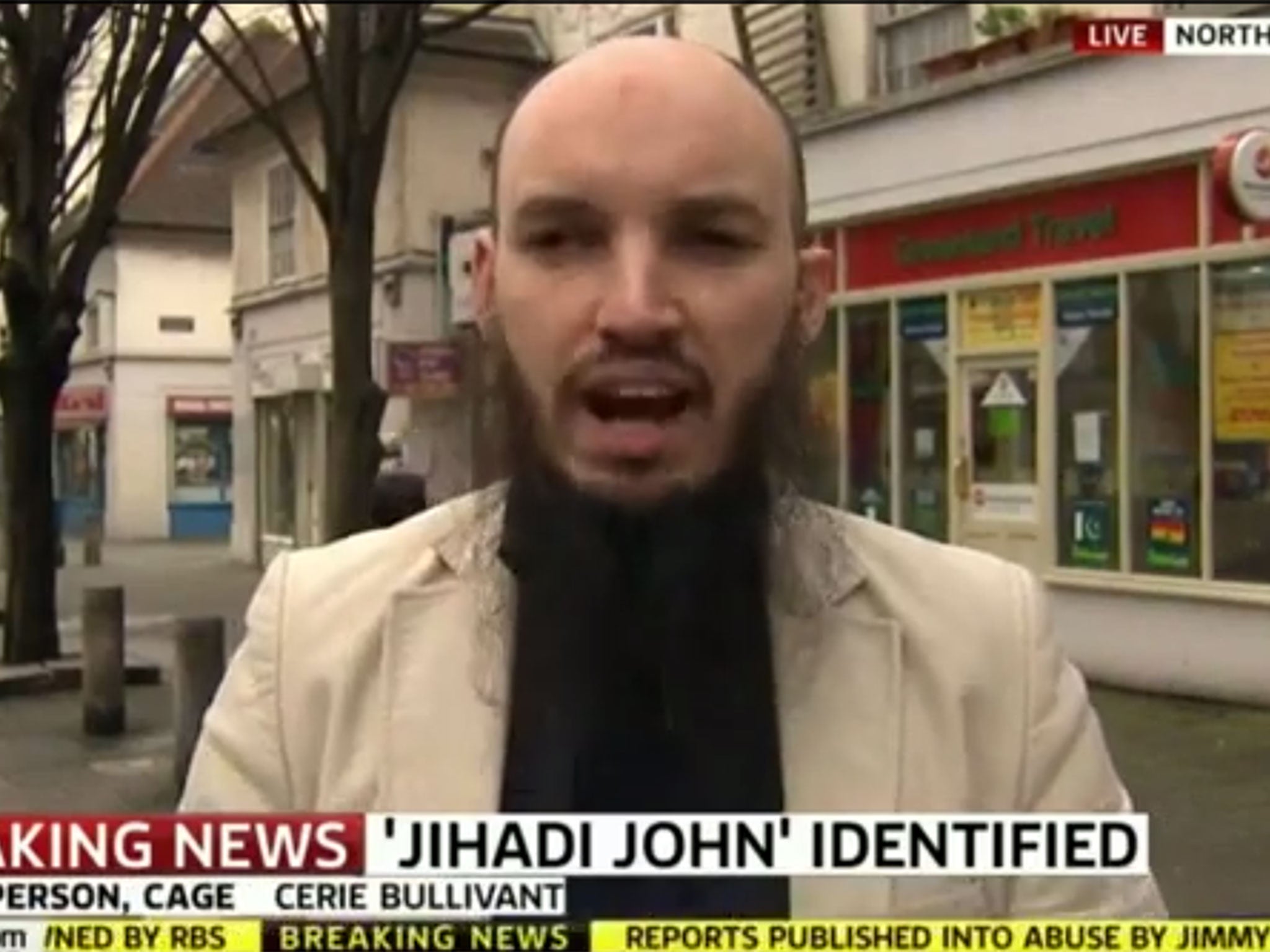 A representative of an advocacy group for communities affected by the 'war on terror' stormed off Sky News today during an interview about the Isis militant known as 'Jihadi John', after a presenter told him to "get over himself."
CAGE spokesman Cerie Bullivant was being interviewed by presenter Kay Burley over reports that the 'Jihadi John' had been identified as west Londoner Mohammed Emwarzi, 27.
The human rights group had previously been in contact with Emwarzi for two years, and said the security services had harassed him.
"What level of harassment by security services in the United Kingdom justifies beheadings?" Ms Burley asked Mr Bullivant.
He responded by saying that "nobody is apologising or trying to make an excuse" for Emwarzi's alleged beheadings, and said it was important to debate the causes of radicalism.
He added that British discourse on the issued had "failed to look at the causes of radicalisation in an honest manner" for years, and said perpetrators of attacks often quote foreign policy as "the key pushed", as well as harassment and domestic policy.
"We keep on ignoring that, it's not about justify it, its about looking at the causes of it so we can make everybody safer, both here and abroad," he said.
Ms Burley then asked Mr Bullivant how he felt about the Isis beheadings of Western hostages, now believed to have been carried out by Emwarzi.
Timeline: The emergence of Isis
Show all 40
He said: "To be frank, I'm appalled that you would ask that question," with Burley replying: "Don't be appalled, just answer the question if you would please."
Mr Bullivant continued: "Muslims are human beings as well. We are shocked when we see beheadings.
"We should not have to justify our humanity by saying that I am shocked by something as brutal as this.
"I campaigned, both behind the scenes and publicly, for the release of [murdered British aid worker] Alan Henning.
"So your question is inherently Islamophobic and racist."
Ms Burley responds by calling Mr Bullivant's claim "nonsense", and telling him to "Get over yourself."
The incident sparked a heated debate on Twitter, over whether Ms Burley's questions were appropriate.
But others praised her for asking what they regarded to be fair question in a tense political climate.
The incident comes after the research director of CAGE defended Emwazi "extremely gentle, kind" and a "beautiful young man".
Asim Qureshi of Cage was quoted in the Washington Post as say it was difficult to believe that Emwazi could have become 'Jihadi John'.
"I see that image (of Jihadi John) and there doesn't seem to be a correlation between the two," he said.
Join our commenting forum
Join thought-provoking conversations, follow other Independent readers and see their replies