Jimmy Savile report accuses BBC of 'serious failings' - but absolves bosses of blame
The report says some junior and middle-ranking staff were aware of Savile's 'inappropriate sexual behaviour'
Ian Burrell
Media Editor
Thursday 25 February 2016 11:01 Comments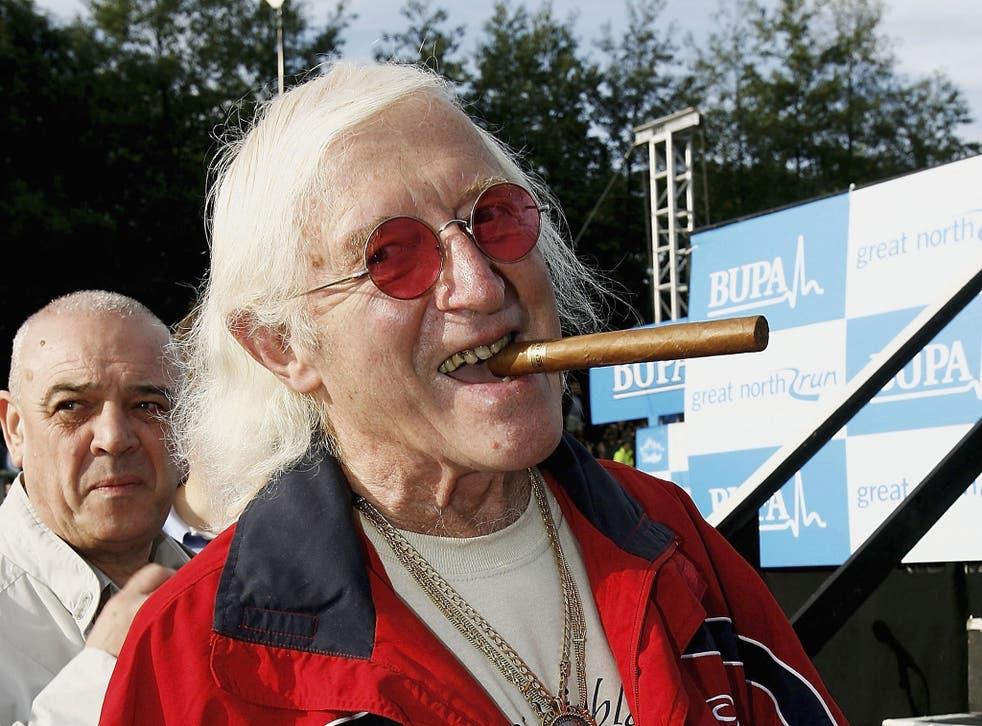 There is no evidence BBC bosses were aware of the widespread sex attacks carried out by Jimmy Savile in which children as young as eight were abused.
Dame Janet Smith's independent review of the BBC culture in the years that Savile and fellow presenter and sexual predator Stuart Hall worked there found there was a culture of "reverence and fear" towards celebrities at the corporation and that "an atmosphere of fear still exists today in the BBC".
The report finds that Savile carried out sex attacks on 72 victims in "virtually every one of the BBC premises in which he worked".
It states that no senior manager at the BBC "ever found out about any specific complaint relating to Savile's inappropriate sexual conduct in connection with his work for the BBC".
However, it says some junior and middle-ranking staff were aware of Savile's "inappropriate sexual behaviour". In total, 117 witnesses who had worked at the BBC had "heard rumours" of Savile's activities.
The report's key findings state:
Of the 72 victims, 57 were female and 15 were male. 21 of the female victims were under 16 and 36 were 16 and over; 13 of the male victims were under 16 and two were sixteen and over;
Eight victims were raped (six female and two male) and one female victim was the subject of an attempted rape;
The youngest victim of sexual abuses was aged just eight
47 victims were the subject of indecent/sexual assault excluding rape (34 female and 13 male);
Top of the Pops and Jim'll Fix It were the programmes relating to which victims were most frequently assaulted (with 19 victims being assaulted in relation to Top of the Pops and 17 in relation to Jim'll Fix It);
The majority of victims (44) were assaulted in the 1970s, with 10 in the 1960s and 17 in the 1980s. 
Dame Janet found that staff missed a string of opportunities dating back to the late 1960s to stop Savile, who died in October 2011 aged 84 never having been brought to justice for his crimes and is now believed to be one of Britain's most prolific sex offenders.
Her report states: "In summary, my conclusion is that certain junior and middle-ranking individuals were aware of Savile's inappropriate sexual conduct in connection with his work for the BBC.
"However, I have found no evidence that the BBC, as a corporate body, was aware of Savile's inappropriate sexual conduct in connection with his work for the BBC."
She said her findings made for "very sorry reading" for the BBC and that she had identified "some serious failings" in the organisation's culture.
"There seems to have been a sense that, once a girl had reached the age of 16, anything went", Dame Janet said.
The report cited 72 Savile victims (57 female and 15 male), 34 of whom were aged under 16, all attacked in incidents "connected with his work at the BBC". It recorded six rapes of females and two of males, and 47 incidents of sexual assault. Some 19 attacks were associated with Top of the Pops and 17 with Jim'll Fix It. Other attacks were linked to Savile's Travels, Clunk Click and the Radio 1 Roadshow.
But, surprisingly, Dame Janet said she would not make "detailed recommendations" on how the BBC could take steps to "ensure that any repetition could be avoided in future".
She said "it does not seem to me to be sensible or practicable to attempt to do so. The events and shortcomings I have described occurred many years ago. They occurred against a particular social background. Much has changed since then."
The BBC has been given six months to respond setting out procedures in areas criticised in the report.
A separate report found that BBC management was aware that Stuart Hall, a presenter with Radio 5 Live, had been involved in inappropriate sexual conduct on BBC premises but was allowed to continue working.
The report's author, Dame Linda Dobbs, found that BBC management in the north-west "ought to have been aware of what Hall later did on BBC premises".
In 2014, Hall was sentenced to two and a half years for indecent assault of a 13-year-old girl, having previously served 30 months in jail for similar offences.
Jimmy Savile: Life in pictures

Show all 15
Dame Janet said that "most" of the incidents of "rape and attempted rape" that she investigated in relation to Savile took place on BBC premises. "I heard of incidents which took place in virtually every one of the BBC's premises at which he worked," Dame Janet reported. "These included the BBC Theatre at Shepherd's Bush (in connection with Jim'll Fix It and Clunk Click), Television Centre (in particular in connection with Top of the Pops), Broadcasting House...Lime Grove Studios and various provincial studios including Leeds, Manchester and Glasgow."
She found that within the BBC "no complaints" about Savile's behaviour were made to the BBC Duty Office, the standard procedure for such concerns.
Eight complaints were made by other means, from the late 1960s onwards, with three reports made by people outside the BBC and five from within.
BBC presenting stars Louis Theroux and Mark Lawson were among those who said they were aware of allegations around Savile's behaviour. After Theroux made a documentary on Savile, When Louis met Jimmy, he was approached in 2001 by a woman who told him that Savile had intercourse with her when she was 15.
Dame Janet did not criticise Theroux for reporting the information. Lawson, the report said, saw Savile assault a young woman who was working on BBC Radio 4's Front Row, on which Savile appeared in 2006, when he was nearly 80 years old, to discuss the last edition of Top of the Pops.
Savile died in 2011 and the BBC's failure to broadcast an expose of his activities by its own Newsnight programme in 2012 precipitated an unprecedented crisis at the BBC which ultimately led to the resignation of former Director-General George Entwistle and later the ordering of Dame Janet's much-delayed report.
Dame Janet said she was making "one overarching recommendation" to the BBC, which was that it "needs to demonstrate to the public that it has taken the current criticisms seriously, and has made, or is making, such changes as are necessary and appropriate to ensure that these terrible events cannot occur again."
Examining the question of whether a predatory child abuser could operate at the BBC today, Dame Janet said such behaviour had become even harder to detect. "The power of celebrity and the trust we accord it, which show no real sign of diminishing in our society, make detection of a celebrity abuser even more difficult."
She noted that Savile was "intelligent, charismatic and extremely manipulative".
Addressing society at large, she warned: "We need now to ensure that the message is passed to the younger generation. We need them to complain straightaway if they are abused before the abuser has the chance to abuse again and again." The report took two and a half years to compile, following contact with more than 800 people.
More than 380 witnesses were interviewed.
Register for free to continue reading
Registration is a free and easy way to support our truly independent journalism
By registering, you will also enjoy limited access to Premium articles, exclusive newsletters, commenting, and virtual events with our leading journalists
Already have an account? sign in
Join our new commenting forum
Join thought-provoking conversations, follow other Independent readers and see their replies