Jobs website criticised for 'offensive' homeless advertising campaign
Blankets and dog bowls were left on the capital's streets as part of the stunt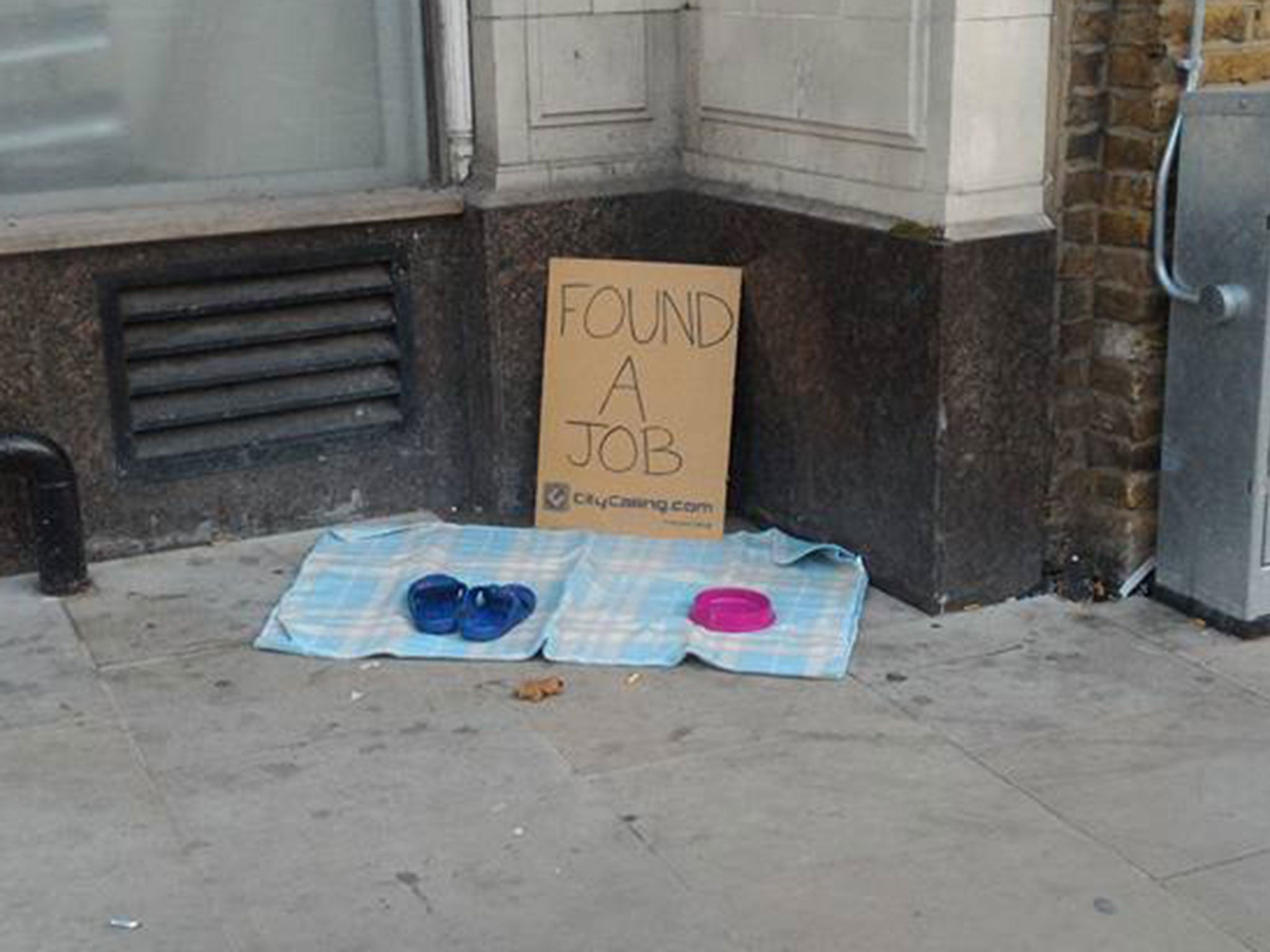 A careers website has been flooded with complaints after it left cardboard signs reading "Found a Job" on fake "homeless beds" around London as part of a marketing campaign.
The stunt by City Calling used blankets, sandals and dog bowls to create the illusion of a homeless person living on the street.
Images of the advertising campaign were shared on the Sh** London Facebook page, where users labelled the faked "homeless beds" as "sick" and "offensive", according to Mashable.
Others also vented their anger on City Calling's Facebook page, with user Concepta Cassar writing under a post: "To rob the most vulnerable people in society of whatever modicum of dignity they manage to cling to in the face of such hardship by using their plight as an object of supposedly comedic derision is obscene."
Facebook user Clare Emmett wrote, according to the Evening Standard: "Those Found a Job pavement ads: dear, dear. Are you being wilfully crass in a desperate attempt to appear "edgy", or are you simply too obtuse to appreciate the unflattering light they cast on your company?"
The advert comes as the capital deals with rising rates of homelessness, as 7,581 people slept on the capital's streets between 2014/2015, up from 3,673 five years ago, according to homelessness charity Crisis.
Responding to the controversy, City Calling released a statement on its Facebook page.
"We are a job board that facilitates every individual jobseeker no matter their personal circumstance," the firm said.
"We have remained and will remain a free service for both jobseeker and employer. As an organization, we do endless amounts of charity work throughout the year that certainly does not go unnoticed by those that we help," it added.
Join our commenting forum
Join thought-provoking conversations, follow other Independent readers and see their replies