How John Major's gift horse turned out to be a very troublesome stallion
Turkmenistan president gave ex-PM rare stallion as a 50th birthday present, leaving it to UK foreign office to arrange delivery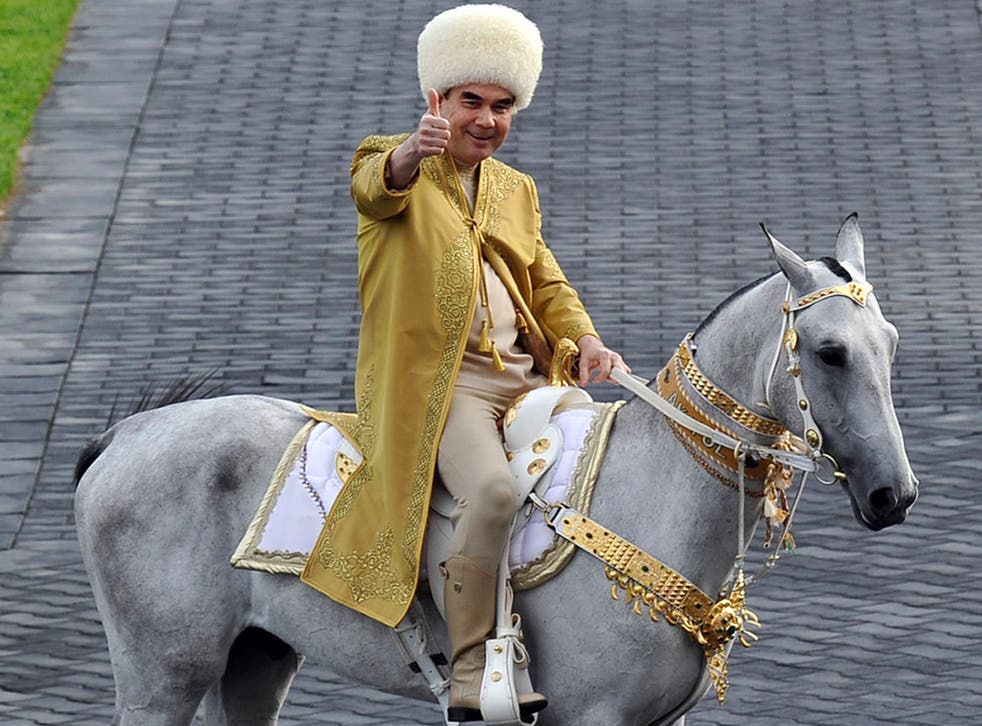 Farcical bureaucratic hurdles faced by a British diplomat attempting to transport a birthday-present horse gifted to John Major have been outlined in newly released government documents.
Cables, which can now be read in full in the National Archives, reveal the absurd obstacles and amusing delays faced by UK official Laura Brady as she tried to get Maksat, a pure-bred Akhal-Teke stallion, to the UK from the then recently, rather chaotically disbanded Soviet Union.
Mr Major, who was presented the horse by Turkmenistan president Saparmurad Niyazov for his 50th birthday in 1993, wrote that her "splendid account" was one of the "most enjoyable" documents ever put into his red box.
The cable, sent in October 1993, titled "Horses: the definitive end of an era" describes the days and hours before Maksat and another horse, gifted to France's then president Francois Mitterrand, arrived in Moscow's quarantine stables awaiting passage to his new owner.
Both horses had survived a raid by armed bandits on the carriage in rural Kazakhstan, and made it to Moscow after four-and-a-half days and hundreds of miles of travel from Turkmenistan.
At customs in the Russian capital Ms Brady told the receptionist about the horses' ordeal which "elicited in response the sad tale of the Finnish ambassador's parrot".
The cable goes on: "The receptionist, an animal-lover and close to tears at the thought of the parrot, relented and led us through a maze of ceiling-high packing cases in the enormous warehouse.
"And there we found the staff of the twelfth diplomatic customs post playing poker.
"Fifteen dollars poorer but with the customs formalities completed we hotfooted it to the station accounts office in south Moscow."
Finding that office closed, they returned the next day to discover that as the horses had been in the station for 24 hours they needed to be re-checked by a vet.
The cable continues: "The vet was in her office adding up extremely slowly a long list of figures on a calculator with dodgy batteries.
"The numbers kept fading, at which point she began again at the top of the list."
After an hour of this frustrating scene they got the necessary paperwork.
But as preparations were made to transport the horse-box Ms Brady noticed the three grooms who had travelled with the animals "began to carry countless sacks of potatoes, onions, carrots and at least 200 large melons".
It adds: "One groom explained that as Turkmenistan had no post-1992 banknotes they were forced to bring wares to sell in Moscow to be able to buy the return ticket to Ashkabad."
The manure-filled carriage had to be cleaned before they could leave the railway siding, so a train driver was bribed with "several particularly large" melons to move down the track where it could be "unceremoniously scraped out onto the track".
With both horses finally in quarantine awaiting transit, Ms Brady signs off: "I have made some useful contacts over the last few days so the next time we want to import a horse to Russia it will be a doddle."
Mr Major wrote a thank-you note, saying: "Your splendid account of how to put a Turkmeni horse into quarantine was the most enjoyable document the Private Office have put into my weekend box in a very long time.
"I am most grateful to you for your valiant and amusing efforts, in this noble cause."
East Jerusalem's cherished horses

Show all 14
Prime ministerial delight, however, was slightly soured in December 1993 when the Daily Mirror reported that Ron Meddes, one of the independent equine experts who was helping get the horse to the UK, had a conviction for fraud.
After the story was published, senior civil servants advised the prime minister against accepting Mr Meddes' offer to withdraw from the operation on the grounds that the horseman had "served his sentence for his crime, so it's a bit odd if we bar him from helping".
But in a handwritten note, a senior civil servant made it clear he was looking forward for foreign office guidance on "the general position of the horse, when will it arrive, and when can we forget the whole saga".
Such weariness was a far cry from the delight of October 1993, when Mr Major's private secretary Roderic Lyne had gleefully drawn his boss' attention to Ms Brady's cable by writing: "Prime minister, this is a wonderful story – worthy of [Russian writer] Gogol. You will have to visit the nag when it arrives."
Maksat eventually settled in stables in Carmarthenshire, Wales after being deemed too temperamental by the Household Cavalry.
Stable-owner Lorna Winn-Jones, who took him in, told WalesOnline in 2012: "Maksat came to me in 1996 a sad, confused and troubled little horse with a few health issues but blossomed into a powerful and confident stallion who seems happy in his adopted home of Wales.
"Maksat still belongs to John Major in the sense that he was given to him but he doesn't visit."
Join our new commenting forum
Join thought-provoking conversations, follow other Independent readers and see their replies