John Major once suggested opting out of ECHR to stop 'erotic blasphemy' film being screened in UK
Tory prime minister was also upset by sex on TV, newly released cabinet papers reveal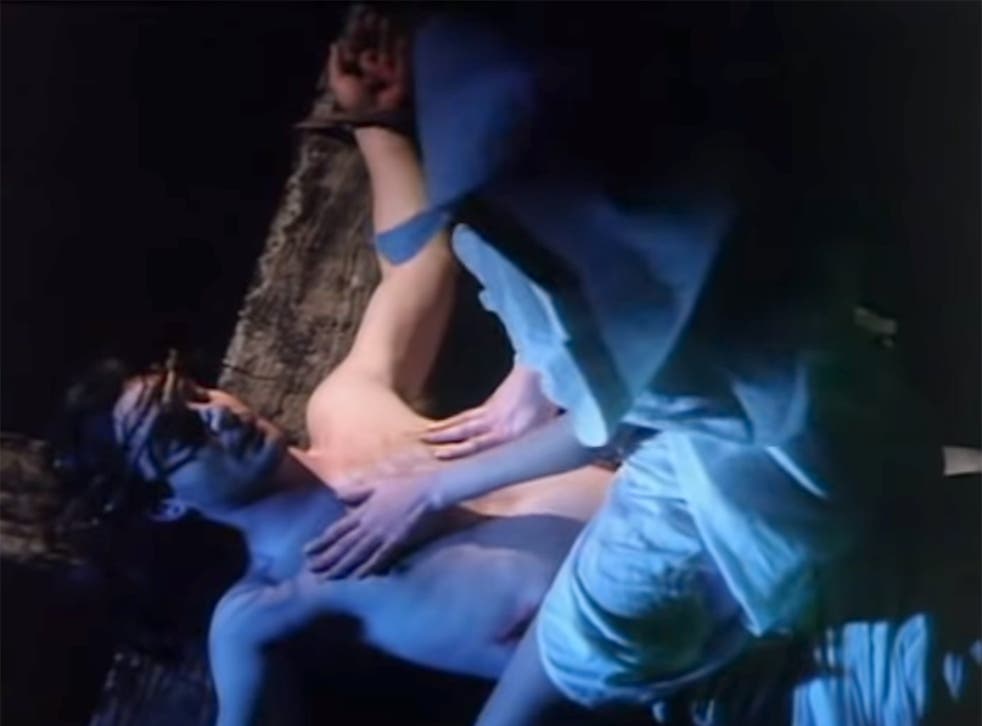 John Major got so outraged over the only film ever banned in the UK on blasphemy grounds that he was willing to consider an opt-out of the European Convention on Human Rights rather than let it be shown, newly released Cabinet papers reveal.
At the same time, however, the then prime minister was using the ECHR to fend off the Clean Up TV demands of moral crusader Mary Whitehouse, while himself expressing disapproval of the kind of sex shown on television.
The controversy over the movie erupted after the British Board of Film Classification refused to give a distribution certificate to Visions of Ecstasy on the grounds it would cause "outrage at the unacceptable treatment of a sacred subject".
The 19-minute short film, depicting the crucified Christ participating in the sexual fantasies of the 16th Century Spanish nun St Teresa of Avila, was deemed to have involved "no attempt to explore the meaning of the imagery beyond engaging the viewer in an erotic experience."
The writer and director Nigel Wingrove, however, appealed to the European Commission of Human Rights, citing his right to freedom of expression under Article 10 of the convention.
The 1989 film became a cause celebre, with the late filmmaker Derek Jarman having added his voice to those calling for Visions of Ecstasy to be released on free speech grounds.
And in the summer of 1994 the European Commission of Human Rights decided the case had sufficient merit to be referred to the European Court of Human Rights.
As it referred the case to the court, the commission gave the UK government a confidential indication that Mr Wingrove might win. The commission, the Cabinet papers reveal, "expressed a firm view that total prohibition of the video was disproportionate to any harm caused".
At the same time, Mr Wingrove gave the government his terms for reaching an out-of-court settlement. They were, the documents in the National Archives suggest, £99,000 in damages, a distribution certificate for the film and a government commitment to abolishing the blasphemy laws.
They caused Mr Major to scrawl over the top of his briefing note: "This is outrageous! Of course we mustn't settle."
The following day, on August 3 1994, the prime minister set out his thoughts in a document entitled "Personal Minute No 17".
In it, he demanded an "urgent assessment" of what to do if the UK government lost in court, and raised the possibility of opting out of some clauses of the European Convention on Human Rights, which like the European Court of Human Rights, is separate from the EU.
"I must say I find the position in which we find ourselves wholly unacceptable," wrote Mr Major. "I am not prepared to have this country placed in a position where we are told by others what films we may or may not show in the UK or what material may or may not offend our citizens.
"This is a matter on which I feel sufficiently strongly to be prepared to consider a derogation from the European Convention on Human Rights if that were necessary in the final analysis. You should examine this as a serious possibility if other routes were to prove inadequate."
While agreeing with Mr Major that it was undesirable to have international organisations "dictating" the British government's stance on moral matters, foreign secretary Douglas Hurd gently reminded the prime minister: "The European Convention on Human Rights is one of the core agreements enshrining Western standards of behaviour.
"It is particularly important as the countries of Eastern Europe and the former Soviet Union undertake the task of adapting to our standards … And we cannot, in practice, derogate from it except in cases of war or threats to the life of the nation."
UK news in pictures

Show all 50
In the event Mr Major did not need his derogation.
In November 1996 the European Court of Human Rights effectively sided with the UK government, finding that Mr Wingrove's Article 10 rights had to be set against the government's duty to protect others from material they might find gratuitously offensive.
The court also said the UK blasphemy laws did not seek to ban statements of hostility towards religion, but only to set limits on the manner in which they could be expressed.
After the UK blasphemy law was abolished in 2008, however, Visions of Ecstasy was cleared for release with an 18 certificate in 2012 – to less than universal claim.
"Wow," wrote one reviewer on the imdb website. "I find it hard to believe this piece of glossy, soft core garbage created such controversy in the UK. Basically this is 19 minutes of a 'nun' who looks like an 80's hooker writhing around on the floor to cheesey, awful 80's synth music … With not a word of dialogue. It's not even artistic."
Yet even while Mr Major was considering opt-outs from the human rights convention to counter what Mr Wingrove called his exploration of "dark eroticism", the prime minister was using the ECHR to counter the arguments of Mary Whitehouse and her allies.
After civil servants advised on how to "respond gently" to a proposed amendment to the Obscene Publications Act handed to him by Mrs Whitehouse after being drafted by retired judge Alan King-Hamilton, Mr Major argued that the suggested changes would be incompatible with the ECHR.
"I know you will recognise the importance of the European Convention on Human Rights," he wrote to the ex-judge, a month after suggesting a derogation from it.
A set of 'lines to take' during his meeting with Mrs Whitehouse on 26 July 1994, also included warnings about the potentially "stifling" effects of "political correctness", and the ability of "ingenious pornographers" to get round any "laundry list" of items deemed to deprave and corrupt.
Faced with feminist demands that pornographers be subjected to a new offence of incitement to sexual hatred – taking the law around incitement to racial hatred as its model – Mr Major was advised to argue: "It is not an offence to oppose women's equality, and there is no evidence that, even if pornography does this, it has any damaging effects on public order".
Support free-thinking journalism and attend Independent events
To the claim that pornography encouraged sexual crime against women, the suggested line to take was: "The difficulty is that many men who are not sexual criminals also have an interest in pornography".
And yet, in November 1994, four months after meeting Ms Whitehouse, Mr Major was, via his private secretary, informing the Department of National Heritage: "Pornography on television, particularly on Sky channels, was proving to be a real problem.
"He was not a prude but some of the material available was clearly way beyond any acceptable bounds for general interest channels."
By this time, newspaper columnists like Richard Littlejohn of The Sun were deriding Mr Major as "a man who tucks his shirt in his underpants and probably wears his socks in bed [making it] difficult to imagine him sleeping with his own wife."
Yet his claims to be "no prude" were finally given credence in 2002, when ex-minister Edwina Currie revealed she had a four-year affair with Mr Major which began in 1984 when he was a whip for Margaret Thatcher's government.
She wrote in her diaries of longing to be visited by "one big man in his blue underpants".
Join our new commenting forum
Join thought-provoking conversations, follow other Independent readers and see their replies