John McDonnell joins Topshop living wage protesters in demonstration against Sir Philip Green
'Topshop, shame on you,' activists chant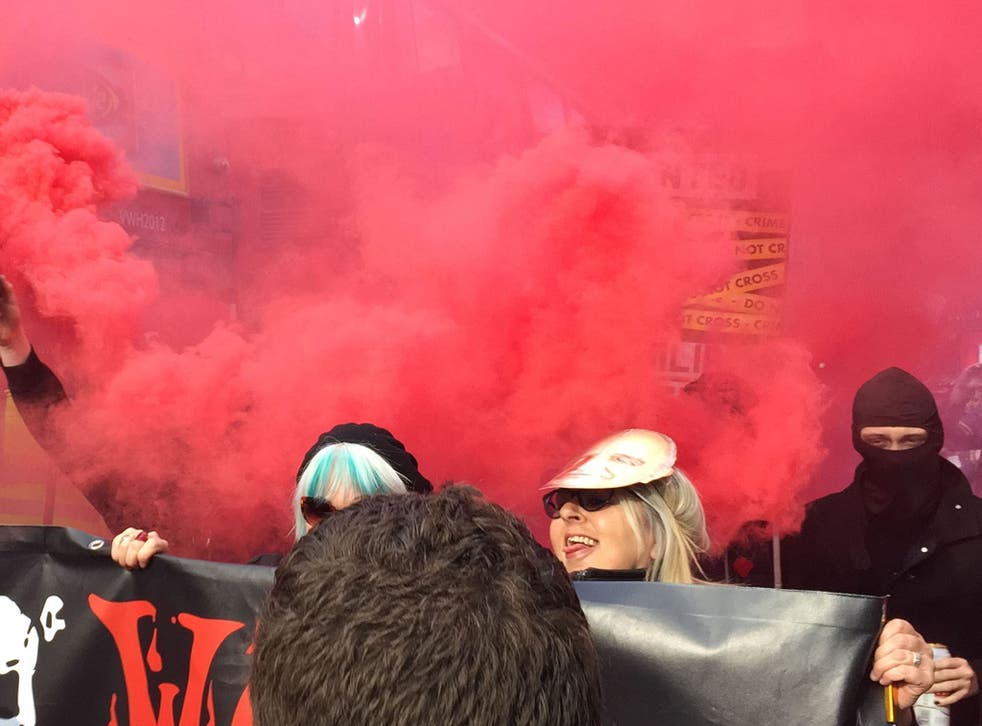 Shadow Chancellor John McDonnell joined hundreds of protesters in a demonstration against Topshop owner Sir Philip Green and his company's treatment of employees.
Activists from the group Class War and trade unionists descended on the company's flagship store in London's Oxford Street, blocking the entrance and setting off red smoke bombs.
Around 200 people were heard chanting "Topshop, shame on you" as part of a campaign demanding the High Street clothing chain pay the living wage, with 16 other shops targeted across the country.
Petros Elia, general secretary for United Voices of the World union, which organised the event, told The Independent that John McDonnell joined the protests after speaking at the School of Oriental and African Studies.
He said: "He's a steadfast trade unionist, and always has been. Despite the fact he's the Shadow Chancellor, he risked smear campaigns from the media [by joining the protest], which is all the more impressive."
Mr Elias added: "Topshop have remained reticent and have washed their hands of the cleaners. It's morally repugnant."
Rikki Blue, who witnessed the protest, told The Independent: "Police wouldn't let us anywhere near the store and Topshop hired men the size of houses to block our entry.
"It's really exciting for the new workers' movement. The government are all very scared of this kind of movement taking off."
Leaflets handed out by United Voices of the World said Topshop cleaners had experienced a "campaign of bullying and intimidation", and that two employees had been suspended for requesting living wage pay. Around 600 leaflets were placed among clothes in the store.
The leaflet said: "Instead of investing in his workers, Green has prioritised his billionaire playboy lifestyle, including the purchase of a custom-built luxury yacht worth over £100m."
Teresa Grey, one of the protesters, said she and her fellow protesters had taken to the streets to "make their voices heard".
"Two Topshop cleaners joined our union. For that, one was sacked, the other suspended," she said.
UK news in pictures

Show all 50
Aysan Dennis, from protest group Class War, told the Press Association: "We want our voices heard. This is a class war."
Asked why she was blocking traffic, she pointed at Topshop and said: "I don't care. The tax dodgers are the real criminals."
The protest comes after Topshop owner Mr Green was called to appear before MPs to answers questions about BHS, which went into administration last month.
Topshop could not be reached for comment.
Join our new commenting forum
Join thought-provoking conversations, follow other Independent readers and see their replies