Junior doctors raising money to take Health Secretary Jeremy Hunt to court
'Forget the lies and propaganda. The imposition of the junior doctors' contract affects all NHS service users'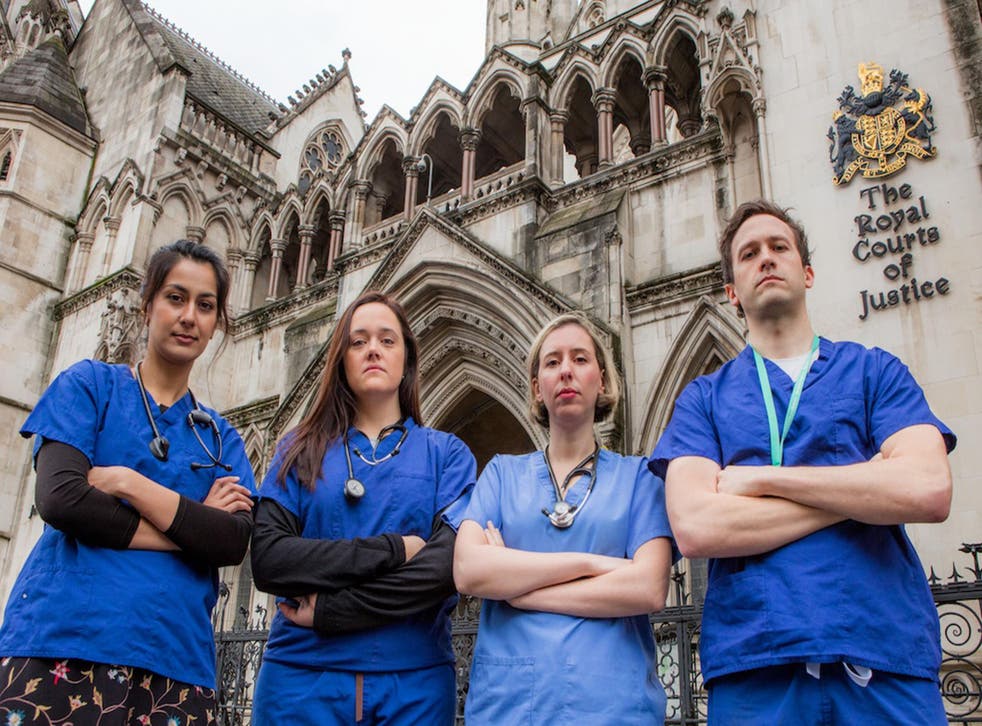 A group of junior doctors has launched a fundraising campaign in an effort to take Jeremy Hunt to court and stop the imposition of their new contract.
Calling themselves JustHealth, the junior doctors involved are hoping to raise £100,000 to pay for solicitors fees.
Since being launched on Sunday, the campaign has already raised £56,936 - easily beating the original goal of £25.000.
On their fundraising website, the group wrote: "We are asking for funding to take an independent legal action started by doctors but ultimately involving all interested parties.
"We are challenging the imposition of an unplanned and dangerous contract which will affect patient wellbeing and safety.
"We ask for your help to raise £25,000 initially to start to investigate a judicial review process and are aiming to establish a further working case fund of £100,000. This is an all or nothing target and without your support we cannot get this case off the ground."
The British Medical Association (BMA), the doctor's union, is already seeking a judicial review into these contracts on the basis the Department of Health did not carry out an Equality Impact Assessment for the contract.
Dr Francesca Silman from JustHealth said the judicial review they are gunning for will be more wide-reaching.
"We all work together, so this would be looking at absolutely everything - dentists would be affected, and we would be looking at how it might affect nurses on the ward," she said.
The group said it enjoyed the backing of prominent medical staff and patient safety advocates such as Dr Phil Hammond, vice-president of the Patient's Association.
In pictures: Junior doctors protests in UK

Show all 10
JustHealth's Dr Ben White said patient safety was at the heart of the issue.
"Forget the lies and propaganda," he said.
"The imposition of the junior doctors' contract affects all NHS service users.
"Staff know that the lack of workforce planning, lack of cost modelling, plus rota and staffing issues, create a perfect storm where patient safety will inevitably be compromised.
"We must challenge this contract in the High Court. A judicial review would consider all relevant factors and hold the Government accountable for decisions it has made. Ultimately, this is about public safety."
The imposed contract introduces an increase in basic salary of 13.5%, while night shifts and long shifts will be limited.
In addtion, 7am to 5pm on Saturdays will be regarded as a normal working day.
At the moment, 7pm to 7am Monday to Friday and the whole of Saturday and Sunday attract a premium rate of pay for junior doctors.
The Government plans for the Saturday day shift to be paid at a normal rate in return for a hike in basic pay.
The BMA has rejected this development, calling on Mr Hunt to reduce the offer of basic pay and have better premium rates on Saturdays instead.
Register for free to continue reading
Registration is a free and easy way to support our truly independent journalism
By registering, you will also enjoy limited access to Premium articles, exclusive newsletters, commenting, and virtual events with our leading journalists
Already have an account? sign in
Register for free to continue reading
Registration is a free and easy way to support our truly independent journalism
By registering, you will also enjoy limited access to Premium articles, exclusive newsletters, commenting, and virtual events with our leading journalists
Already have an account? sign in
Join our new commenting forum
Join thought-provoking conversations, follow other Independent readers and see their replies