Doctors divided: Senior medics condemn 20 days of planned strikes
Further industrial action was announced hours after Theresa May told doctors to stop 'playing politics' in the dispute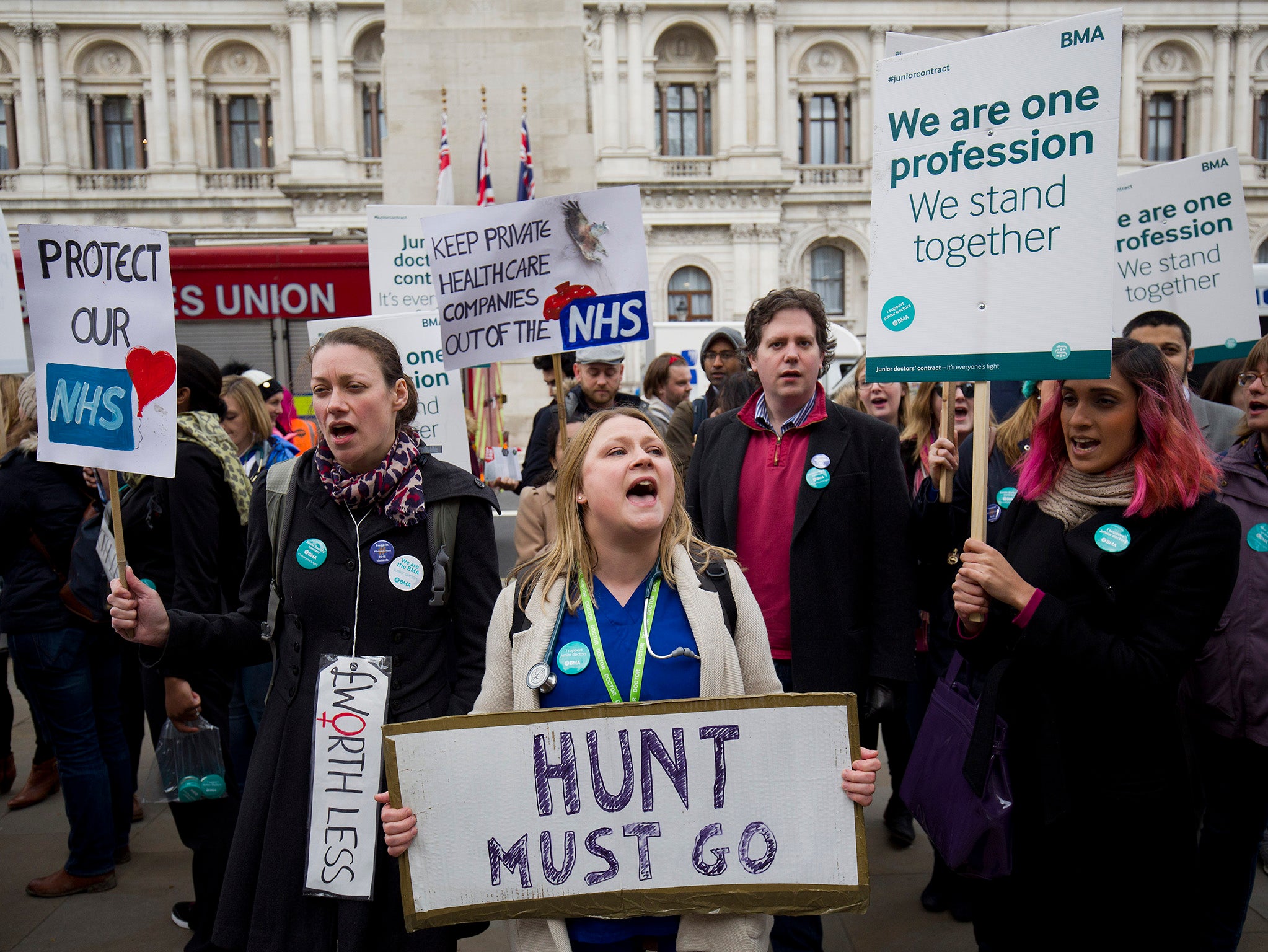 Some of Britain's most senior medics are urging junior doctors to call off further strikes over the imposition of a controversial new contract.
Doctors, represented by the British Medical Association, have announced a string of stoppages as the longstanding dispute over a new contract for training medics drawn up by Jeremy Hunt continues.
They are set stage full walkouts between 8am and 5pm on 5-7 October, 10-11 October; 14-18 November; and 5-9 December. The announcement by the BMA comes after it confirmed junior doctors would be staging five consecutive days of industrial action from 12 September.
The dates were agreed in an urgent meeting of union leaders on Thursday.
While the BMA has said it is "absolutely behind" the decision for further action, the news of new strikes has been condemned by other institutions in the medical profession.
A spokesman for the Academy of Medical Royal Colleges said the organisation was "disappointed" at the prospect of further sustained industrial action.
"We are acutely aware that the NHS is under extreme pressure at the moment. Patient safety and quality of care must be the priority," he said.
"We know there are genuine concerns about the contract and working arrangements, but we do not consider the proposed strikes are proportionate.
In pictures: Junior doctors first all-out strike
Show all 10
"Five days of strike action, particularly at such short notice, will cause real problems for patients, the service and the profession."
Chris Hopson, chief executive of NHS Providers, which represents hospital management, said the planned strikes were "extremely worrying".
He told BBC Breakfast: "I think it's very concerning - we're talking about five days in September, which is just 12 days' notice to prepare, which is the shortest time we've ever had to prepare, and then we're talking about four sets of five days of strikes.
The Patients Association said the decision to strike had triggered "apprehension" among the public.
Chief executive Katherine Murphy said: "This is a devastating blow to patients, and a destructive next step as far as any kind of negotiations go."
She added: "At least one person a day calls our helpline specifically to ask for support following a cancelled or delayed hospital appointment or surgery."
The Government and the BMA remain in a bitter row over the contract weeks before it is due to be brought in, which the Department of Health say will provide a seven-day NHS.
Further industrial action was announced hours after Theresa May told doctors to stop "playing politics" in the dispute, an accusation which doctors have denied.
The Prime Minister urged the BMA to put patients first, and reiterated her confidence in the Health Secretary.
During a visit to the Jaguar Land Rover assembly plant in Solihull, Ms May said: "Jeremy has been an excellent Health Secretary, he is an excellent Health Secretary and this deal is about a deal that is safe for patients and I think it's crucial, if you look at what we're doing as a Government with the NHS. We've got record levels of funding into the NHS, we've got more doctors now in the NHS than we've seen in its history and this is a deal that is safe for patients.
"The Government is putting patients first, the BMA should be putting patients first – not playing politics."
The BMA has said it is "absolutely behind" junior doctors and dismissed suggestions that the council's vote to approve strike action was a narrow split of 16-14.
Chairman Dr Mark Porter said he was not surprised at Ms May's support for Mr Hunt, and denounced them for being determined to implement the contract because it "was in their party manifesto". "I have to say it beggars belief that we can be accused of playing politics in this when the stated reason of the Government proceeding is that it was in their party manifesto. That, to me, is playing politics," he said.
Earlier this month, Ellen McCourt, who chairs the BMA's junior doctors committee (JDC) said the JDC was asking the BMA Council to authorise a "rolling programme of escalated action beginning in early September", adding that by "standing together" they could demand the Health Secretary takes them seriously.
In a letter released to members earlier in the month, Ms McCourt lambasted the Government for remaining "persistently silent" on the issues she said had led to the rejection of the contract.
The Government announced it would impose a new contract after junior doctors and medical students voted – by 58 per cent – to reject a contract brokered with the BMA. A series of strikes took place between January and April after the junior doctors failed to come to an agreement with the Government over a proposed new contract.
Join our commenting forum
Join thought-provoking conversations, follow other Independent readers and see their replies