Just how dangerous are laser attacks on aeroplanes?
Laser beams should be treated as 'offensive weapons', say pilots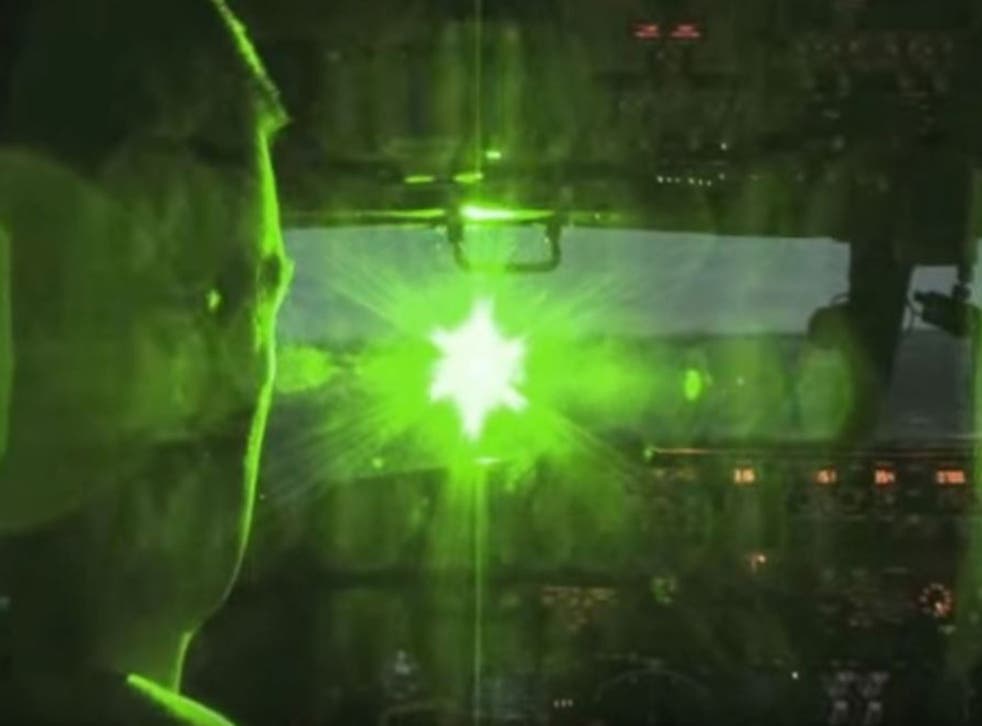 Pilots have called for lasers to be treated as "offensive weapons" after a beam shone at a New York-bound plane forced the aircraft to ground in Heathrow.
The Virgin Atlantic flight returned to the west London airport after being targeted by a laser shortly after take-off at a height of more than 8,000ft.
The British Airline Pilots Association (Balpa) has said the use of laser beams against aeroplanes is a growing problem which requires government attention - preferably by making carrying a laser an offence.
"This is not an isolated incident. Aircraft are attacked with lasers at an alarming rate and with lasers with ever-increasing strength," said Jim McAuslan, Balpa's general secretary.
"It is an incredibly dangerous thing to so. Shining a laser at an aircraft puts that aircraft, its crew and all the passengers on board at completely unnecessary risk."
the chart below, produced for the Independent by Statista,
1. How big is the problem in the UK?
In the first six months of 2015, there were 414 incidents of lasers being used against aircraft in the UK.
In total, they have been 8,977 laser beam attacks over the last six years.
One pilot was left unable to fly after a "military strength" laser damaged his eye during a Heathrow landing. Landings are when pilots are most vulnerable as the cockpit is more exposed.
2. What kinds of lasers are they?
They are usually more powerful than those used for pointing at a Powerpoint slide, but do vary in size and strength.
Classified into Class 1, Class 1M, Class 2, Class 2M, Class 3R, Class 3B and Class 4, the latter two are the most powerful.
The smallest might be the size of a compact torch, and the largest as big as a pair of binoculars.
3. What has the law done about it?
A London teenager was arrested in summer for targeting a laser pen at a Metropolitan Police helicopter, with the majority of incidents resulting in arrest pertaining to attacks on police aircraft.
One set of flats in Glasgow is apparently known as "laser block" after a series of incidents there. There are multiple reported arrests of similar offences in the US.
A law passed in 2010 allows offenders to be charged with "shining a light at an aircraft in flight so as to dazzle or distract the pilot," with a possible prison sentence if found guilty of "reckless endangerment."
Balpa concluded: "We repeat our call to the Government to classify lasers as offensive weapons which would give the police more power to arrest people for possessing them if they had no good reason to have them.
"This incident shows why this is becoming more-and-more urgent."
Register for free to continue reading
Registration is a free and easy way to support our truly independent journalism
By registering, you will also enjoy limited access to Premium articles, exclusive newsletters, commenting, and virtual events with our leading journalists
Already have an account? sign in
Register for free to continue reading
Registration is a free and easy way to support our truly independent journalism
By registering, you will also enjoy limited access to Premium articles, exclusive newsletters, commenting, and virtual events with our leading journalists
Already have an account? sign in
Join our new commenting forum
Join thought-provoking conversations, follow other Independent readers and see their replies