Keep faith in the power of charity, urges new Chief Rabbi Ephraim Mirvis
Martha Linden
Monday 02 September 2013 07:44 Comments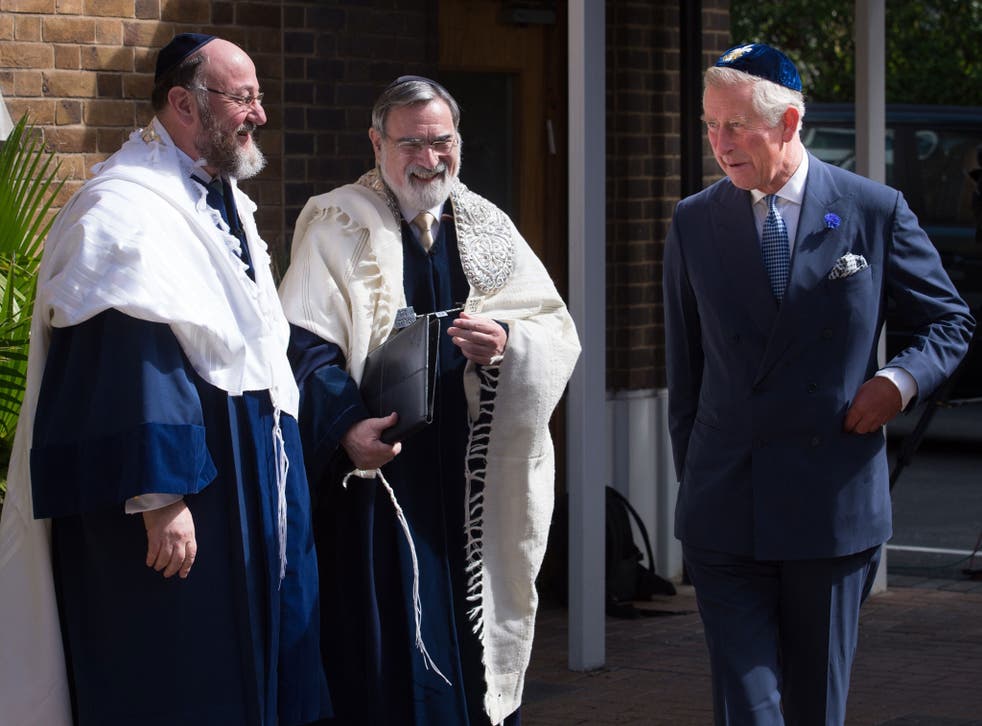 The weak and the vulnerable in Britain must not be forgotten, the new Chief Rabbi warned today after taking up his post in a ceremony attended by more than 1,000 guests - including the Prince of Wales.
Ephraim Mirvis spoke of his pride in the record of the British Jewish community in charity as he was inducted as 11th Chief Rabbi of the United Hebrew Congregations of the UK and the Commonwealth.
He praised the community's giving, "which is there not only for members of our community but there for those who require assistance throughout the country, and so we need to be committed to one and all".
The new leader, left, was inducted by his predecessor Lord Sacks, centre, at St John's Wood Synagogue in north London. The Prince of Wales and Labour leader Ed Miliband were among an audience of around 1,400.
Rabbi Mirvis was senior rabbi at Finchley United Synagogue in north London, which has around 1,800 members and was previously Chief Rabbi of Ireland from 1984 to 1992.
In interviews given after he was confirmed in December, Rabbi Mirvis expressed concern over rising anti-semitism in Europe and a decline in religious faith.
But he said he was heartened by census findings for England and Wales showing three out of four people say they have a religious faith.
He added that he believed that the Jewish community in Britain has a "bright future", with the results of the England and Wales census showing a rise of 3,000 in those identifying themselves as Jewish over the last decade to a total of more than 263,000 in 2011.
"We have a wonderful Jewish community in the UK and the results of the census are in many respects encouraging. I think we have a fantastic community in terms of its quality, not only in terms of its quantity," he said.
"The Jewish community has a very bright future in this country," he said.
"Britain has been good to the Jews and the Jews have been good for Britain.
"I feel very privileged indeed to be appointed to be the next Chief Rabbi."
Rabbi Mirvis also told The Independent during his first visit to Germany in 2008 how his family members were victims of the Holocaust and he had grown up in a home where German products were avoided.
He told the newspaper: "I didn't use a Faber-Castell pencil.
"We wouldn't step into a Volkswagen car."
Explaining that this had now changed, he added: "There are still many Jewish people today who would be highly critical of spending a penny in Germany. That's totally understandable.
"But I think it is important to support and encourage the good Germans who are moving forward."
Lord Sacks described Rabbis Mirvis as a "terrific appointment".
Rabbi Mirvis is married to Valerie, a senior social worker in child protection, and the couple have four sons. Their daughter Liora, their eldest child, died in 2011 after a long battle against cancer.
Register for free to continue reading
Registration is a free and easy way to support our truly independent journalism
By registering, you will also enjoy limited access to Premium articles, exclusive newsletters, commenting, and virtual events with our leading journalists
Already have an account? sign in
Join our new commenting forum
Join thought-provoking conversations, follow other Independent readers and see their replies