Kent Police ordered to pay aggravated damages in race discrimination case
British Asian policeman Angus Bowler says he suffered a 'nightmare' as tribunal rules that the 'loyal and successful' constable was 'worn down by the conduct of his senior officers'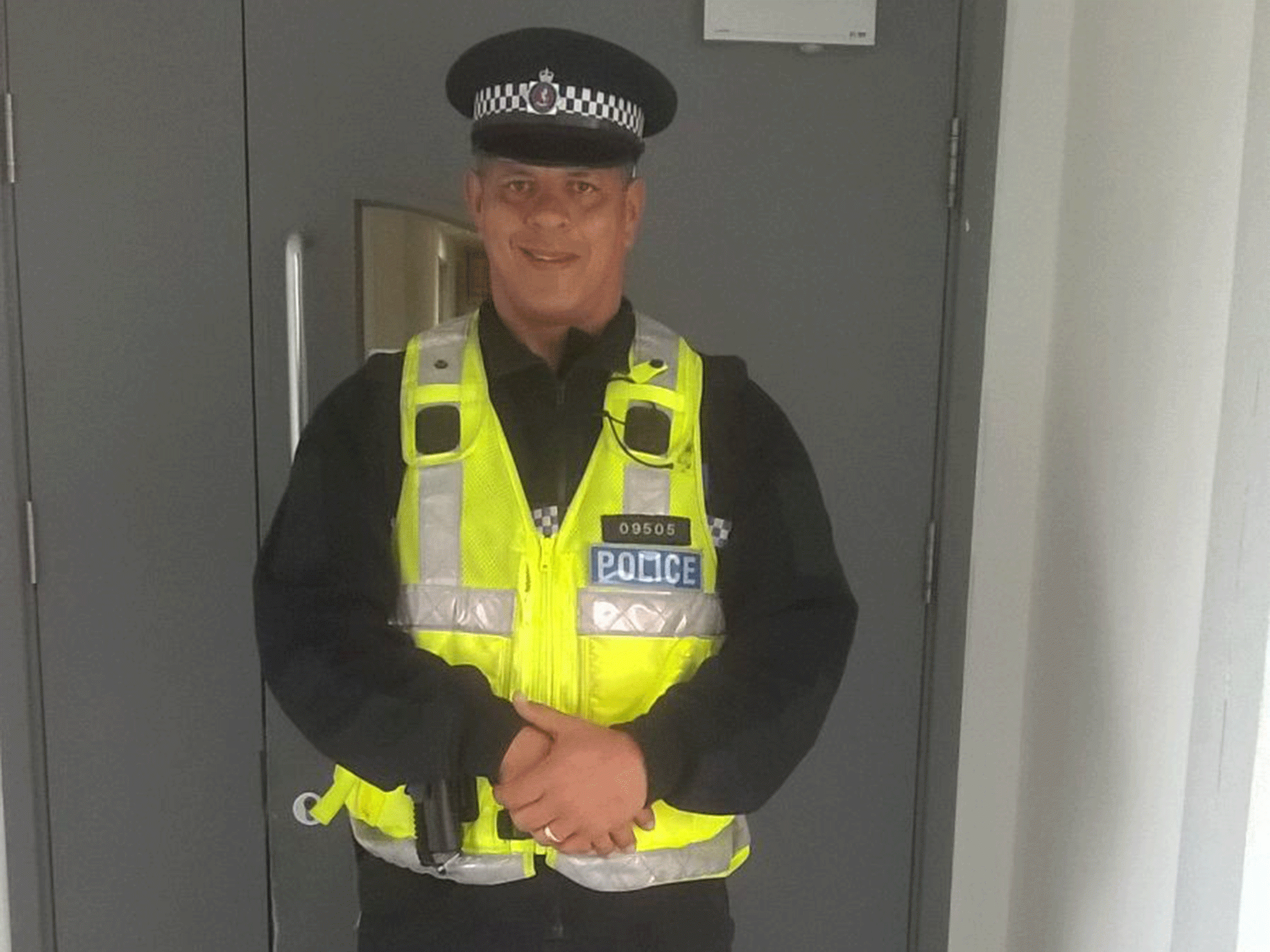 Kent Police have been ordered to pay aggravated damages after a tribunal found senior officers had subjected a British Asian constable to racial discrimination and police witnesses had "suffered a collective memory loss" while giving evidence about a key aspect of the case.
Angus Bowler, 53, a "long-serving, loyal and successful officer, was worn down by the conduct of his senior officers," the employment tribunal ruled.
Because of the discrimination and victimisation, the father of three went from having hardly any sickness absences in 25 years to needing time off for stress, suffering dizzy spells and chest pains, and feeling sick on the way to work.
Yet the panel ruled that after an earlier judgement produced findings of racial discrimination and victimisation, "there was a complete lack of action" from Kent Police. Mr Bowler, the tribunal found, was "fobbed off" by the force's professional standards department when requesting an investigation into the findings.
The tribunal also said that an apparent letter of apology sent by Chief Constable Alan Pughsley five days before the tribunal's compensation hearing was "half-hearted and late" and "smacked of an attempt to avoid aggravated damages." The tribunal included the letter as one of the reasons for awarding £5,165 in aggravated damages.
In a judgement entered on 5 August, the tribunal also ordered Kent Police to pay Mr Bowler's £1,450 tribunal fees, plus £20,822 in compensation. Its damning ruling comes amid a series of Black Lives Matter protests in both UK and the US, in which demonstrators have complained of alleged police racism.
Mr Bowler claimed race discrimination after failing to get promotion to sergeant in March 2014 while working for Kent's special branch frontier operation near the French entrance to the Channel Tunnel.
The initial employment tribunal ruling, made in April this year after a hearing in Ashford, Kent, cleared Detective Inspector Nicholas Staddon of racially discriminating against Mr Bowler, partly because the evidence indicated that he had also been "rude and abrupt" to a white officer.
The tribunal found, however, that once Mr Bowler lodged a grievance complaint over his lack of promotion, he was subjected to both victimisation and racial discrimination.
The tribunal heard that Detective Chief Inspector Andy Somerville had found race relations legislation "convoluted", so his investigation of the grievance consisted of him quoting the Oxford dictionary definition of racism to Mr Staddon, who assured him he wasn't racist.
Ruling that such "sheer incompetence" amounted to racial discrimination, the tribunal panel said: "The lackadaisical approach by Mr Somerville indicated he held a stereotypical view that the claimant [Mr Bowler] was being oversensitive about being treated badly because of his race."
Black Lives Matter protesters block major UK cities
When Mr Bowler appealed, the tribunal added, Superintendent Martin Very "brushed aside" his arguments and "rubber stamped" the earlier report, failing to take the complaint seriously because he viewed the British Asian constable "stereotypically, as oversensitive."
The tribunal ruled that Mr Very had been "disingenuous" in claiming in evidence to the hearing that Mr Bowler's representative Wendell Henry, of the National Black Police Association, had told him there was "no racial element" to the grievance.
"It was so unlikely that he would have told Mr Very that the grievance was not about race as to be incredible," the tribunal observed in its judgement.
Although Mr Bowler arrested a suspected terrorist in October 2014 – the first such arrest by his unit in 11 years – neither Detective Sergeant Scott Wilson nor his successor Det Sgt John McClean mentioned it in their appraisal reports. Mr Wilson said the arrest happened after he had written his hand-over report. Mr McClean said it took place before he became Mr Bowler's line manager.
In its judgement, the tribunal found: "It was indicative of their grudging attitude that neither of them mentioned it."
The tribunal also found that Mr Staddon and Mr Wilson victimised Mr Bowler by making written criticisms which unfairly questioned his honesty.
The tribunal made the key legal point that both men did this after discovering he had initiated a grievance procedure against them, adding the pointed observation: "Mr Staddon and Mr Wilson were vague in their evidence about when they became aware of the grievance; it was one of the few things they were unable to remember."
The tribunal accepted as one of the grounds for awarding aggravated damages that "witnesses suffered 'collective memory loss' about the date they became aware of the grievance, despite being able to recall other matters well."
The tribunal also found that Kent Police had been slow to disclose emails written by Mr Staddon and Mr Wilson about Mr Bowler, adding that as a result he "felt, with good reason, that [Kent Police] was not being forthcoming and was trying to hide the more damaging emails which would show what really happened."
The tribunal added that this led to Mr Bowler forming the "not unreasonable" impression that had he not been aware of the emails and asked for them, they would not have been disclosed.
Ruling on the amount to award Mr Bowler, the tribunal noted that after its initial racial discrimination verdict was delivered in April, "There was a complete lack of action."
Mr Bowler, who is still serving with Kent's special branch frontier operation in France, told the tribunal he had hoped there would be an immediate change of attitude and "the next day I would go into work, and we would have a meeting and return to a productive working relationship."
Instead, with the force expected to seek leave to appeal against the race discrimination and victimisation verdicts, no-one at Kent Police mentioned the judgement to Mr Bowler.
When he contacted Kent's professional standards department to see whether an internal investigation would be launched in relation to the original judgement, he was, the tribunal ruled, "fobbed off by requests for reports or allegations to be put in writing."
Chief Constable Pughsley did send a letter to Mr Bowler in July, three months after initial judgement was issued in April, in which he promised Kent Police would learn from what happened, admitted that "processes were not handled as well as they should have been" and apologised "on behalf of the force, for what happened."
The tribunal, however, agreed with Mr Bowler in dismissing the letter as something that "appears to be [an] apology, but it is not clear what the apology is for."
"The tribunal found," the ruling added, "That the letter was a half-hearted and late attempt to reduce any compensation payable."
The tribunal recommended that Kent Police set up an independent review of the force's grievance procedures and training, and consult with the Black Police Officers Association about any resulting recommendations.
The tribunal also said that the five senior officers named in its judgements should receive formal equality training.
Mr Bowler refused to discuss the case in detail because of the pending appeal. He would only say: "It's been a nightmare."
Kent Police said the force was in the process of appealing against the findings of race discrimination and victimisation.
A Kent Police spokesman said: "Whilst Kent Police accepts that there are points within the grievance and appeals procedures that could be improved, it does not accept that the officer was treated differently due to his race, and Kent Police has been granted an appeal against the tribunal's decision.
"Having submitted the appeal, Kent Police requested that the remedies hearing be adjourned pending the conclusion of the appeals process. However, this was rejected.
"The Chief Constable did send a letter to Mr Bowler apologising for the way in which the matters were dealt with. There was concern that Mr Bowler might be staying at two different addresses therefore to ensure prompt receipt the letter was sent via his solicitor. Kent Police now awaits the result of the appeal. Recommendations submitted by Mr Bowler for improvement to procedures will be considered by the force."
Register for free to continue reading
Registration is a free and easy way to support our truly independent journalism
By registering, you will also enjoy limited access to Premium articles, exclusive newsletters, commenting, and virtual events with our leading journalists
Already have an account? sign in
Register for free to continue reading
Registration is a free and easy way to support our truly independent journalism
By registering, you will also enjoy limited access to Premium articles, exclusive newsletters, commenting, and virtual events with our leading journalists
Already have an account? sign in