Monitoring Khalid Masood might not have stopped London attack, says former UK terror chief
Exclusive: Security services face questions after Masood previously investigated for extremism
Lizzie Dearden
Friday 24 March 2017 19:25 Comments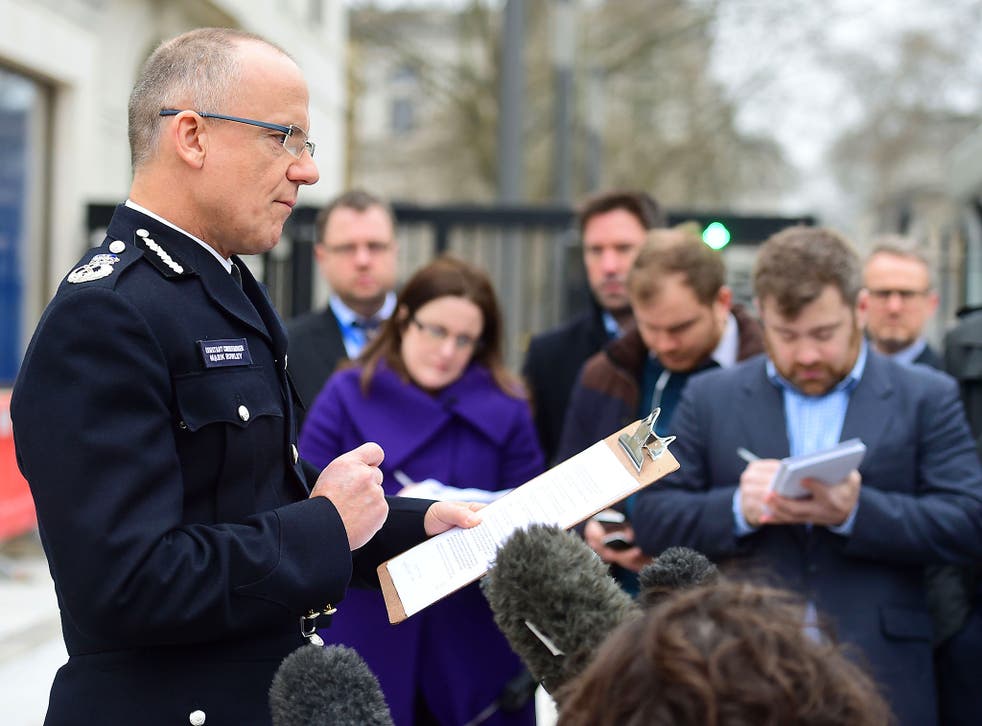 The Government's former adviser on counter-terror laws has said traditional surveillance would most likely have been unable to stop the Westminster attack as security services face questions over Khalid Masood.
The Kent-born Muslim convert was investigated for "violent extremism" by MI5 and served prison sentences for assault and weapons possession but was not convicted of terrorism.
Critics have questioned how Masood could have slipped through the net, with suggestions of a wider extremist network arising with the arrest of at least 11 people on suspicion of terror offences in London, Birmingham and Manchester.
Investigators have not said when Masood was investigated or what group he was thought to be linked to, although Isis claimed responsibility for Wednesday's attack.
Westminster terror attacker named as Khalid Masood
Lord Carlile, who acted as the UK's independent reviewer of terrorism legislation for a decade, said MI5 and the other agencies have to make judgements "based on evidence and information they have" at the time.
"My experience is that on the whole they're extremely good at it," he told The Independent.
"It would be extremely difficult to justify holding someone under surveillance if there was no valuable evidence against them."
Lord Carlile, who held his post between 2001 and 2011 and now sits as an independent peer in the House of Lords, said judgements also depend on available resources.
"No doubt if MI5 had greater resources some people might be kept under surveillance for longer," he added.
"From what I've read, it seems pretty unlikely that it would have made any difference in this case."
Theresa May said Masood was "not part of the current intelligence picture", describing him as a "peripheral figure".
"There was no prior intelligence of his intent, or of the plot," she added.
The Prime Minister's speech to the House of Commons highlighted one of the key risks posed by the shifting tactics of Isis and its supporters.
After directly deploying militants from Syria to carry out the sophisticated bombing and shooting attacks seen in Paris and Brussels, international security crackdowns and the group's huge territorial losses has forced it to promote increasingly low-tech methods of attack.
Isis leaders have called on supporters no longer able to join their ranks in Syria and Iraq to wage "jihad" in their home countries in the West, by whatever means available.
Propaganda magazines issued in October and November contained lengthy articles on how to carry out knife and vehicle attacks, with detailed instructions on how to pick crowded and unguarded targets and optimise casualties.
While some previous terror plots have been thwarted after suspects were detected buying weapons or bomb-making materials, the use of everyday, legal items presents an increasing challenge for intelligence agencies.
Their reach was broadened by the Investigatory Powers Act 2016, which includes measures forcing internet providers to make records of websites visited by customers available to a wide range of government and security departments, as well as forcing firms to access private phone communications.
The law was opposed by a 212,000-strong petition, with critics arguing the "unprecedented levels" of surveillance were disproportionate and an "absolute disgrace to both privacy and freedom".
Lord Carlile said those opposing the IPA, including legal experts at the United Nations, offered "no useful alternative" to its provisions.
"My view is that it's good law, it's proportionate and it's subject to appropriate levels of scrutiny," he added, saying he would resist calls for change.
The barrister said legislative powers worked alongside other efforts to tackle extremism, including the removal of "tens of thousands" of radical internet websites.
"I don't think one can fault the level of activity by the security services, and what we need to examine is whether they have enough resources to keep up the requisite level of activity," Lord Carlile said.
"I would like us to have a more joined up approach to the issues that might affect whether such an attack occurs."
The new independent reviewer of terrorism legislation, Max Hill QC, vowed that the Westminster attack will be subjected to "full scrutiny and investigation" by the police and intelligence services".
"It seems highly likely that what happened provides an unwelcome reminder of the existence of the threat from terrorism which we all face," he said.
In pictures: Westminster attack

Show all 9
"The instant response by the police and emergency services has been exemplary, and has been followed by the thorough investigation which is now under way.
"I have no doubt that we will reflect on the events for a long time to come."
Four people were killed in the atrocity, which saw Masood plough into pedestrians on Westminster Bridge before crashing his car into railings surrounding the Houses of Parliament.
The 52-year-old, known before his conversion as Adrian Ajao or Elms, ran inside an entrance to the Commons and fatally stabbed a police officer, before being shot dead.
Scotland Yard's deputy commissioner, Mark Rowley, said investigators were focused on understanding his motivation, preparation and associates.
"Our determination is to find out whether he acted totally alone inspired by terrorist propaganda or if other have encouraged, supported or directed him," he added.
Saudi Arabia, where Masood worked as an English teacher for two periods in 2005-06 and 2008-09, said he had no criminal record in the country and "did not appear on the security services' radar".
A spokesperson for the Home Office said it did not comment on intelligence matters.
Register for free to continue reading
Registration is a free and easy way to support our truly independent journalism
By registering, you will also enjoy limited access to Premium articles, exclusive newsletters, commenting, and virtual events with our leading journalists
Already have an account? sign in
Join our new commenting forum
Join thought-provoking conversations, follow other Independent readers and see their replies