Khalid Masood: Met Police release new picture of London attacker
Police raids see 11 people arrested on suspicion of preparing terrorist acts in London, Birmingham and Manchester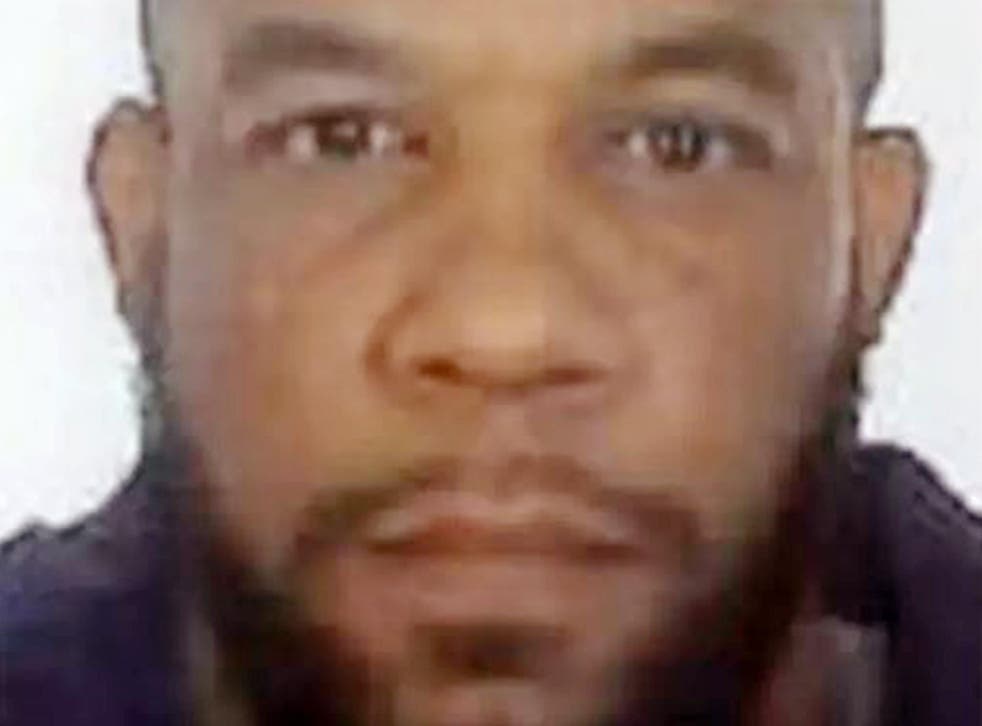 Counter-terror investigators have released a new photo of the Westminster attacker, Khalid Masood, as investigations continue into his connections and possible motivations.
The shot was taken recently for one of the 52-year-old's identity documents, The Independent understands.
It was made public after a dramatically different image emerged showing the suspected extremist as a smiling teenager on his school's five-a-side football team.
Masood, who was born in Kent as Adrian Elms and known as Adrian Ajao following his mother's marriage, was shot dead by police after murdering four people in a terror attack outside the Houses of Parliament.
Police are appealing for anyone who knew Masood to come forward as they investigate whether he acted "totally alone inspired by terrorist propaganda", or whether he was encouraged, supported or directed by others to carry out the atrocity.
Masood was using the encrypted messaging service WhatsApp at 2.37pm on Wednesday, just minutes before the atrocity, Sky News reported. The discovery suggests he sent a final message before launching the attack, although what it said and to who it was sent to is unclear.
He had stayed at Brighton's Preston Park Hotel on the previous night, where staff described him "laughing and joking".
Michael Peterson, a fellow guest who bumped into Masood before he left on Wednesday morning, said he seemed "totally, perfectly normal", adding: "Articulate, polite, presentable - and the guy is on his way to commit mass murder."
Businessman met killer in Brighton hotel hours before Westminster attack
Isis claimed responsibility for Wednesday's attack, calling him a "soldier of the Islamic State", but it was unclear whether the group had any direct involvement in the incident.
In pictures: Westminster attack

Show all 9
Scotland Yard's Acting Deputy Commissioner, Mark Rowley, said police want to hear from anyone who understands who Masood's associates were and can provide information about places he has recently visited.
"There might well be people out there who did have concerns about Masood but weren't sure or didn't feel comfortable for whatever reason in passing information to us," he added.
Detectives are continuing to search two homes in Birmingham and another in East London linked to the attacker, after completing others elsewhere in London, Birmingham, Manchester, Brighton, Surrey and Camarthenshire in Wales.
A total of 11 people have been arrested as part of the investigation and 10 remain in custody after a 39-year-old woman detained in London on suspicion of preparing terrorist acts was bailed.
A 21-year-old woman and a 23-year-old man were arrested at one address in Birmingham, while a 26-year-old woman and three men aged 28, 27 and 26 were detained at another.
All six suspects were arrested on suspicion of preparation of terrorist acts, as was a 58-year-old man arrested in Birmingham on Thursday morning.
Police made two more "significant" arrests overnight – a 27-year-old man in Birmingham and a 35-year-old man in Manchester – while a 32-year-old woman was arrested on Friday morning in Manchester.
A disjointed picture of Masood's life is starting to emerge, showing a long journey from a popular and well-liked teenager, to violent criminal, family man, bodybuilder and finally a suspected Isis supporter.
Former classmates at the Huntley School for Boys near Tunbridge Wells in Kent remembered Masood as a big personality who "everyone liked" but his first criminal conviction came when he was just 19.
Offences including grievous bodily harm, assault and possession of an offensive weapon saw him jailed at Lewes Prison in East Sussex, Wayland Prison in Norfolk and Ford open prison in West Sussex.
One of his jail terms was a two-year stint for a fight in 2000 outside the Crown and Thistle in Northiam, near Rye in East Sussex, that left a man needing 20 stitches in his face.
Hove Crown Court heard that Masood had moved to the village "to give his family and himself a better and more tranquil way of life" and but felt "ostracised" as one of only two black men in the village.
An argument with his victim allegedly had "racial overtones", which a judge said partly explained but did not excuse Masood's behaviour while jailing him for two years.
The Telegraph reported that Masood was jailed again three years later for stabbing another man in the nose, but he still managed to work as an English teacher after his release.
His CV, seen by The Sun, lists him as a university-educated English teacher with experience working in places such as Saudi Arabia and Luton, although it is believed he never taught at any state schools in the UK.
The killer, believed to have a wife and three children, most recently appeared to be based in the West Midlands, but also spent time in London, Sussex and Luton.
Theresa May told MPs packed into the House of Commons that he was the subject of a historical MI5 investigation over suspected violent extremism but was not charged with terror offences.
His attack left four victims dead and 50 others injured of 12 different nationalities, with 31 requiring hospital treatment.
Police named a fourth victim who died on Thursday night as Leslie Rhodes, from Streatham in South London.
The 75-year-old was the third victim to die from injuries sustained as Masood ploughed his car into pedestrians on Westminster Bridge, killing mother-of-two Aysha Frade and American tourist Kurt Cochran, who was in London with his wife to celebrate their 25th anniversary.
Masood then crashed the vehicle into a fence outside the Houses of Parliament before running to an entrance and fatally stabbing PC Keith Palmer, before he was shot dead.
Join our new commenting forum
Join thought-provoking conversations, follow other Independent readers and see their replies