Brexit: Nearly 60% of Leave voters would now pay to retain EU citizenship
Exclusive: Findings shown to The Independent suggest many who opted for Brexit at last year's referendum would pay more than £1,000 to keep benefits of EU rights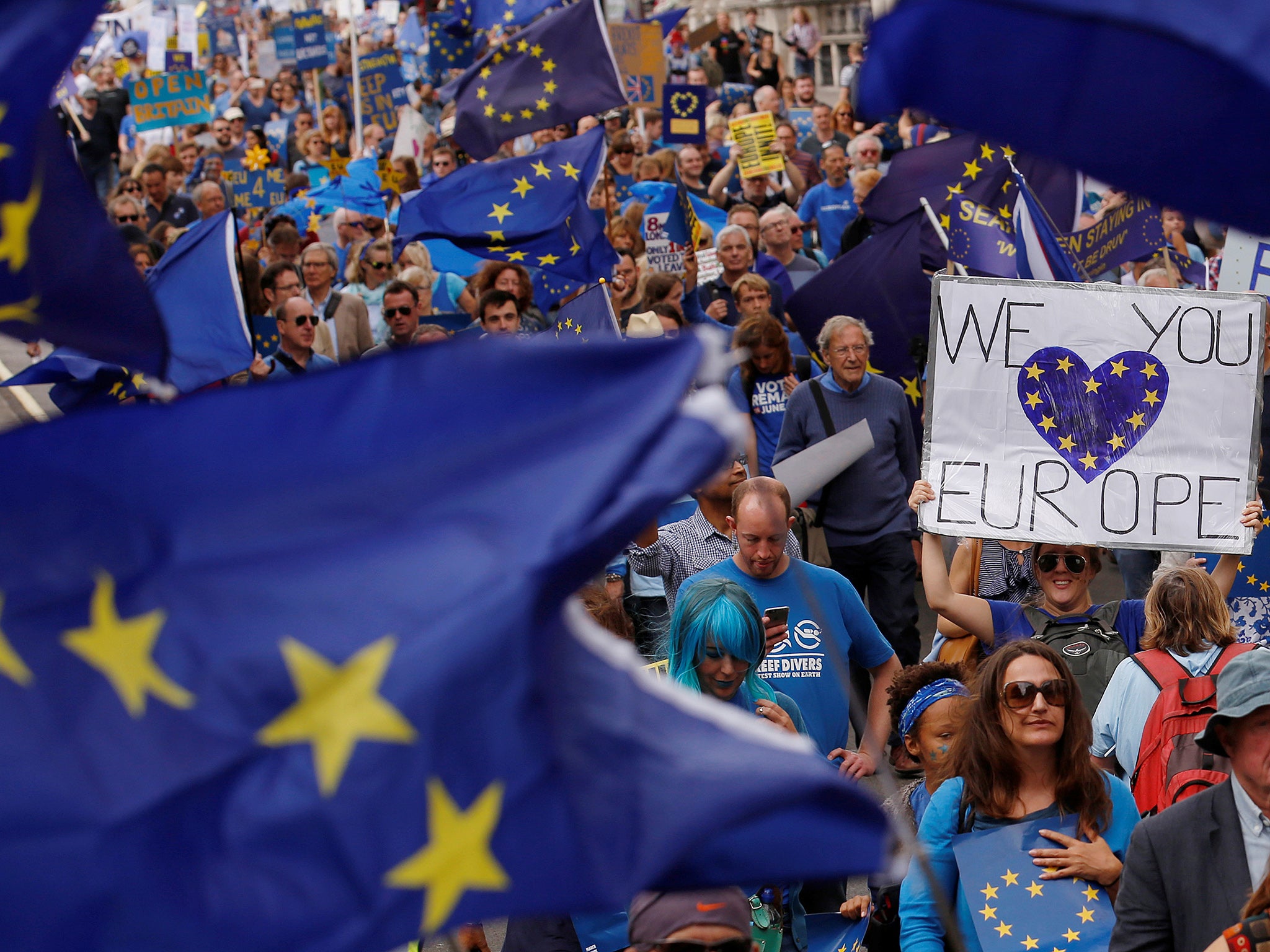 As many as 58 per cent of people who voted to leave the EU are now willing to pay to keep their European citizenship, a poll has found.
The survey shows a total of 68 per cent of Britons would pay potentially large sums of money to retain the rights enjoyed by EU citizens in addition to their British citizenship.
Nicky Morgan says Theresa May should be replaced after Brexit negotiations finished
Michael Bruter, professor of political science and European politics at the London School of Economics, revealed the findings to The Independent. The full study has not yet been made public.
The poll was carried out by professor Bruter and Sarah Harrison from the LSE's research initiative for the study of electoral psychology, ECREP, in conjunction with polling firm Opinium.
In some instances, people were ready to pay very large sums of money for the citizenship, and this includes people who voted to exit from the union.
Of those who voted Leave in June last year but would now be willing to pay for EU citizenship, one in 10 said they would pay more than £1,000 a year to guarantee their rights.
On average, respondents said they would expect to pay £405 per year, which included 32 per cent of people who would not be willing to pay anything.
Among those who said they would be willing to pay, the average sum cited rocketed to £594.
Professor Bruter told The Independent that the issue of EU citizenship could crystallise the Brexit negotiations.
"This is a real symbolic issue that is also linked to people's emotions. We wanted to do this study to find out what people thought about the issue while the negotiations are ongoing.
"It shows that young people are very attached to their European citizenship. These are people who were born in a world with 28 member states and more than 500 million people – suddenly, their world has got much smaller.
"Previous research we carried out also showed that despite the UK having a very large number of people who did not feel European at all it also had the third biggest proportion of people who said feeling very European."
The LSE-Opinium survey also found that 73 per cent of respondents would increase EU citizens' voting rights with 48 per cent saying they want to give EU citizens living in the UK the right to vote in general elections as well as local elections.
Only 10 per cent supported the Government's position of withdrawing the right of EU citizens to vote in local elections.
Professor Bruter said he was surprised by these numbers and called the response "progressive".
A total of 2,004 people representative of the British population completed the survey online.
In a separate question which did not mention payments, six out of 10 respondents said they want to keep their European citizenship.
Among 18- to 24-year-olds, the poll found 85 per cent want to keep their EU citizenship when the UK officially withdraws from the bloc.
There is no existing legislation or precedent over whether EU citizenship can be stripped from an individual whose nation is leaving the union.
The findings come as Theresa May is under pressure to soften her plan for a hard Brexit following a disastrous result in the general election.
The Prime Minister is reportedly preparing a dramatic walkout in September over Britain's "divorce bill" to show she is willing to be tough with the EU.
In pictures: European parliament Brexit discussions
Show all 12
She previously came under fire over her offer on rights for EU citizens with many saying it provided more questions than answers.
The plan would see anyone arriving after a cut-off date but before Brexit being given "a period of grace" of up to two years to regularise their positions and possibly manage to stay for five years and gain settled status – but with no guarantees.
The settled status is expected to allow EU citizens to stay if they have lived in the UK for five years, securing rights on healthcare, education and benefits broadly similar to those enjoyed by EU citizens in the UK currently.
Earlier this week, it emerged that tens of thousands of EU nationals who filled the complex 85-page form to secure UK residency after Brexit will have to apply again.
Join our commenting forum
Join thought-provoking conversations, follow other Independent readers and see their replies