Lego reveals first ever toy figure in a wheelchair
'This move by Lego is massive in terms of ending cultural marginalisation; it will speak volumes to children, disabled or otherwise, the world over'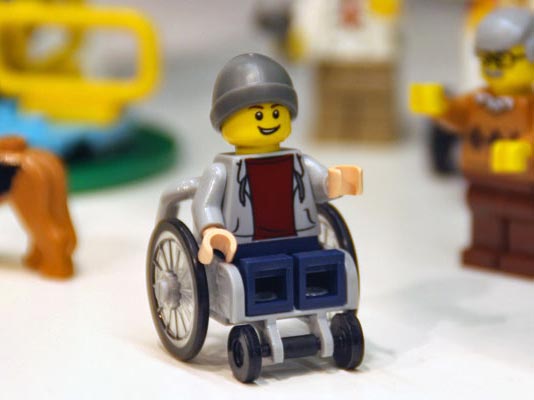 A campaigner has hailed Lego's first ever figure of a young person in a wheelchair as a step towards ending the "cultural marginalisation" of children with disabilities.
Charities also commended the move, saying it would boost the confidence of disabled children.
The figure of the young person using a wheelchair was first seen at the Nuremberg Toy Fair in Germany on Wednesday but Lego has said it will not be available to buy until June.
It comes after Rebecca Atkinson launched the ToyLikeMe campaign last year, urging Lego to draw an end to disabled children being "culturally excluded from your much-loved products".
Her Change.org petition has garnered more than 20,000 signatures in support of Lego producing a more diverse set of figures.
The petition reads: "There are 150 million children with disabilities worldwide. Yet these kids are arriving into a world where… they're excluded or misrepresented by the very industry that exists to create their entertainment, the objects that fuel their development, the starting blocks of life: Toys!"
Commenting on the launch of Lego's new product, Ms Atkinson said she was "beyond happy".
She said it was a step towards ending "cultural marginalisation", adding it would "speak volumes to children, disabled or otherwise, the world over".
Lego: If you build it, they will come
Show all 8
Emma Owen, a spokesperson for Lego, said: "We would like to confirm that there will be a wheelchair in the Lego City range, [which] will be available from June this year."
Pasca Lane, from disability charity Scope, hoped Lego's move would improve attitudes towards disabled children. "Many parents tell us it is important for their children to have toys which they can identify with because it builds their confidence, self-esteem and the feeling of being included in society."
But she warned enough was still not being done by the toy industry. "Too many toy manufacturers are still missing a trick by not making toys with impairments widely available.
"After all, the spending power of disabled consumers is worth over £200 billion," she said.
George Fielding from Whizz-Kidz charity, said: "I used to enjoy playing with Lego when I was younger but I never had a character that I really related to or one that I felt represented me as a wheelchair user."
"I'm so pleased to hear about Lego's new disabled model because it means that young disabled people growing up now, might feel more included and represented."
Michael Friedrichs, from Lego news blog PromoBricks, told The Independent: "For years now... Lego fans from all over the world [have demanded the company] release an official set with disabled people. After a long wait, we will have [it] this summer.
"It's really awesome and the feedback in the community is very positive."
Join our commenting forum
Join thought-provoking conversations, follow other Independent readers and see their replies