Leicester house fire: Two men found guilty of murdering mother Shehnila Taufiq and her three children
Dr Taufiq said on Monday that he did not hate the men who killed his family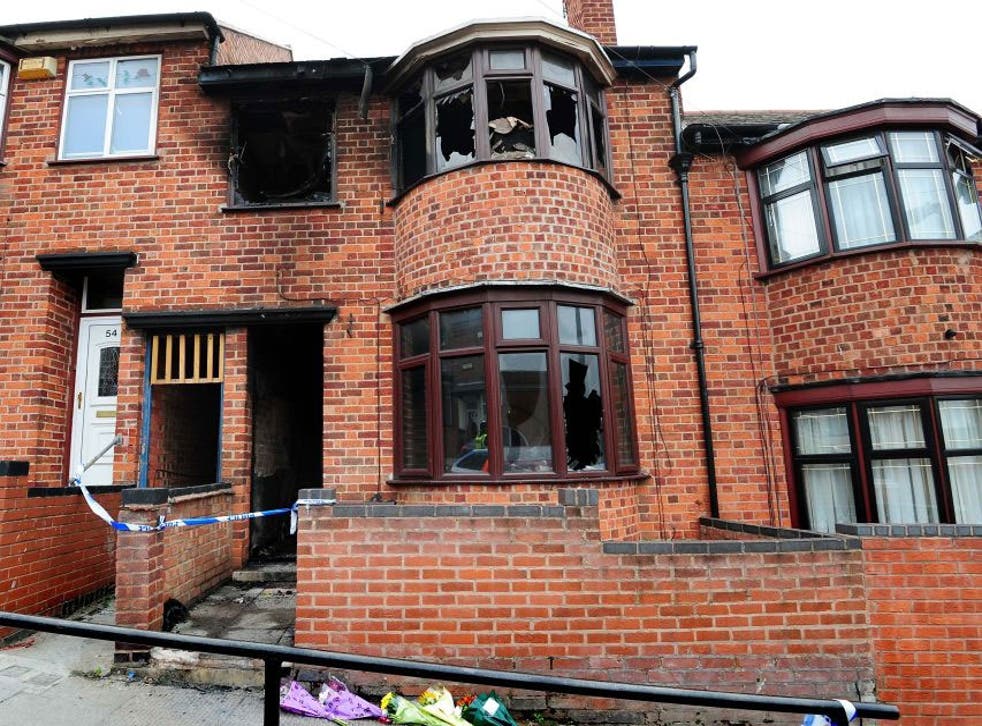 Two men have been found guilty of murder, after a gang set fire to the wrong house during a revenge attack – killing a mother and her three children.
47-year-old Shehnila Taufiq, her 19-year-old daughter Zainab, and sons Bilal, 17, and Jamal, 15, died in the early hours of 13 September last year, when their terraced house in Wood Hill, Leicester, was engulfed in the flames of a petrol-fuelled fire.
Kemo Porter, 19, and Tristan Richards, 22, were both found guilty of murder following a two-month trial at Nottingham Crown Court.
Six other defendants: Shaun Carter, 24; Nathaniel Mullings, 19; Jackson Powell, 20; Aaron Webb, 20, Akeem Jeffers, 21 and 17-year-old Cairo Parker, were cleared of four counts of murder but found guilty of manslaughter.
The gang had wrongly attacked the house to avenge the fatal stabbing of their friend, football coach Antoin Akpom, hours earlier, Leicestershire Police said.
During the trial, the court heard that football coach Akpom had been stabbed in the back in a "confrontation"' involving two 19-year-olds at around 5.30pm on 12 September, less than a mile away in Kent Street. He was pronounced dead in hospital at 7pm.
Shenila Taufiq's husband and the children's father, Muhammad Taufiq Al Sattar, said he felt no hatred towards the eight men convicted of killing his family.
Dr Taufiq said: "You hate crime. You don't hate individual people".
Speaking after the verdicts at a press conference on Monday, an emotional Dr Taufiq paid tribute to his family.
He said: "My beloved wife and three beautiful children I can say they were really extraordinary people. They were very charitable. They had a strong concern for the welfare of others even before their own comfort. They had devoted their lives to a dream to give to others, the needy, the less privileged and the misguided. Four amazing human beings. "
During a press conference, Assistant Chief Constable Roger Bannister, Leicestershire Police, praised Dr Taufiq.
"I would like to pay tribute to Dr Taufiq who has been central and a really important part of our investigation in terms of ongoing support.
"Dr Taufiq has attended court throughout the trial and shown what I think is amazing strength at what has understandably been some very difficult times. He has lost his entire family in the most tragic of circumstances and has had to hear some very disturbing details of their final moments.
"It is difficult to understand how someone could cope with this but Dr Taufiq has done so with the greatest amount of dignity and courage.
"My hope is that he can begin to move on from this devastating tragedy and continue to draw the immense strength from his religion to be the inspiring man I believe he is."
He also thanked the local community of Leicester for their "patience, support and advice".
He said: "The events of Friday September 13 deeply affected not just the close-knit community that Shehnila and her children were part of and so well respected in but also the wider community.
"Leicester itself is a city really richly proud of its diverse and rich culture and I have seen at first hand how everyone pulled together and united to support Dr Taufiq but each other as well."
Temporary Detective Superintendent Kate Meynell, senior investigating officer, said the investigation had been difficult as the stabbing of Mr Akpom had taken place just hours before the fire.
Ms Meynell said: "I think as part of the investigation team we're always aware of the impact that these incidents have on the community and on the families.
"I think it's a great credit to the communities in Leicester that everyone came together. I can only begin to imagine the impact that it has had on people that knew the Taufiq family or knew Antoin but everyone did come together."
The judge said he would hear mitigation tomorrow and then the eight would be sentenced at Nottingham Crown Court on Wednesday morning.
Additional reporting by PA
Join our new commenting forum
Join thought-provoking conversations, follow other Independent readers and see their replies