'Everyone came running onto the street': Why is Leighton Buzzard being plagued by earthquakes?
'I've never noticed it happening in Leighton Buzzard before'
Harry Cockburn
Tuesday 22 September 2020 16:25 Comments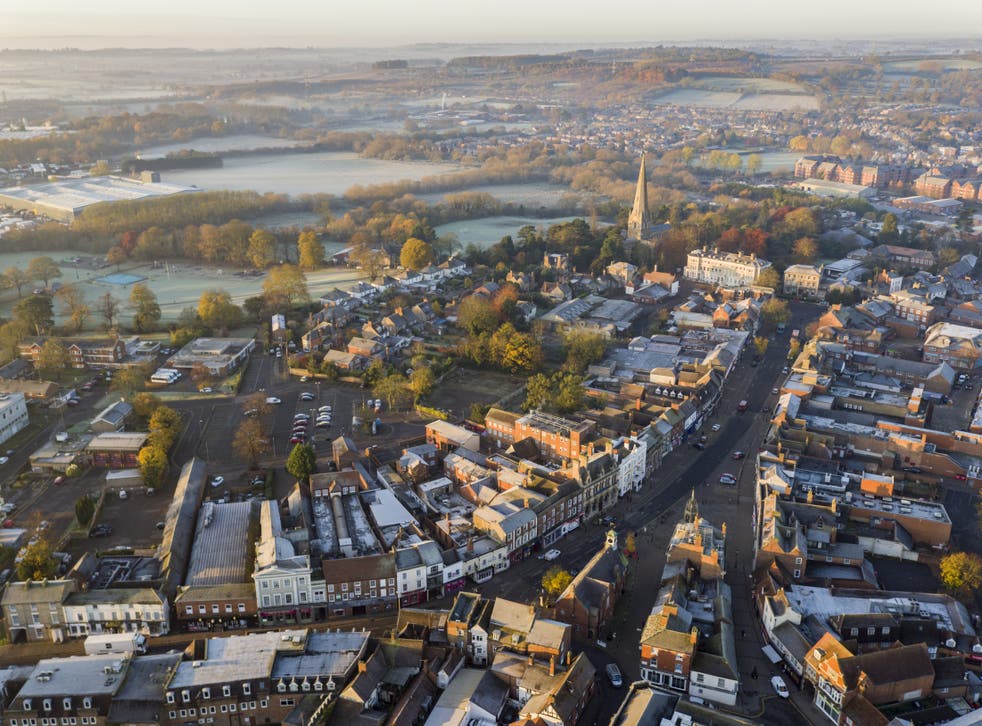 Most of us living in the UK don't experience earthquakes very often.
Like the surprise of waking up to find a fresh blanket of snow, the minor tremors which occasionally perturb our largely placid country are treated more as a novelty than a real danger to life.
But things have recently become quite different in the Bedfordshire town of Leighton Buzzard, where residents have been beset by a plague of unexpected rumbles and were awoken on Tuesday by their third earthquake in two weeks.
The town felt its first earthquake, which had a magnitude 3.5, this month on 8 September and its second, a magnitude 2.1 tremor, less than a week later on 13 September.
The latest to strike was a magnitude 3.0 quake with a depth of 10km (6.2 miles), according to provisional details from the British Geological Survey (BGS).
In recent years, fracking has been the cause of repeated earthquakes in areas such as Lancashire, but there is no such activity currently underway in the UK.
The flurry of seismic activity has resulted in a busy day for the BGS press office, which has been inundated with calls from journalists all clamouring to know why this small town - previously most notable for being where the Grand Union Canal was officially opened in the early 20th century - is now Britain's earthquake capital.
Meanwhile the triple tremor is the talk of the town, according to locals.
James Drew, landlord of The Golden Bell in Leighton Buzzard tells The Independent this morning's earthquake moved his chair.
"It's all a bit odd," he says over the phone. "We're not really known for it in this country at all, so to have three in a very small area is a bit strange.
"The first one was the biggest. I was in bed, and the whole bed moved, and I thought that a car had run into the side of the pub or something. So I came running downstairs to see what had happened, because my wife was in the front room, and everyone came running out of all the other buildings thinking the same thing had happened. So we're all a bit shocked."
"This one, the chair I was in moved, so you felt it, but it wasn't anywhere near as long or as harsh as the first one."
He adds: "I've been here ten years and I've never noticed it happening in Leighton Buzzard before."
Jim Woolley, landlord of The Hare in Leighton Buzzard, tells The Independent: "It's certainly caused a lot of interest. It's our third one in two weeks. This morning's was quite large, it felt like a bus had come through the front of the pub."
Alluding to the government's new early closing hours for pubs due to the Covid-19 pandemic, Mr Wolley added: "It takes your mind off the fact we've got to all go home at 10 o'clock now. I'm sure the two aren't connected."
Earthquakes in the UK are relatively common, with 200 - 300 happening each year. But what has brought this specific spate of seismicity to Leighton Buzzard?
Davie Galloway from the BGS tells The Independent these kind of incidents are "not that unusual".
He says: "There's usually what we call the main shock, and then there are a series of aftershocks after that.
"What happens is not all the stress has been released in the first earthquake so the remaining stress is released in a series of aftershocks after the main event.
"Occasionally what happens is we get something called a swarm of events. When this happens there's a smaller one and then another larger one, so it could be a swarm. The first earthquake can trigger other earthquakes from the same faultline nearby.
"They can be the same size or even larger. These have happened before in the UK, back in Conwy in the 70s, and more recently in Manchester in 2002 Aberfoyle [in Scotland] in 2003 and Newdigate in 2018/19."
He explains it is difficult to know the precise cause of the recent quakes and said there is a margin of error involved in earthquake detection and epicentre pinpointing.
"The Earth's crust is made up of all different types of rocks which all have different velocities for earthquake waves travelling through them. So there are errors involved, so we don't really have a cause in full."
It's "not like the San Andreas Fault" in California, he says, which you can see above ground, because "most of the faults in the UK are between 5 - 25km in depth, and we don't really know where they are. It could be a new fault or it could be an old fault. We can't really attribute any particular earthquake to any particular fault."
He adds: "The UK is criss-crossed with thousands and thousands of faults. The UK's in the middle of a tectonic plate - we're what's called an intra-plate country, but the movement of the plates on the surface of the planet still create stresses in the rocks beneath the UK. When that stress exceeds the strength of the rock, earthquakes occur along these plains of weaknesses."
Asked if he thought there would be any worse quakes for the people of Leighton Buzzard to be concerned about, Mr Galloway says it is difficult to predict the magnitude of earthquakes, but says: "I don't think they will. We can't predict there won't be any more, but this could be the last one, or there could be a few more, we just don't know."
The largest earthquake in the UK occurred in 1931 it was a 6.1 magnitude quake off Dogger Bank in East Anglia and was, "felt throughout the country" according to Mr Galloway.
"It caused a few chimneys to collapse", he says.
Register for free to continue reading
Registration is a free and easy way to support our truly independent journalism
By registering, you will also enjoy limited access to Premium articles, exclusive newsletters, commenting, and virtual events with our leading journalists
Already have an account? sign in
Join our new commenting forum
Join thought-provoking conversations, follow other Independent readers and see their replies