Gay Ugandan woman facing deportation from UK despite fears of persecution
Exclusive: Friends of Lazia Nabbanja fear for her safety if Home Office goes ahead with plans to remove her from country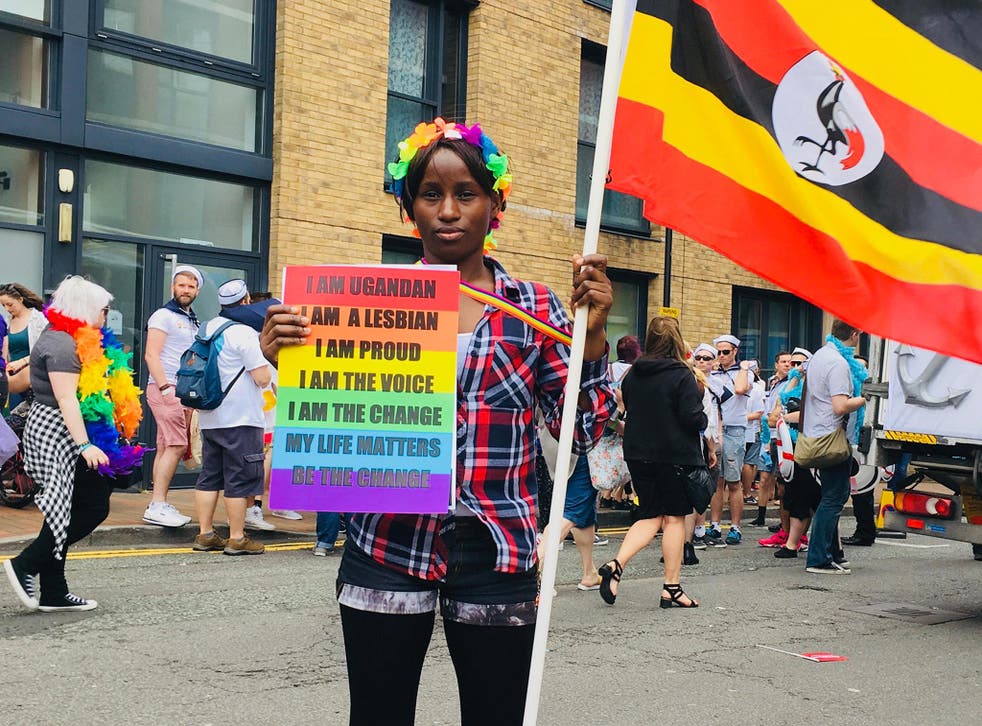 Campaigners are fighting to stop the Home Office deporting a lesbian woman to Uganda, where she could face persecution under the country's anti-gay laws.
Lazia Nabbanja had claimed asylum in the UK on the grounds that she would face oppression in her home country, but her bid was rejected by the Home Office last year.
Despite her providing evidence of her sexuality, Ms Nabbanja's lawyers told The Independent that Home Office officials used alleged inconsistencies in the details of her relationships to suggest they did not believe she is gay.
Photos and videos of her attending gay pride marches have been widely shared on social media and she has been featured in Ugandan newspapers, prompting fears she could be arrested or attacked as soon as she returns to her home country.
Her supporters say she faces the prospect of violence at the hands of vigilante mobs and being forced to pay police officers for her freedom.
Ms Nabbanja is currently being held at Yarl's Wood detention centre while awaiting a deportation date.
Abbey Kiwanuka, whose support group Out and Proud African LGBTI has been supporting Ms Nabbanja, said he feared for her life if she was deported.
He told The Independent: "She's very distressed. Her lawyers phoned me on Tuesday and asked if someone could visit her because she's in a bad, bad state.
"She has been cutting herself and has attempted suicide on two occasions."
Mr Kiwanuka said Ms Nabbanja would face persecution if she was sent back to Uganda.
"The Home Office have to consider what is going to happen to her if she is deported," he said. "Her picture is widely available and as soon as she lands the immigration authorities will be aware she is coming. It will be difficult for her as soon as she gets off the plane.
"It's hard not to think that if she goes to Uganda, she will be prosecuted."
UK news in pictures

Show all 50
Ms Nabbanja could face violence at the hand of members of the public as well as state authorities, he added.
"The community she will have to live in will be aware too," he said. "Even before the police come, a mob will have already beaten her. If you get arrested by the police, they blame you for your sexuality and you have to pay them some money to let you out.
"There's also a tendency in Uganda to report homosexual people to the police for things they haven't done. If she is taken back to Uganda and something happens, it will be down to the Home Office."
Supporters are now seeking to raise money via a crowd-funding page to fund a judicial review of the decision to reject Ms Nabbanja's asylum application. They say she is an active member of the UK LGBTI community and "much loved and respected" by her friends.
According to an online petition set up to support her, Ms Nabbanja was forced to marry a man in Uganda in 2009. Seven years later he discovered her kissing her girlfriend and beat her so badly that she was left unconscious.
She fled to her grandparents' house in a different part of Uganda and then to the UK, where she applied for asylum.
Her application was rejected, however. According to friends, UK officials insisted her life was not in danger in Uganda and said it was unlikely she would be identified in her home country, despite her sexuality having been widely displayed online.
Jerry Clore of Jerry Clore Solicitors, which is representing Ms Nabbanja, told The Independent: "Following the refusal of our client's application for asylum, we submitted new evidence by way of a fresh claim showing that her highly visible online presence would place her at risk if she was returned to Uganda.
"We consider that the Home Office did not engage with the fresh claim and as a result we have brought Judicial Review proceedings to challenge their refusal of it."
Mr Clore confirmed that the Home Office rejected Ms Nabbanja's initial application after suggesting it did not believe she is a lesbian.
A Home Office spokesperson said: "We do not comment on individual cases."
Join our new commenting forum
Join thought-provoking conversations, follow other Independent readers and see their replies