Minge Lane, Bell End and The Knob: How living on one of Britain's rudest-sounding streets could save home buyers up to £84,000
Minge Lane, Crotch Crescent, and Cumming Street were among the rude place names driving down property prices, according to a survey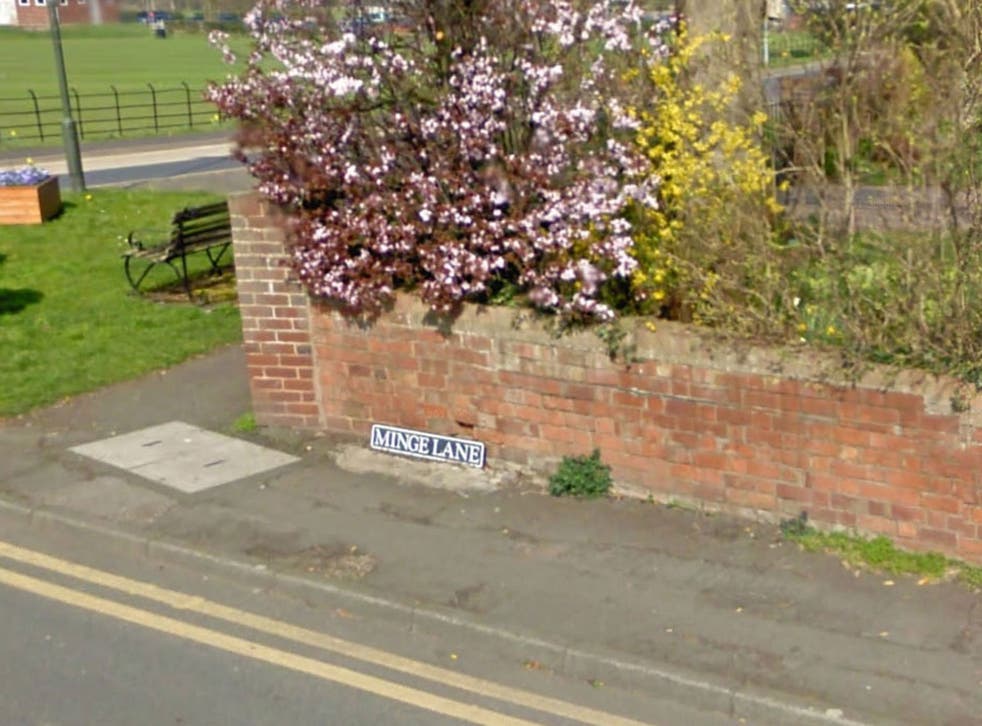 It might lead to merciless ribbing at parties and sniggers at the post office – but living on a street with a rude-sounding name could also land property hunters a bargain.
Properties on streets with ribald names like Crotch Crescent, Turkey Cock Lane, Bell End and The Knob were found to be around one fifth or £84,000 cheaper on average than other homes situated nearby, according to a study by NeedaProperty.com.
The website spent two months researching the impact of innuendo-laden street names on house prices.
Researchers asked 2,000 people to vote for the street name that they would be most embarrassed to have as their address from a long list and the top 15 were used for the study.
Minge Lane in Upton-upon-Severn, Worcestershire, was found to have the highest embarrassment value, picking up almost one third (31 per cent) of the vote.
Top 15 embarrassing street names in UK

Show all 15
A detached property on Minge Lane sells for around £253, 389, compared to £325, 000 for a similar house in nearby Longfield.
Slag Lane in Lowton, Lancashire, followed closely behind, being selected by just over one quarter (26 per cent) of people.
Its semi-detached properties sell for an average of £112,620, nearly £30,000 cheaper than houses in nearby Fieldfare Close.
But two-fifths (40 per cent) of all those surveyed said that a blush-worthy street name would not put them off living there.
Retired Annie Gray, 60, a resident of Fanny Hands Lane in Ludford, Lincolnshire, which came third on the list, said the road name was one of the reasons she and her husband decided to buy their bungalow.
"It was one of the factors because it's so unusual and always get a giggle," she said.
"If you're ever ordering anything and tell people your address, as soon as you say 'Fanny', they know exactly where you mean."
But she said she did not think the name made the houses any cheaper.
"It certainly didn't seem to make a difference when we were looking to buy here."
NeedaProperty.com commissioned a statistician to compare property prices in the 15 rude-sounding streets with homes situated on all other streets within a one quarter of a mile radius, using Land Registry sales figures.
Property prices on 11 out of the 15 streets were found to be "significantly cheaper" than local values typically. Across all the streets looked at, those with rude-sounding names were 22 per cent or £84,000 less expensive on average.
Scott Green, CEO of NeedaProperty.com, said: "It seems there are bargains to be had for those who don't mind a bit of innuendo."
Top 15 embarrassing street names
1. Minge Lane, Upton-upon-Severn, Worcestershire - 31%
2. Slag Lane, Lowton, Lancashire - 26%,
3. Fanny Hands Lane, Ludford, Lincolnshire - 24.9%,
4. Bell End, Rowley Regis, West Midlands - 22.5%,
5. Crotch Crescent, Marston, Oxfordshire -19.6%,
6. The Knob, Kings Sutton, Northamptonshire - 17%
7. Turkey Cock Lane, Stanway, Essex - 10.8%
8. Cockshoot Close, Stonesfield, Oxfordshire - 10.1
9. Cumming Street, Islington, London - 8.9%
10. Cock A-Dobby, Sandhurst, Berkshire - 6.5%
11. Cock Lane, Farringdon, London – 6.3%
12. Clitterhouse Road, Brent Cross, London – 5.8%
13. Cock and Bell Lane, Long Melford, Suffolk – 5.7%
14. Beaver Close, Richmond, Surrey – 2.6%
15. Cold Blow Lane, Lambeth, London – 1.9%
Join our new commenting forum
Join thought-provoking conversations, follow other Independent readers and see their replies