London attack: First pictures emerge of Borough Market after terror attack
Eighth victim is confirmed dead and imams refuse to perform funeral rites for killers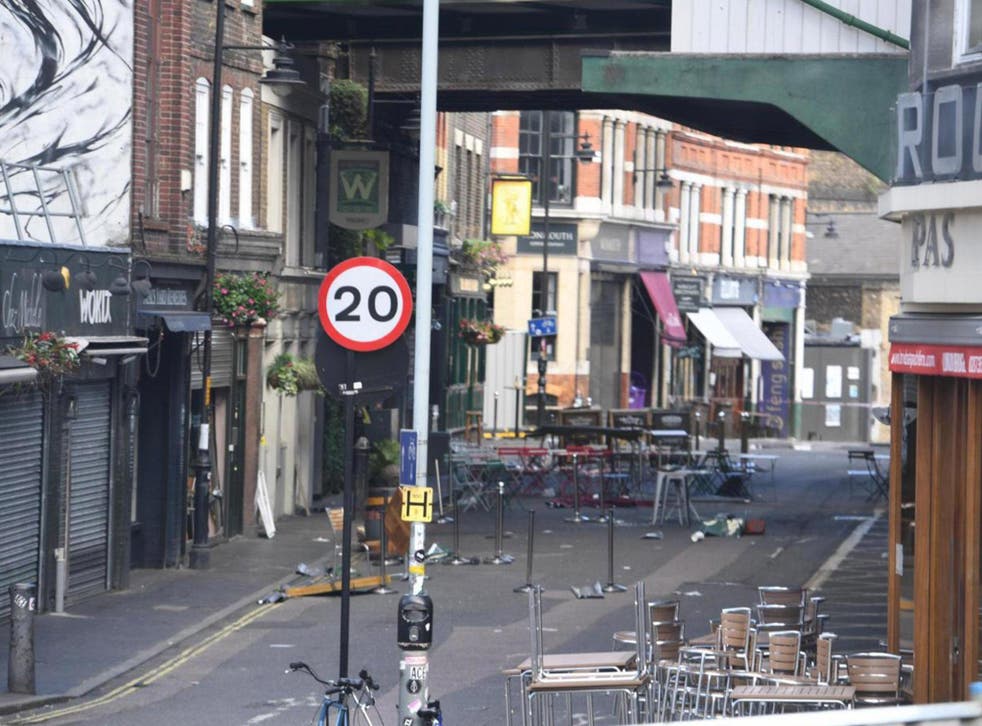 The first pictures to emerge of Borough Market since Saturday night's terror attack show tables and chairs strewn about as police tape flutters in the background.
Overturned furniture and other items fill the abandoned Stoney Street outside the Wheatsheaf pub, where drinkers were caught up in the attack by murderers Khuram Butt, Rachid Redouane and Youseff Zaghba.
The trio killed eight people and injured dozens before they were shot dead.
The historic market is still sealed off, but these images were taken from the top deck of a number 21 bus on Wednesday.
The death toll from the attack rose to eight on Wednesday morning, when detectives searching for a French national recovered a body from the Thames near Limehouse.
Xavier Thomas, 45, is thought to have been struck by the terrorists' van on the bridge; witnesses reported him being thrown into the water.
At least 500 imams and religious leaders have now refused to perform funeral prayers for the London Bridge attackers in condemnation of the "vile murderers".
Support for the move is growing as a group of British Muslims prepare to gather near the site of the atrocity, in order to outline renewed efforts against extremism.
The British Muslim Forum said members would set out how communities and mosques will "challenge, robustly and precisely, the perverted interpretation of Islam that is put forward by Isis and other extremist groups," while calling on people to report anyone expressing sympathy to authorities.
Join our new commenting forum
Join thought-provoking conversations, follow other Independent readers and see their replies