London terror attack: 'Remarkable young waiter' put foot against door to block terrorists, says diner
Richard Angell tells The Independent he will be returning to the restaurant to pay his bill
May Bulman
Monday 05 June 2017 23:16 Comments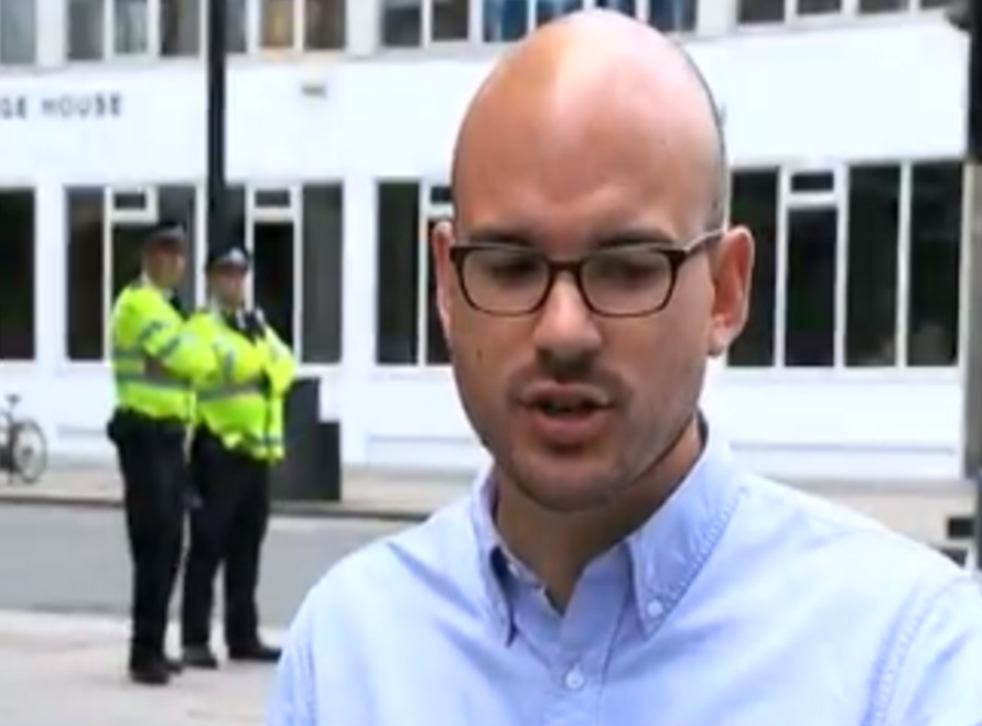 A man caught up in the London terror attack while eating at a restaurant has said he will return to pay the bill and a double tip, saying staff put their lives at risk to protect the diners.
Richard Angell, director of the think tank Progress, was in Arabica Bar and Kitchen in Borough Market when three men drove a van into pedestrians on London Bridge and proceeded to get out and attack people with knives just outside the restaurant.
Speaking to The Independent, Mr Angell recalled how police ordered waiting staff and diners to lock the doors, prompting a flurry of chaos as around 30 diners began trying to clamber over tables to safety.
But he described "remarkable" actions by members of staff amid the chaos, with one waiter putting his foot against the door to wedge it closed.
"We were sitting at the table closest to the door. Part way through our main courses it became clear that the security staff outside were saying 'lock the door' and 'duck and hide'," Mr Angell said.
"This remarkable young waiter, who probably wasn't being paid very much, positioned himself next to the door, put his foot behind it and wedged it closed.
"Everybody else panicked. Me and a couple of friends tried to calm the storm. We were trying to work out what was happening, stop people injuring each other as they were clambering to get away from it all, turning over tables.
"A member of staff locked the door. Despite the fact that their lives were at risk, the staff were concerned about our lives, which was a remarkable thing, and I will be going back not only to pay the bill, but also to double the tip."
As Mr Angell waited with other diners upstairs in the restaurant, where they remained for about 30 minutes before being escorted out by police, he witnessed the attackers' violent rampage through the window, seeing one victim emerging from a restaurant "covered in blood".
"Through the window I saw this guy leaving the restaurant Black and Blue, and he was covered in blood. He was holding his chest or neck, and he was staggering through. I just hope he found the medical attention he clearly needed," Mr Angell added.
"Then I saw a guy opposite throwing a table at men who seemed to be attacking a woman. We didn't have a clue what it was at the time, but this wonderful guy saw these guys attacking someone and was desperately trying stop them."
London Bridge Terror Attack

Show all 16
At least seven people were killed and dozens more injured after a van drove into pedestrians on London Bridge and several men then started stabbing passersby in what police said was a terrorist attack.
The incident began on London Bridge when a white transit-style van drove into a crowd of people "at about 50mph", according to witnesses.
Police said the van then drove to the nearby Borough Market where three men began attacking people. Three suspects were shot dead by armed police.
Register for free to continue reading
Registration is a free and easy way to support our truly independent journalism
By registering, you will also enjoy limited access to Premium articles, exclusive newsletters, commenting, and virtual events with our leading journalists
Already have an account? sign in
Join our new commenting forum
Join thought-provoking conversations, follow other Independent readers and see their replies