London Bridge attack: Murderer Steven Gallant up for early release after confronting knifeman with narwhal tusk
Serving-offender confronted knifeman and restrained Usman Khan before he was shot dead by police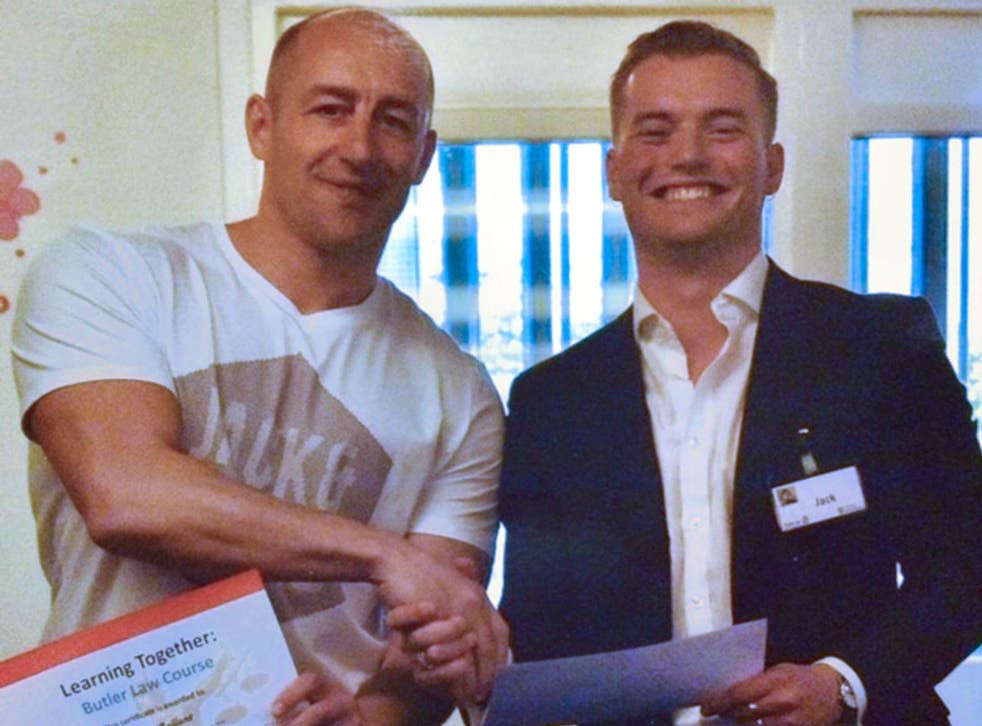 Convicted murderer Steven Gallant is due to have his sentence released after confronting Usman Khan during the London Bridge terror attack while on day release.
Gallant, 42, was praised at the time for intercepting the 28-year-old knifeman with a narwhal tusk ripped from the wall of the Fishmongers' Hall, where the attack took place.
The convicted criminal was jailed for 17 years in 2005 for the brutal murder of ex-firefighter Barrie Jackson outside a pub in Hull.
On the day of the terror attack last November, Gallant was on day release and attending a prisoner rehabilitation event at the Fishmongers Hall.
The event, organised by the University of Cambridge's Learning Together programme, was also attended by Jack Merritt, 25, and Saskia Jones, 23, both Cambridge graduates involved in prisoner rehabilitation who were killed in the attack.
Garrett was at the Fishmongers' hall alongside mentor and conference coordinator Merritt.
Using a chair and narwhal tusk handed to him by civil servant Darryn Frost, who also risked his life to take on the attacker, Gallant restrained Khan on London Bridge. 
Khan had also been attending the event as a rehabilitating offender out on licence after he was jailed in 2012 for planning to plant a bomb in the London stock exchange.
Merritt and Jones were killed and two women and a man were injured before Khan was shot dead by armed officers on London Bridge.
A Ministry of Justice spokesperson said: "The lord chancellor has granted Steven Gallant a Royal Prerogative of Mercy reducing his minimum tariff by 10 months in recognition of his exceptionally brave actions at Fishmongers' Hall, which helped save people's lives despite the tremendous risk to his own."
David Merritt, Jack's father, said to The Daily Mirror: "Steve fully deserves this pardon, in reduction in sentence. It is fantastic."
He added: "He was very close to Jack and he turned his life around reformed. I am really pleased for him."
Earlier this year, Gallant said he "did not hesitate" to intervene.
In a statement, he said: "I could tell something was wrong and had to help. I saw injured people. Khan was stood in the foyer with two large knives in his hands. He was a clear danger to all."
In a rare decision by the Queen, the royal prerogative of mercy has been granted to the murderer.
Though attracting some controversy, the sentence reduction has been backed by the murdered firefighter's family.
Jackson's son Jack, 21, said: "I have mixed emotions – but what happened at London Bridge goes to show the reality that people can change."
Gallant was one of two men convicted for the murder of ex-firefighter Jackson, 33.
During the trial at Hull Crown Court, it was heard that the attack was premeditated and Gallant wrongly believed Jackson had attacked his girlfriend eight days prior.
The last murderer to receive the official royal pardon was almost 25 years ago when former IRA leader and police informer Sean O'Callaghan, who died in 2017, was freed.
The highest royal pardon was awarded posthumously to Alan Turing in 2013, which cleared the lauded mathematician on a 1952 gross indecency charge at a time when homosexuality was illegal.
Register for free to continue reading
Registration is a free and easy way to support our truly independent journalism
By registering, you will also enjoy limited access to Premium articles, exclusive newsletters, commenting, and virtual events with our leading journalists
Already have an account? sign in