London attack: Football fan shouted 'F*** you, I'm Millwall' and took on knife-wielding terrorists with bare fists
Calls for Roy Larner, the 'Lion of London Bridge', to be given a medal after reportedly saving lives and making Millwall fans popular by single-handedly taking on the three attackers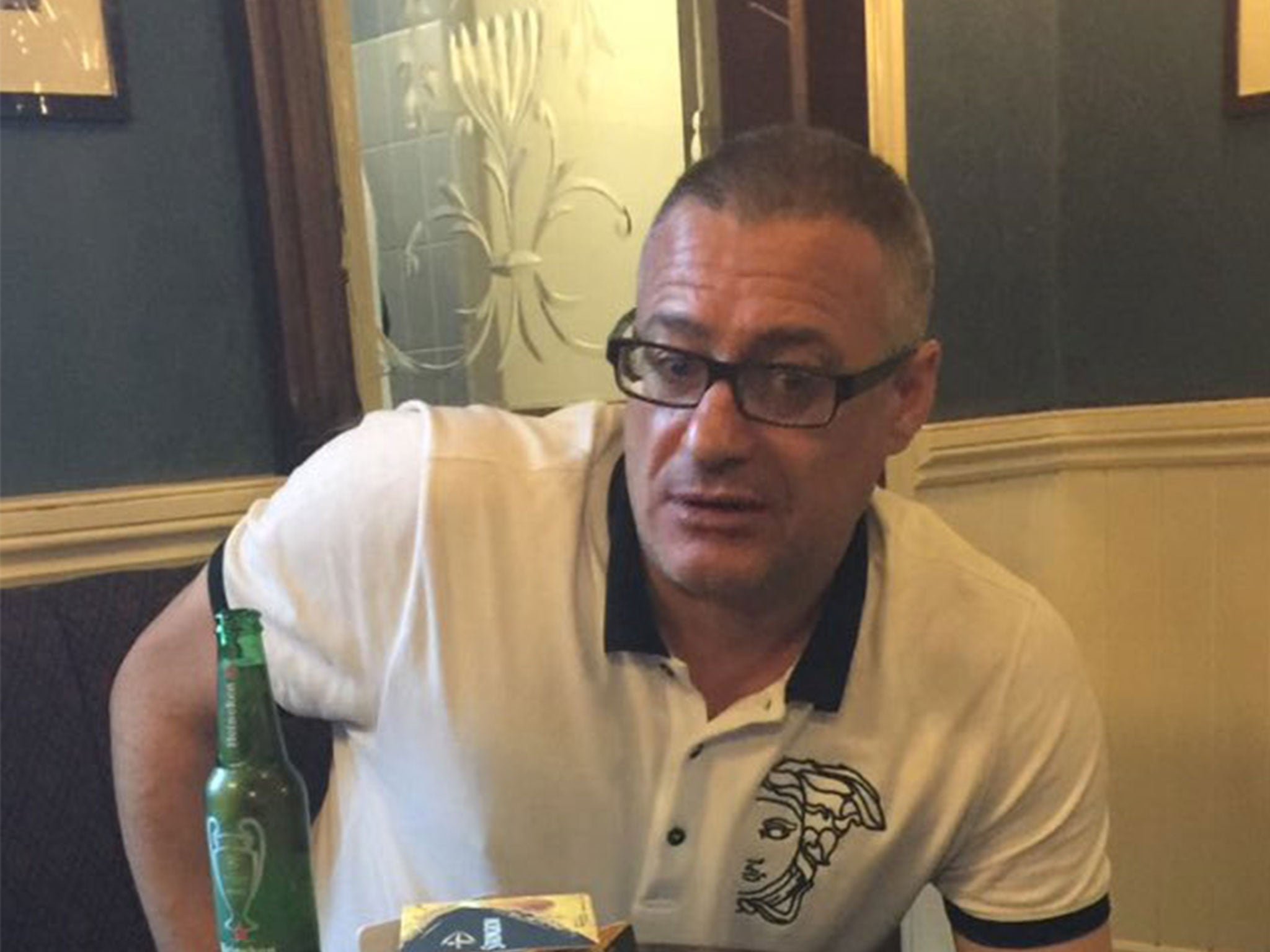 A football fan reportedly yelled "F**k you, I'm Millwall" as he single-handedly took on the three knife-wielding London terror attackers armed with nothing more than his fists.
Roy Larner has already been hailed a hero, with a petition launched for him to be awarded the George Cross medal for his actions in the Black and Blue steakhouse on Saturday night.
In fighting back, the 47-year-old Millwall fan gave dozens of others who were in the Borough Market restaurant the chance to escape.
Thousands join together for vigil after London Bridge terror attack
Now out of the intensive care ward of St Thomas' Hospital, where he was treated for knife wounds all over his body including his neck, the father-of-one has told The Sun how he reacted when the killers burst into the restaurant shouting "Islam, Islam" and "This is for Allah".
"Like an idiot," he told the newspaper, "I shouted back at them. I thought, 'I need to take the p*** out of these b******s'."
"I took a few steps towards them and said, 'F*** you, I'm Millwall'. So they started attacking me."
Mr Larner added: "I stood in front of them trying to fight them off. Everyone else ran to the back.
"I was on my own against all three of them, that's why I got hurt so much.
"It was just me, trying to grab them with my bare hands and hold on. I was swinging.
"I got stabbed and sliced eight times. They got me in my head, chest and both hands. There was blood everywhere.
"They were saying, 'Islam, Islam!'. I said again, 'F*** you, I'm Millwall!'
"It was the worst thing I could have done as they carried on attacking me.
"Luckily, none of the blows were straight at me or I'd be dead."
London Bridge Terror Attack
Show all 16
Mr Larner's actions have won him a huge following on social media, where he has been called "The Lion of London Bridge", a reference to Millwall Football Club's nickname the Lions.
Fans of the south London club have long prided themselves on their refusal to duck a fight, celebrating their intimidating reputation with the chant: "No-one likes us, we don't care."
Mr Larner's bravery, however, seems suddenly to have made Millwall fans popular.
On Good Morning Brtitain, presenter Piers Morgan, a fan of rival London club Arsenal, told viewers: "Millwall fans get a very bad rap, a lot of it very deserved, but there are times when you really want a lot of Millwall fans, and that was one of them."
Mr Larner has certainly made his mother proud.
Phyllis Larner, 78, told The Sun: "He's fearless, my son. He'll give as good as he gets.
"He's quite nippy and lippy and wouldn't back down from a fight.
"He wouldn't care who it was or if they had a knife or gun."
Mr Larner, from Peckham, south-east London, said the attackers eventually "ran out of the pub and legged it".
Despite his injuries, he said he followed them outside.
"It wasn't until I was in a police car," said Mr Larner, "That I realised I was in a bad way. I'd been sliced up all over."
"I didn't think of my safety at the time," he added. "I'd had four or five pints — nothing major.
"I can handle myself. But I was out with an old person and it was out of order."
As he recovers in hospital, Mr Larner's friends have brought him a running magazine. The front cover headline reads: "Learn to run."
Join our commenting forum
Join thought-provoking conversations, follow other Independent readers and see their replies