London fire: Moving tributes pour in for 'incredible' firefighters after day tackling blaze
'First ones in, last ones out.. Incredible'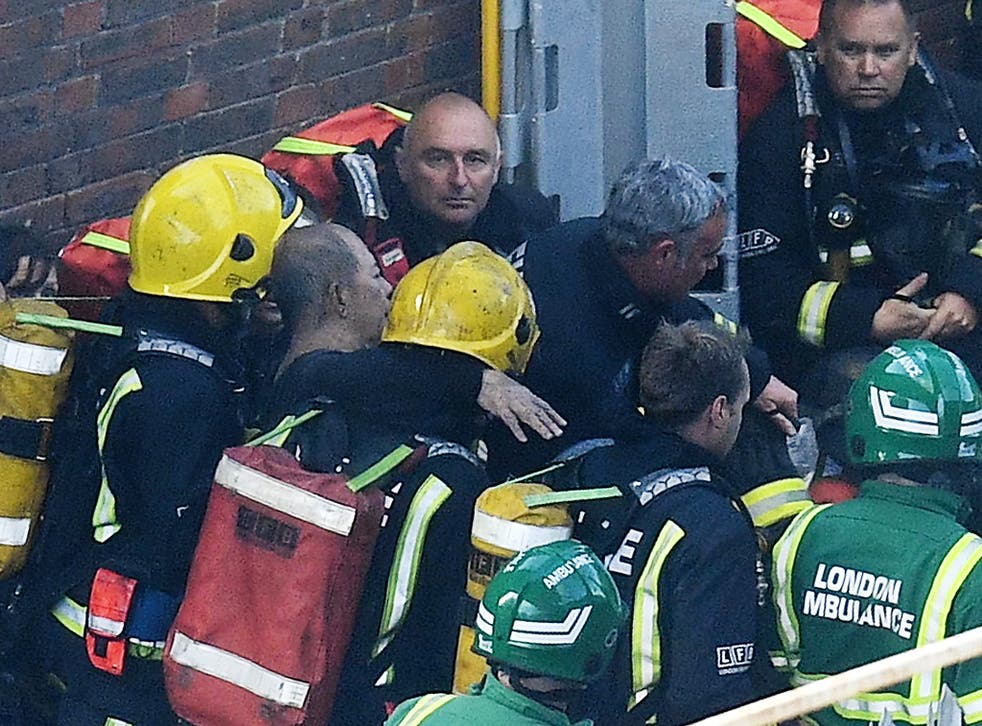 Moving tributes have poured in for "hero" fire-fighters who rescued scores of people from the blaze in Grenfell Tower and spent hours working to extinguish rapidly spreading flames.
Members of the public have commended firemen and women for working through "appalling conditions", following the devastating fire that killed at least 12 and injured scores more.
Hundreds of men and women from the London Fire Brigade were called to the 24-story block in the early hours of Wednesday to tackle the "unprecedented" fire, which ripped through the structure into daylight hours.
Sixty-five people were rescued from the burning building by fire services, who worked throughout the day and into the following evening. At the height of the incident, 250 firefighters and 40 appliances were working on the scene.
Photos showing scores of fire-fighters lying on the ground and sitting against walls in a state of exhaustion have since been circulating on social media, as people paid tribute to the men and women in the fire service for their bravery.
One Twitter user wrote: "Of all the horrific stories coming out of the #GrenfellTower fire, this image says so much. Thank God for our emergency services". Someone else wrote: "First ones in, last ones out.. Incredible".
Another described the firefighters as "true heroes", adding: "Nothing but respect for all the emergency services."
London Fire Brigade's Steve Apter told reporters the fire was "unprecedented in terms of scale speed and spread," and that the firefighters would be tackling the incident through Wednesday night, as the rescue phase of their operation moved to the recovery phase.
"At its height over 40 appliances and over 250 fire fighters were tackling what was a serious and significant fire. This was an unprecedented fire in terms of scale speed and spread," he said.
"This continues to be a challenging incident for us. I'm proud of the efforts of our fire-fighters for bringing this blaze under control."
He added: "We intend to be here until the job is done. We certainly intend to be here through the night. The fire continues to provide challenge, but I can confirm our fire-fighters have been able to search almost all of the building now."
Sixty-eight people were taken to six hospitals across the capital and 10 made their own way there, according to the London Ambulance Service, which had more than 100 clinicians and specialist teams working on site throughout the day. Eighteen of those in hospital were critically injured.
Grenfell tower fire

Show all 42
The Metropolitan Police confirmed on Wednesday evening that 12 people died in the blaze, adding that the figure was "likely to rise". An unknown number of people remain missing.
Theresa May commended the work of emergency services for their bravery, saying: "Our emergency services – the fire service, the ambulance service, the NHS and the police have shown incredible bravery working in appalling conditions.
"I know everyone will want to join me in thanks them for their amazing bravery."
Join our new commenting forum
Join thought-provoking conversations, follow other Independent readers and see their replies