'I was gearing up for suicide': How London's knife crime epidemic has created a crisis in youth mental health
'It's not normal that I was coming home to a block that has blood on the stairs. It's not normal that I experienced my friend die not due to natural causes, but because he was stabbed. But apparently you're just meant to get on with it'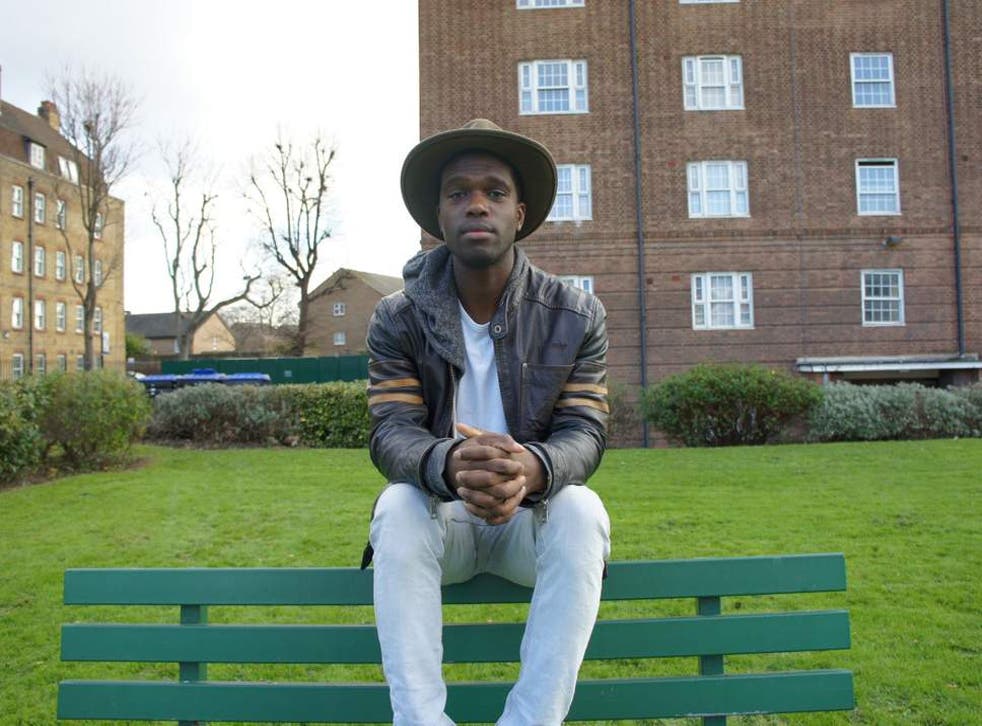 "Two of my friends were killed in one week, and the week after I had a gun put to my head," says Alika Agidi-Jeffs, a 27-year-old from south London. "Before I knew it all these things mounted and I was having a breakdown. I was gearing up for suicide."
Alika was referred to a psychiatric unit at the age of 22. He had spiralled into a state of high-level depression after two of his friends were stabbed to death within days of each other – an experience that caused him to start to "lose grips with reality".
"It rocked up my world," he says. "I felt like I had had enough of life. I thought I was the only one in the world going through it. I didn't understand what the hell was happening until my sister called the ambulance and they took me to the hospital."
The 27-year-old is one of a growing number of young people who are driven to a mental health crisis after being involved in or affected by street violence in London as a knife crime epidemic grips the capital.
More than 100 murders have taken place in the city so far this year, three in five of which have been stabbings. A third of the victims were aged 16 to 24.
Mayor Sadiq Khan said on Wednesday that the rise in youth violence must be treated as a public health issue, and announced that £500,000 had been earmarked to establish the capital's new Violence Reduction Unit, modelled on a long-term programme in Glasgow.
While the intervention is welcomed, experts say there must be a specific focus on mental health, warning that a generation of young people have been traumatised by experiencing and witnessing violent deaths within their communities, at a time when youth psychological services have been cut.
Figures obtained by the NSPCC show that in two of London's largest mental health trusts, the number of children being referred from education settings has increased dramatically in the past three years – with a considerable number refused help entirely.
In West London Mental Health Trust, referrals increased by 73 per cent between 2014 and 2018, from 417 to 721, while referrals to South West London and St George's Mental Health Trust are up by more than 300 per cent, from 640 to 2,605.
Nearly four in 10 (38 per cent) of these referrals – a total of 1,279 children – were not deemed eligible for treatment last year.
Alika says the NHS did their job "amazingly" when he was eventually taken to hospital after having a nervous breakdown. But he believes not enough is being done by schools and other agencies to educate young people affected by street violence about mental health.
"It's not normal that I was coming home to a block that has blood on the stairs, or experiencing my friend die not due to natural causes, but because they were shot or stabbed over something trivial. But you're made to feel that you're meant to get on with it," he says.
"I know for a fact that a lot of the young people carrying knives are going through a lot of mental turmoil. They will say deep, sad things like 'I don't care if someone kills me, they will be doing me a favour anyway'. How do you not hear that and hear the mental health need there?
"They are basically begging for help. But nobody is seeing that. It's like someone seeing me on the top of a building about to jump off, and doing nothing."
Tom Isaac, a youth worker who heads up a service called Oasis Youth, which works with stabbing victims at a paediatrics unit in South London, says the rise in stabbings across the capital in recent years has created a surge in mental health need among the young people involved.
The teenagers murdered in London in 2018

Show all 21
"There's masses of unmet need. The majority of the young people who have been stabbed aren't able to get support," Isaac tells The Independent.
"There are also a lot of young people who have had to witness murders of teenagers right outside their block. Imagine the trauma of living there and growing up there, and what that does to your psyche. All of them need safety, support and counselling to help them process what they've gone through."
Isaac says that over recent years, he has seen thresholds for Child and Adolescent Mental Health Services (CAMHS) increase, making it harder to get young people the support they need.
"Several years ago, you might have been able to get a young person some level of CAMHs support if they had mental health issues that were noticeable but not yet suicidal or dangerous, such as anger issues, depression or really low moods. But now it has to hit quite a big crisis point to get any help," he says.
"We can't get young people the support unless they're already 'high risk' – so already at the point where they are hurting themselves or hurting others.
"As violence goes up, you get more trauma, so mental health is a massive part of the rise in youth violence. You can't divide it. If you've been a victim of violence, it's instantly a mental health issue."
Charlie Howard, clinical psychologist and founder of MAC-UK, a London-based charity that reaches out to offer mental health services to young people involved in violent crime, says the rise in knife crime is producing a generation of young people who are "traumatised, but not talking about it".
She says the link between mental health and youth violence or gang involvement is "bi-directional", explaining that while already existing mental health issues make a young person more vulnerable to being groomed or pulled into a gang, that mental fragility rises significantly as they see more violence.
"They're witnessing, either directly or second hand, young people losing their lives. Or they're living in fear because they're constantly having to watch their backs. These are all things that are not conducive to positive mental health," Howard tells The Independent.
"When we're looking at young people who have witnessed murders in front of their eyes, we're talking about trauma. They don't talk about the flashbacks they're having at night, it's much more an 'I've got to be strong' mentality.
"It also links back to adverse childhood experiences. The young people involved in gangs or violence are disproportionately likely to have a large number of risk factors from an early age, and those are the same risk factors that would lead to mental health difficulties in the short and long term."
Amber Rudd claims no link between cuts to police and youth services and spike in violent crime
Howard says this psychological suffering is being overlooked due to a lack of recognition by authorities and the fact that the current youth mental health services are often inaccessible to the children and teenagers who need it.
"When we think of depression, we might think of a young person crying, being very low, when actually it can present, very aggressively, particularly in young men," she says.
"It's quite unlikely when someone's holding a knife that anyone stops and says 'hold on, is this young person clinically depressed? Can we help them?'
"When you have a spike in events like recently, it has a big ripple through our communities. The mental health aspect of this is broadening. This absolutely doesn't sit with policing and crime – it requires a public health response."
An NHS England spokesperson said: "An increasing proportion of young people say that they have a mental health condition and the NHS is responding by ramping up capacity, with 70,000 more young people set to get help by 2020/21, and the NHS long-term plan will set out further priorities for the years ahead."
Register for free to continue reading
Registration is a free and easy way to support our truly independent journalism
By registering, you will also enjoy limited access to Premium articles, exclusive newsletters, commenting, and virtual events with our leading journalists
Already have an account? sign in
Register for free to continue reading
Registration is a free and easy way to support our truly independent journalism
By registering, you will also enjoy limited access to Premium articles, exclusive newsletters, commenting, and virtual events with our leading journalists
Already have an account? sign in
Join our new commenting forum
Join thought-provoking conversations, follow other Independent readers and see their replies