London attack: Muslim woman photographed on Westminster Bridge during terror incident speaks out
The woman was vilified on social media after some said it looked like she was walking past the wounded without concern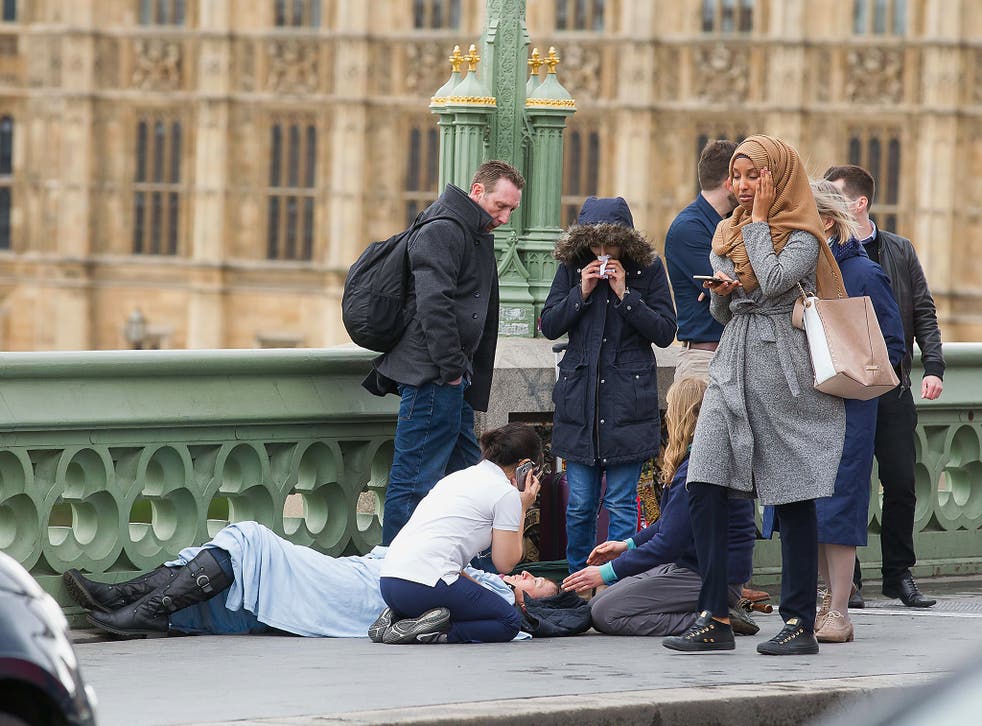 A Muslim woman who was photographed walking past terror attack victims on Westminster Bridge has spoken out against internet trolls who said she appeared "indifferent".
Hundreds of people have already taken to social media to defend the woman, who has not been named, after some online commentators viciously attacked her for purportedly failing to stop, help, or care.
"What the image does not show is that I had talked to other witnesses to try and find out what was happening," she said, "to see if I could be of any help, even though enough people were at the scene tending to the victims."
The photographer who captured the image told The Independent earlier today that the woman's actions were "completely appropriate" and the image had been wildly "misappropriated".
In a short statement shared on Twitter by the charity TellMAMA, which documents anti-Muslim hate crime, the woman said after seeing if she could help, she "decided to call my family to say that I was fine and was making my way home from work, assisting a lady along the way by helping her get to Waterloo station".
She added: "My thoughts go out to all the victims and their families. I would like to thank Jamie Lorriman, the photographer who took the picture, for speaking to the media in my defence."
Press photographer Lorriman said the woman was clearly "traumatised" and "visibly distressed". He said she was just one of hundreds fleeing the bridge, trying to avoid looking at the "horror surrounding them".
"Her behaviour was completely in line with everyone else on the bridge, but you're not assuming others are callously ignoring the scenario," he said.
He also criticised those taking the image out of context, saying: "I wish there was something I could do about it being misused and misinterpreted.
"It's people who clearly have an agenda they want to push and will just put whatever they think out there.
In pictures: Westminster attack

Show all 9
"I think hate is how it can be categorised – whether it's racial, Islamic, whatever – people who hate will use anything as the weapon of their opinion."
Other people on social media have said the woman should never have had to justify her "perfectly normal" behaviour.
At least 50 people were injured after terrorist Khalid Masood ploughed his car into pedestrians on Westminster Bridge. He then fatally stabbed PC Keith Palmer before being shot dead.
Four people were killed in the attack and 31 needed hospital treatment. It is believed 29 people remain in hospital, five of whom are in a critical condition and two have life-threatening injuries.
Join our new commenting forum
Join thought-provoking conversations, follow other Independent readers and see their replies