Lyra McKee: Support for women's rights soars in wake of 'senseless' killing, says journalist's friend
'Lyra was so young and it seems like a complete waste of talent. It is still so fresh and raw. We can't get our heads round it in Derry yet despite wall to wall coverage. She was one of the good ones,' says her friend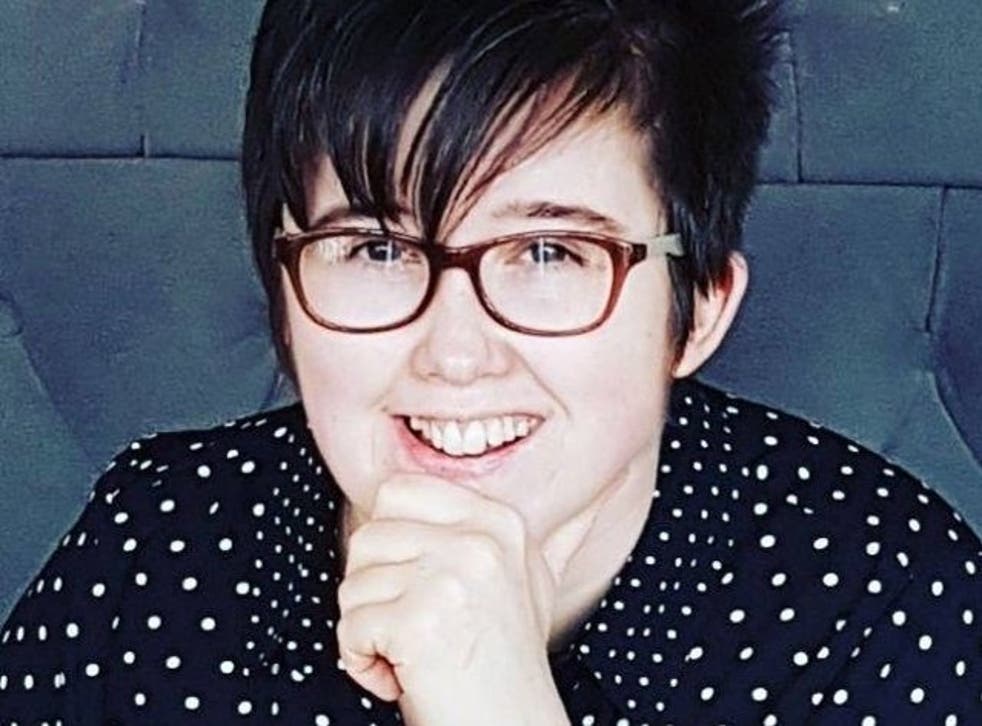 Support for women's rights has soared in the wake of Lyra McKee's death as her legacy lives on, a friend of the murdered journalist has said.
Ms McKee, a 29-year-old Northern Irish journalist who was also an active campaigner for LGBT+ rights, died after she was shot in the head while covering riots in Derry in Northern Ireland.
Claire Allan, a friend of Ms McKee, said she hoped the tragedy would spur Northern Ireland to legalise same-sex marriage in her honour.
"She said her partner was the love of her life," Ms Allan, a Northern Irish novelist, told The Independent. "On more than one occasion, she said she had found her happy ever after. She would do whatever for her partner Sarah. She said she had found her Derry girl.
"But due to the laws here, Lyra and Sarah could not get married. Can Lyra's legacy be to legalise same-sex marriage in Northern Ireland? Why should she not be able to call her partner her wife at this stage? They were so in love and so happy, why would anybody object to that?"
Violence erupts in Northern Ireland as journalist killed during riots

Show all 21
She continued: "Lyra was a big women's rights campaigner. She was pro-choice and in favour of the decriminalisation of abortion. There is a strong climate for change here generally. I feel it. I feel that people really crave it. There are the biggest numbers at rallies I have seen in 20 years. There is a real sense of enough is enough. It would be nice to have the politicians listen. We have to hope things will change."
Northern Ireland has a ban on abortions in almost all cases – even rape or incest. Abortion is only permitted when there is a risk to the life of the mother, or a serious risk to her physical or mental health.
Twelve abortions were carried out in Northern Ireland last year, official statistics show. Amnesty International is calling for liberalisation of the stringent rules – saying more than 900 women travelled to England and Wales for the procedure during the same period.
Ms Allan, who said she had been left devastated by Ms McKee's death, said her friend had been progressive from a very young age and had also been a determined campaigner for mental health issues. She also previously reported on the removal of funding for a rape crisis centre.
The Derry-born author said she hopes Ms McKee's killers are convicted but added that it is hard to determine whether or not they will be identified.
"The area where she was shot is not very supportive of police so the fact so many people have come forward is heartening," Ms Allan added. "Not only the person who pulled the trigger needs to be punished but also whoever put the gun in the hand of the person and also the people radicalising young people in the area."
Ms Allan, who is a former reporter herself, said she did not initially cry when she heard what had happened because she was in shock.
She added: "But I have cried on a number of occasions since. I have spoken to Sarah her partner a couple of times and what has really got to me is her bravery and stoicism. Her world has completely fallen apart but she is trying to be as positive as she can be. Lyra was so young and it seems like a complete waste of talent. It is still so fresh and raw. We can't get our heads round it in Derry yet, despite wall to wall coverage. She was one of the good ones. It is just so senseless.
"It was really shocking that somebody had died in Derry. It is a nice peaceful positive place to live as opposed to when I was growing up. You do not expect anything like this to happen any more."
Ms Allan, who said Ms McKee had been passionate about getting people into journalism from "the ground up", said journalists she knew had been working extra hard to make sure her legacy lives on.
Journalists are determined to continue doing their jobs in the same way they always have, she added, saying that those who were on the ground when she was shot were out working the next day to honour Ms McKee.
A journalist who called an ambulance for Ms McKee had worked through the following night and had covered everything the following week, she said.
Ms McKee, who had moved to Derry to be with her partner, Sara Canning, had a talent for unearthing untold stories. Seamus Dooley, Irish secretary of the National Union of Journalists, has described her as a "journalist of courage, style and integrity".
Ms McKee, whose forthcoming book is called The Lost Boys, was at the scene of the riot in the republican Creggan area of the city as part of research she was carrying out into the dangers of frontline journalism. She had been due to speak at an Amnesty International event this weekend on the dangers of reporting conflict and the event will now be dedicated to her memory.
Ms McKee, whose killing has sparked widespread fury, grief and calls for political change, was recognised with a Sky News young journalist award and was listed by Forbes magazine as one of the 30 most inspiring European media voices of 2016.
Register for free to continue reading
Registration is a free and easy way to support our truly independent journalism
By registering, you will also enjoy limited access to Premium articles, exclusive newsletters, commenting, and virtual events with our leading journalists
Already have an account? sign in
Register for free to continue reading
Registration is a free and easy way to support our truly independent journalism
By registering, you will also enjoy limited access to Premium articles, exclusive newsletters, commenting, and virtual events with our leading journalists
Already have an account? sign in
Join our new commenting forum
Join thought-provoking conversations, follow other Independent readers and see their replies