Macmillan Cancer accused of 'hijacking' the ice bucket challenge
The charity has so far raised at least £250,000, but has been accused of "stealing the spotlight" from the ALS Association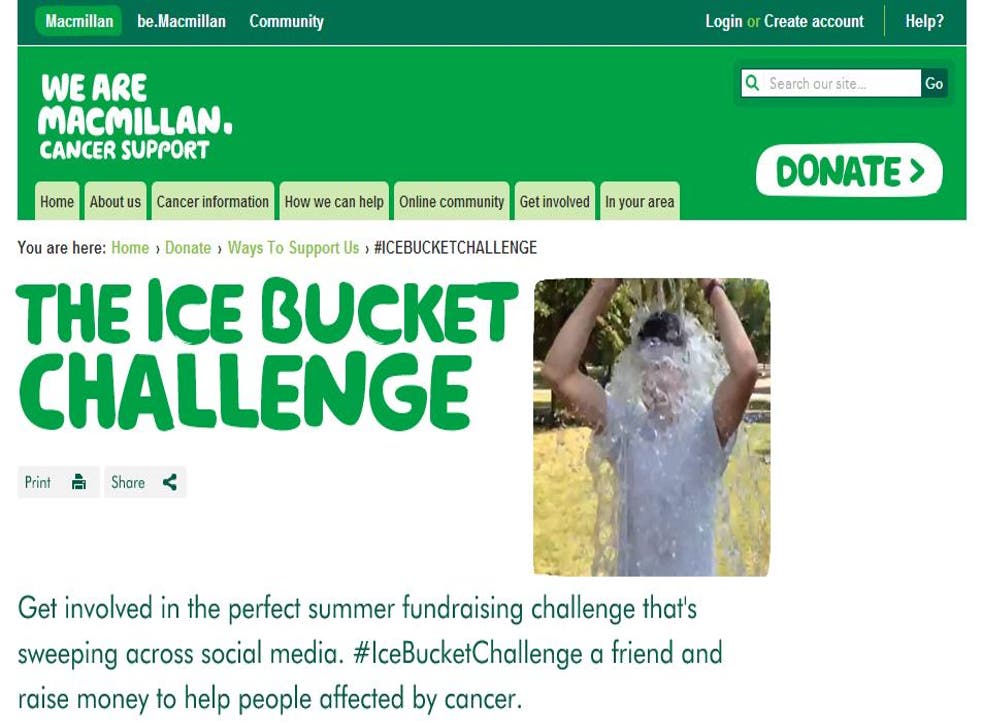 Macmillan Cancer Support has come under fire for using the #IceBucketChallenge to help raise funds for its own charity.
The organic and unplanned campaign has swept across the internet in the last few weeks, tasking its participants with enduring a bucket of freezing water poured on their heads.
One of the earlier people to do it, a golfer named Chris Kennedy, was the first to bring the ALS Association into the mix as his wife's cousin suffers from it.
This simple dare led to thousands of subsequent people also using the ALS term (Amyotrophic lateral sclerosis or motor neurone disease, as commonly known in the UK) and has raised $62.5million (£37.7million) for the US association, as well as £250,000 for its UK equivalent, the Motor Neurone Disease Association (MNDA).
In pictures: The famous do the ice bucket challenge

Show all 17
It has also led to eminent public figures carrying out the challenge and nominating others, including Bill Gates, David Beckham, Mark Zuckerberg and Oprah Winfrey.
However, though some people used the challenge to promote or donate to their own favoured charities, one particular organisation has been accused of "hijacking" it for its own means
As the challenge's popularity skyrocketed, Macmillan asked people to do the Ice Bucket Challenge before filming it, posting it online and then donating £3 to its cause "by sending ICE to 70550". (The Motor Neurone Disease Association can also be donated to by texting ICED55 £5 - or any amount - to 70070).
It has reportedly received donations over £250,000 – enough to fund six Macmillan nurses – as a result of the challenge, according to Civil Society.
A number of people, including current Macmillan supporters, have criticised the charity for jumping on the bandwagon and "taking away the awareness" of ALS.
"Really unimpressed that you hijacked the ice bucket challenge from mnda [Motor Neurone Disease Association] in the UK. They need awareness far more than you," one said on Twitter.
There have also been calls for Macmillan to "let someone else have their day" and to "get [their] own fundraising ideas".
One Facebook user told the charity: "I'm really dissapointed [sic] in your charity, I pay a monthly donation to what is I believe a good cause, helping people suffering with cancer, but im seriously considering withdrawing my donation and changing it to MND/AlS because of your taking away their awareness."
While another wrote: "Why couldn't you just let ALS have their chance to raise funds? Why did you have to steal the idea from a charity which doesn't have the profile that you have? Why not let the little guys have a chance? Why not think of your own idea?"
A spokesperson from the MNDA has also reportedly condemned the move.
"Of course we're both trying to fund cures for diseases, but we're much smaller. We'd rather a big charity didn't come swooping in and take our funding away. We don't have the resources that they do," an insider said, according to The Times.
Others have leapt to the defence of Macmillan, arguing that many people are doing it for different types of charities not just ALS, with one person saying: "It's NOT a competition between 2 charities, donate to both or the one that your heart and head says".
Macmillan posted an explainer on its website on Thursday, detailing and defending to some extent its decision to utilise the challenge for itself.
Head of Digital, Amanda Neylon, said that it was trying to be more responsive to social trends after failing to exploit #NoMakeupSelfie earlier this year, which ended up raising £8million for Cancer Research within six days.
"We're trying to be bolder, we're listening to what's going on all over the world, and we're responding more quickly than we have in the past. We're trying new things so that we can keep moving forward as an organisation," she added in the blog post.
Ms Neylon said the team were delighted people were fundraising and that they had noticed as far back as July that people were doing the #IceBucketChallenge for Macmillan as well as other charities. But seeing as nobody owns the campaign, they were able to use it themselves.
Join our new commenting forum
Join thought-provoking conversations, follow other Independent readers and see their replies