Manchester attack: Jane Tweddle, named as latest victim, was waiting outside arena for friend's daughter
Headteacher of school where 51-year-old worked says, 'As our receptionist, she was, in many ways, the public face of the school and she represented us amazingly in this role'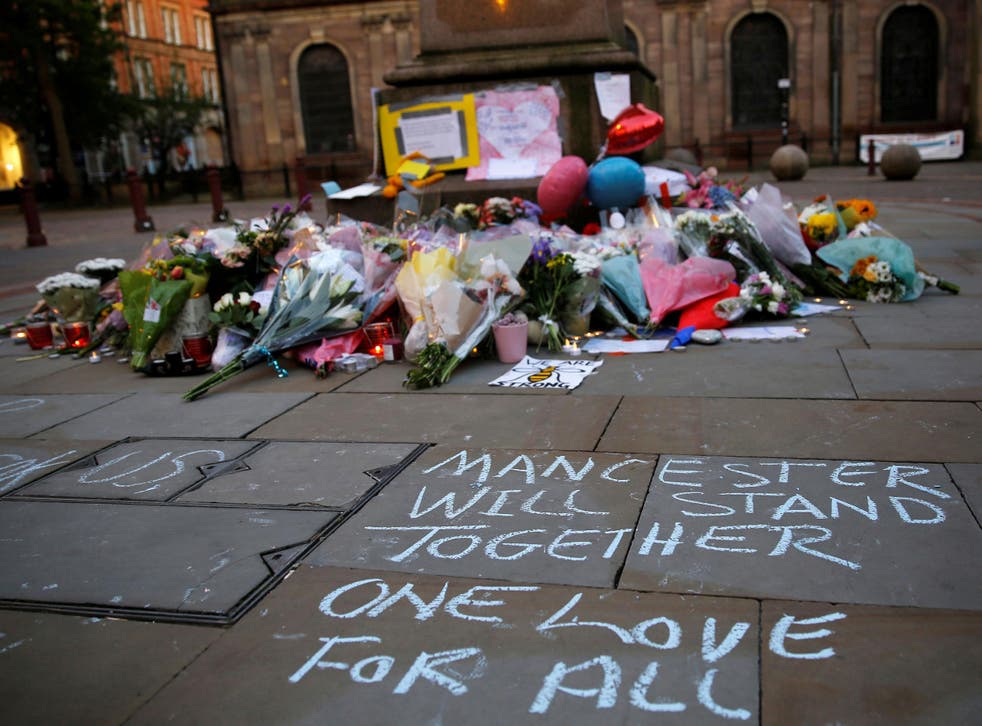 A "truly wonderful" mother-of-three who was waiting for a friend's daughter outside the Manchester Arena when the suicide bomber struck has been named as the latest victim of the attack.
The principal of the school in Blackpool where Jane Tweddle, 51, worked as a receptionist described her as a "well-loved member of staff" and said they had inundated with messages of condolence.
Ms Tweddle had been waiting outside the arena where Ariana Grande had been performing when the bomb went off, her partner Mark Taylor told BBC Radio Lancashire.
He said she was "a lovely lady and a very good mother to three daughters".
The friend and her children all survived, Mr Taylor said.
"I was actually in London, away on business," he said of the moment he realised something was wrong. "One of my daughters rang me to tell me mum had gone missing and there was an explosion."
He contacted hospitals in the area and discovered that his partner had been killed.
Mr Taylor, who was in tears as he spoke to the BBC, praised the emergency services and the help he had received from counsellors assigned to help relatives.
"One of the biggest challenges we've had is one of my daughters was away travelling in Australia, so we were trying to pick a time to notify her," he said.
"Some of the counsellors arranged flights for her and her friend to come back, without a second thought."
Jane Bailey, principal of South Shore Academy, said the school community was "devastated".
"Jane was a well-loved member of staff and our thoughts are with her friends and family at this terrible time," she said.
"Jane was a truly wonderful friend and colleague to all of us at South Shore Academy.
"As our receptionist, she was, in many ways, the public face of the school and she represented us amazingly in this role."
She said the school had been sent numerous messages of condolence from students, parents, colleagues and ordinary people in Blackpool "for which we are very grateful".
"All of them say the same things about our lovely Jane ... bubbly, kind, welcoming, funny, generous... the list goes on," Ms Bailey said.
"Our thoughts are also with her family at this dreadful time and in particular her three daughters. In our school family and theirs ... she is irreplaceable, much loved and will never be forgotten."
Manchester explosion in pictures

Show all 37
Ms Tweddle was one of three people from the Blackpool area who died in the explosion.
Gordon Marsden, the Labour candidate for Blackpool South, said: "It brings home the wicked and senseless waste of human life. My thoughts are with their family, friends and colleagues."
Register for free to continue reading
Registration is a free and easy way to support our truly independent journalism
By registering, you will also enjoy limited access to Premium articles, exclusive newsletters, commenting, and virtual events with our leading journalists
Already have an account? sign in
Register for free to continue reading
Registration is a free and easy way to support our truly independent journalism
By registering, you will also enjoy limited access to Premium articles, exclusive newsletters, commenting, and virtual events with our leading journalists
Already have an account? sign in
Join our new commenting forum
Join thought-provoking conversations, follow other Independent readers and see their replies