Margaret Thatcher's fears over domination of unified Germany
New documents released by the National Archives reveal the inner workings of Thatcher's government in its final years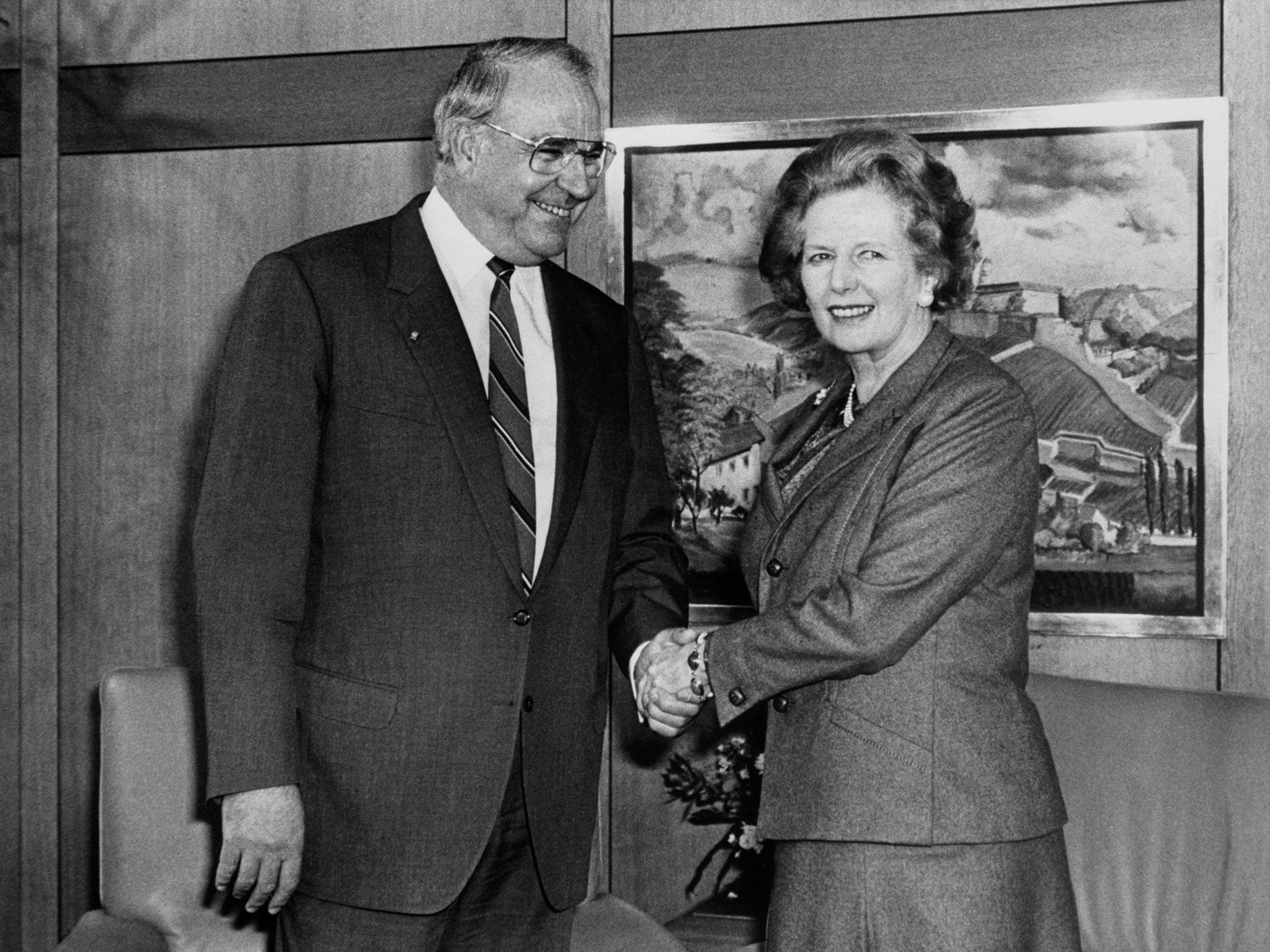 Margaret Thatcher had deep misgivings over the reunification of Germany and she had to be cajoled by aides into issuing a congratulatory statement following the ending of Germany's partition into two states. Meanwhile, British officials worked quietly behind the scenes to scupper a planned ceremony celebrating the event to be attended by world leaders.
The fall of the Berlin Wall in November 1989 marked the end of the Cold War and paved the way for communist East Germany to be reunited with West Germany, ending the division that had been in place since the end of the Second World War. But while the collapse of communism in Eastern Europe represented a triumph for the West, Thatcher feared a resurgent Germany would dominate the continent.
The files show her concerns ran so deep she even had to be coaxed into making a positive statement when she appeared for a photocall with the West German ambassador Baron Hermann von Richthofen, on the eve of formal reunification in October 1990. "The key is to get in the words 'friend, ally and partner' (if you can bear it)," Charles Powell, her longstanding foreign adviser, pleaded in a handwritten note. "Otherwise a message risks being judged negatively, which undermines the only purpose of the exercise."
At Thatcher's behest, Mr Powell had already helped to ensure that a reunification ceremony planned by German Chancellor Helmut Kohl was cancelled. Well aware that it would not go ahead if US President George HW Bush was unable to be there, he telephoned the White House to say Thatcher would be quite happy if he stayed away. "The Prime Minister wanted the President to know that 3 October would be very difficult for her and she would not at all mind if the President found that he could not attend," Mr Powell noted. "I added that the Prime Minister thought that the celebrations were in any case more appropriate for foreign ministers to attend."
However her hostility ran so deep, it even caused alarm bells to ring in Washington – to the intense irritation of No 10. Bob Blackwill, a senior official in the National Security Council (NSC), told one British diplomat, Andrew Wood, that Mr Bush believed she even wanted an "entente cordiale" with the Soviet Union as a counter-balance to a united Germany.
Mr Powell said she was "flabbergasted" by the suggestion and ordered the Foreign Office (FCO) to set Mr Blackwill straight. "If Wood cares to add that Blackwill's innuendo that No 10 is inhabited by a combination of Dr Strangelove and General Curtis B Lemay, in contrast to the cool, rational thinkers of the FCO and NSC, has been greeted with some surprise in view of the Prime Minister's consistent and successful record of managing East/West relations over the last 11 years, that would be fine with me," he added acidly.
Thatcher also attempted to block a visit to Brussels by the Queen and Duke of Edinburgh in 1980 over fears it would come at a "very bad time" for negotiations in Europe. The Prime Minister expressed concerns that plans for the royals to visit the European Commission, Nato and meet with the Belgian monarchy would clash with a fishing policy settlement.
Furthermore, the fall of Thatcher after 11 years in power was greeted with shock and disbelief by fellow world leaders. In November 1990 presidents and prime ministers around the world could scarcely credit the way she had been forced out by an internal Conservative Party coup. Documents released by the National Archives include a remarkable outpouring of tributes and commiserations from those she had clashed with as well as her close allies.
They also disclose the raw anger among her inner circle at the way she had been treated by those she had led for so long. Among the first to respond was former US Secretary of State Henry Kissinger, who telephoned Mr Powell in a "very emotional state" on learning the news. In a note to Thatcher recounting their conversation, Mr Powell said the American had told him: "It was worse than a death in the family. You were one of the great figures of modern times and nobody outside Britain – indeed nobody outside Westminster – could understand how your fellow Conservatives could have done this."
French President François Mitterrand, with whom she had an at times difficult relationship, said that while their views had sometimes differed, "often we have reached similar conclusions". "With your tremendous conviction and uncommon will, you have put your stamp on an important moment in the history of your country and of Europe," he informed her.
The most remarkable message came, however, from Moscow and Mikhail Gorbachev – the reformist Soviet leader who Thatcher had famously said she could "do business with". In what Mr Powell described as an "unusually warm and friendly" letter, the Russian – addressing her for the first time in their correspondence as "Margaret" – expressed his appreciation for the "mutual understanding" they had established.
Mr Powell could not hide his own views. Responding to a message from US national security adviser General Brent Scowcroft, he said: "What happened was a devastating blow and a sad commentary on standards of loyalty in politics." Following Thatcher's tear-stained departure from Downing Street, Conservative Party chairman Kenneth Baker organised a whip-round among the remaining Cabinet members, collecting enough to buy her a pair of silver candlesticks. It was decided the presentation should be made in the Lord Chancellor's lodgings as this would be "both less painful for her and also attract less publicity than an event for this purpose in No 10".
Press Association
Join our commenting forum
Join thought-provoking conversations, follow other Independent readers and see their replies