'Your worst nightmare has just turned up': Masked pro-hunt gang on quad bikes chase protesters trying to protect foxes
Men filmed screaming abuse and beating on hunt saboteurs' window as they chase them along road
Masked pro-hunt gang on quad bikes threaten protesters trying to protect foxes:'Your worst nightmare has just turned up'
A gang of masked hunt supporters on quad bikes have been filmed "threatening" and chasing animal rights activists as they monitored riders and hounds in Wiltshire.
Footage filmed by Bath Hunt Saboteurs shows two men wearing balaclavas and scarves screaming abuse at the group as they watched the Avon Vale Hunt.
In the latest in a string of confrontations linked to the controversial British countryside sport, the hunt supporters are seen banging on the windows on the saboteurs' Land Rover before pursuing them at speed after they drive off.
Bath Hunt Saboteurs said the video was filmed near the village of Atworth, Wiltshire, on Saturday afternoon.
The group said the men seen in the footage "verbally abused and threatened us".
UK news in pictures

Show all 51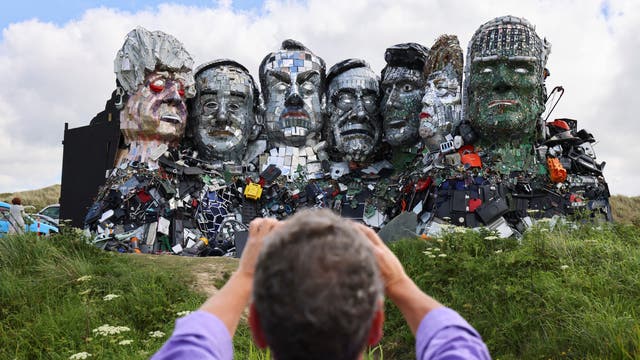 "They tried to open the doors of our vehicle and smash the windows," a spokesperson for the hunt saboteurs added.
"They told one of the male sabs to get out of the vehicle. He did not.
"We felt unsafe, so once we saw the hounds being packed up the decision was made to leave the area."
The group had initially travelled to disrupt a pheasant shoot seven miles away at Colerne airfield, near Chippenham, on Saturday morning.
As they drove back towards Bath, Somerset, they spotted the Avon Vale Hunt and stopped to monitor the meet.
Footage filmed from inside the group's Land Rover shows two activists watching the hunt as a red-coated huntsman on horseback approaches and tells them: "Your worst nightmare has just turned up." The rider then smiles and rides off.
Moments later, a red quad bike pulls up alongside the activists' 4x4. Two masked men climb off and begin thumping on vehicle's windows, yelling "f**k off" and "come on, get out".
As hunt saboteurs begin to drive off, the masked men jump back on their quad bike and pursue them. At one point, they drive alongside the Land Rover and thump on its windows as the vehicles' move along the road.
The animal rights activists' said the chase continued for nearly two minutes before but the quad bike stopped.
The group have not reported the incident to police, saying: "The police never do anything about this type of behaviour."
An Avon and Somerset Police spokesperson said: "If a crime was reported it would be looked into, assessed, and dealt with accordingly – but it would need to be reported first."
The Independent has contacted Avon Vale Hunt for a comment.
Hunting wild animals with dogs was banned in England and Wales in 2005, but meets still continue legally with hounds following an artificial scent.
However, opponents say hunts regularly flout the law and saboteur groups across the county seek to disrupt activities and document cases of foxes being killed.
Additional reporting by agencies
Join our new commenting forum
Join thought-provoking conversations, follow other Independent readers and see their replies