Meet Magnus Carlsen - the 'Justin Bieber' of the chess world...
... but do the young Norwegian's performances match the pyrotechnics of the pop star's sell-out gigs? Tom Peck tiptoed into the arena to watch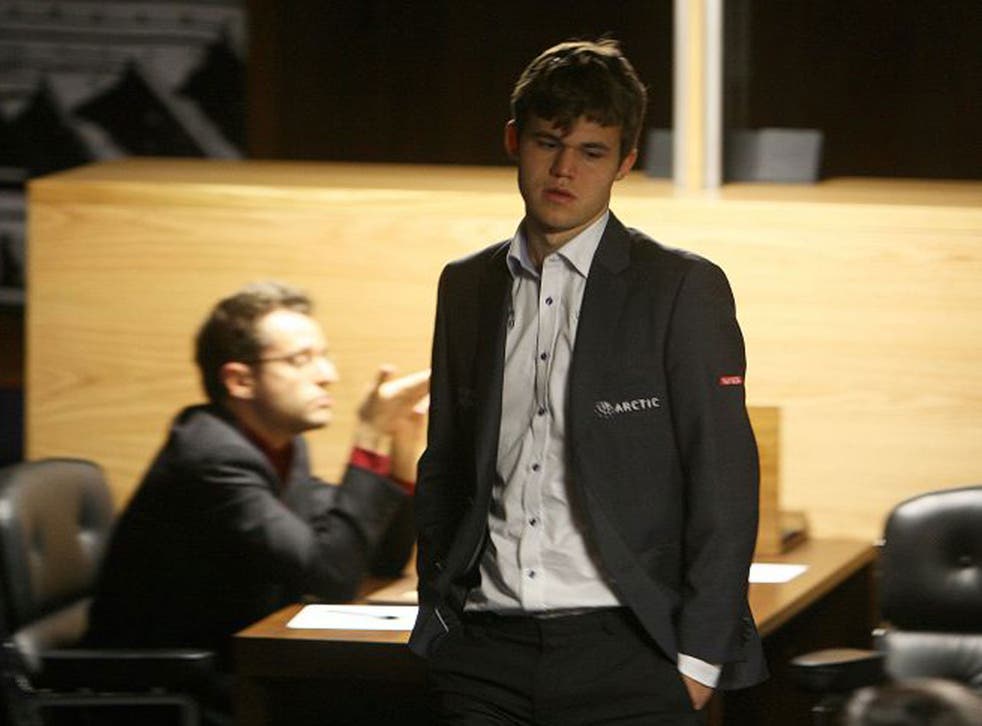 A statue of Michael Faraday stands outside the Institution of Engineering and Technology in central London, but inside the atmosphere is not what you would call electric.
In an otherwise pitch dark auditorium, four tables are spread around a small, central space, each positioned under glaring lamps like an NKVD version of Masterchef.
At them sit tortured men, heads in hands, staring at the little wooden chess pieces for what feels like weeks on end. One, with the appearance of a man airlifted from high table at an Oxbridge College, has picked up a pawn, which he rotates gravely between thumb and middle finger, his face fixed in terror at the enormity of all, as if it were a Soviet tank corps hovering over a map of the eastern front. Other men are on their feet, stalking the narrow gaps between the tables like exam invigilators. It takes a while to ascertain they are in fact the other players, awaiting their turn.
Finally, in considerably longer than it took Stalin's officers to extract bogus confessions, the tank corps is deployed (to C3), the button on the clock is depressed, and one of the invigilators returns for his go.
The assembled audience at World Chess: The Candidates numbers about seventy. Eight of the world's top players are playing each other twice, over two weeks, to determine who gets a shot at the World Chess Champion, the Indian Viswanathan Anand, later this year.
As spectator sports go, it is an bewildering prospect. All have had to hand in their mobile phones, pass through a metal detector, and then sit in unbroken silence for hours on end. But for once such caution seems wise. In the grand oak panelled room, once a meeting point for the country's great scientific minds, the crowd is a parliament of Bond villains. Almost all are Eastern European, in their late 50s at the earliest, and stare with the narrowed eyes of a mind determined that the world must yield to it.
But one chap moves through it all with a far more breezy air. Magnus Carlsen is a 23 year old Norwegian, regularly described as the "Justin Bieber of chess", and has been the number one ranked player since he was 19. He looks like Justin Bieber. He has even modelled for clothing label G-Star Raw. But, unlike Bieber, he has a slightly simian protruding lower jaw, a feature he shares with another emerging 23 year old superstar, Tottenham's Gareth Bale.
At one point, as he awaits his turn, he sits, a little unconventionally, in a spare seat in the front row of the audience. It doesn't break the silence. Lord Lucan streaking Lady Godiva-like through the room on the back of Shergar probably wouldn't do that, but it has that anti-establishment feel of a grinning tennis player hilariously letting a Wimbledon ball girl dolly back a drop shot.
Tablet computers on the chairs allow the audience to listen to live commentary, and see in greater detail what is occurring in each match. At the Olympics, organisers went to great lengths to keep spectators informed of what was going on at the more esoteric events. The equivalent here is a noble attempt, but it is not quite entry level. "Knight to H2 is not absolutely ridiculous, far from it," informs Nigel Short, the British player who came very close to becoming World Champion twenty years ago. "There is a battle for control of the F4 square."
Later "C5 is attacking the queen" while "that knight in D5 is an absolute monster."
Posters on the walls show fingers reaching out from giant heads, poised to wrap themselves round knights and bishops. They are unnervingly apt. Stare at the players faces and you can almost hear the cogs whir, as they ponder over every imaginable permutation scores of turns from now, and the consequences that might be brought forth. It is chaos theory in action. Flap the butterfly's wings too hard, and you will deliver the hurricane to the wrong place. It is a way of thinking that, unsurprisingly sends a lot of players mad. America's Cold War chess icon Bobby Fischer took to having his fillings removed and replaced in later life, over fears they could contain brain control devices.
Carlsen, on the other hand, seems far too cool for all that. His jacket comes on and off at regular intervals. He also has sponsorship deals worth nearly £1m, which no doubt helps.
The chat in the press room is almost all Russian. Three of the eight players are Russian. One is Ukrainian, another Azerbaijani. Then there's one Israeli, and Armenian, and the Norwegian Bieber. But the post match conferences, nominally in English, are even less intelligible.
"After bishop takes D5 I have to consider my options," explains the amiable Russian Peter Svidler, after his match with Armenian Levon Aronian ends in a draw after an unusually brief two and a half hours. "After rook 94, C8 black just takes on A4 so it is very comfortably a draw. After rook C1 bishop C6 it is very, very dead by this point." What a pity.
After two personally disappointing draws in his first two matches, Mr Carlsen rather blew away his Russian opponent Alexander Grischuk in a mere four hours. At the press conference they discuss the match like two friends emerging from the cinema after a very complicated film.
"I think you should have took F4, with Knight D6," Carlsen rather cooly informs, and idly shrugs at most of the questions. "I felt like I had enough play on the Queen side to counter whatever the threats might be."
He claims to be "dead nervous" about the whole tournament, though it doesn't show. It would be inaccurate to describe him as too cool for school. He was the world's number one chess player almost before he'd even left, after all, but he's probably a bit too cool for this place.
Watching chess: Five tips
1. Don't bring your phone. You'll have to hand it in.
2. Don't bring a book. It's pitch dark.
3. Don't come if your wife if heavily pregnant. It will last many, many hours – and you're not allowed your phone.
4. Do bring your assembled chess knowledge. Tablet computers allow you to share with other audience members the move you would make.
5. Do bring your Russian dictionary. You will need it if you want to talk to anyone (outside, of course. There's no talking inside).
Join our new commenting forum
Join thought-provoking conversations, follow other Independent readers and see their replies