MI5 'still using threats to recruit Muslim spies'
Security Service used blackmail to turn us into informers, immigrants say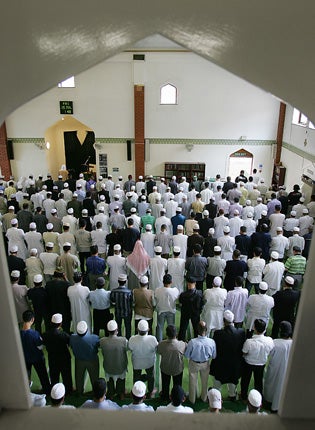 MI5 faces accusations that its officers have blackmailed and harassed vulnerable immigrants living in Britain as part of a campaign to recruit spies to report on Muslim communities.
In one case, a man who escaped persecution in Africa where members of his family were murdered claims that for the past nine months he has been harassed by MI5 agents who have tried to force him to work for the Security Service.
Isahaq Elmi, 31, says he was bombarded with more than 200 phone calls and tricked into attending meetings at police stations in Birmingham.
In one of the most recent phone calls, Mr Elmi says an MI5 officer calling himself Jahil threatened him by saying: "One way or another we are going to get you."
Ahmed Diini, a Dutch citizen who has settled in Britain, says that he was visited by agents at the Birmingham school where he worked and threatened with arrest. When he went on holiday he says he was twice detained at UK airports. Mr Diini, 21, alleges he was also bombarded with phone calls and threatened with detention under the Terrorism Act. On three occasions, he claims, MI5 agents, a man called James and a female officer, suggested that his life would be made easier if he agreed to work for MI5. He also alleges that his wife was harassed by a female MI5 officer while she was shopping at an airport.
Both men are originally from Somalia. Mr Diini came to Europe when he was three years old and Mr Elmi was granted British citizenship in 2006.
The new allegations raise concerns about the tactics used by MI5 to recruit informers from Muslim communities. Last year The Independent reported five cases in London where young Somali men complained of similar harassment.
British Muslim groups have warned that these alleged heavy-handed tactics risk alienating Asian communities. They also question the quality and reliability of the intelligence being gathered if it is secured through coercion.
Britain's security services stepped up covert operations in 2008 against Britain's Somali and Yemeni communities over concerns that UK citizens were travelling to Africa and the Middle East to join extremist training camps with links to al-Qa'ida. The attempt to blow up a US-bound airliner by a Nigerian man who spent time in Yemen and a suspected similar attack launched from Somalia has increased MI5's interest in British residents with links to both states.
Mr Elmi said yesterday: "I came here in 2000 after my family and business were targeted by extremists operating in Mogadishu. I thought I was safe after I was granted asylum in 2006 but since the visits and phone calls from MI5 my life has fallen apart. I told them that I didn't want to work for them by spying on my community. I said if they need informers they should go to the job centres and find work for people who have lost jobs in the recession – but I already have a job." Mr Diini said that his life had been badly affected since his contacts with MI5. "I personally got morally and mentally affected since I am being victimised. Even now I have to live with the fact that I won't be able to travel somewhere without being stopped for a minimum of two hours and being seen as a criminal, since the people around me in the queue don't get stopped but I am the only one that gets picked on.
"It even brought too much worrying to my Mum to the extent that she even has headaches and psychology difficulties. My wife also became angry because I hadn't told her about the problems with MI5 before we married."
A spokeswoman for the Home Office said: "The Security Service operates within the law. If anyone feels they have been unfairly treated then there are clear procedures for asking the investigatory powers commissioner, who is a senior judge, to investigate any complaints."
Isahaq Elmi: 'They phoned me nearly every day for months'
Isahaq Elmi came to the UK in 2000 after his family business was targeted by militants from a tribe called Habar Gidir. His brother was killed. His family fled the capital and Isahaq paid $3,000 to an agent to arrange his transit to the UK. He was granted citizenship in 2006, and lives in Birmingham.
In March 2009 he visited his mother who had relocated to Kenya. On his return to Heathrow he was approached by anti-terror police officers who questioned him and took a DNA sample. They threatened to arrest him and detain him at Paddington Green police station where terror suspects are held. After three hours of questioning Mr Elmi, a community worker with no criminal record, was released.
Two months later he was contacted on his mobile phone by a man who requested a "follow-up chat" to discuss his detention at Heathrow. "I thought they wanted to apologise to me for violating my human rights. But when I realised this was not the case I refused to go. Then they phoned me nearly every day for two months."
Mr Elmi finally agreed to meet the men at a police station. "I was taken to a room where two men, called William and Jahil, introduced themselves as belonging to MI5 and said they wanted to talk to me about a Somali man they named. They said that they were concerned about Muslim extremism in Mogadishu where they were recruiting young Western fighters. I said I had no information. After all, I hadn't been to Somalia for 10 years. But they still said I could help and could work for them. But I said I already had a job and didn't want to spy on my friends and neighbours."
The phone calls continued. "It was the one called Jahil. I told him that I never wanted to see him again. Jahil began shouting, he said, 'One way or another we are going to get you.'"
Join our commenting forum
Join thought-provoking conversations, follow other Independent readers and see their replies