Mint accused of making a mint from overpriced souvenir coins
Leading dealers say market is devalued by excessive number of commemorative issues
Dalya Alberge
Wednesday 25 January 2012 01:00 Comments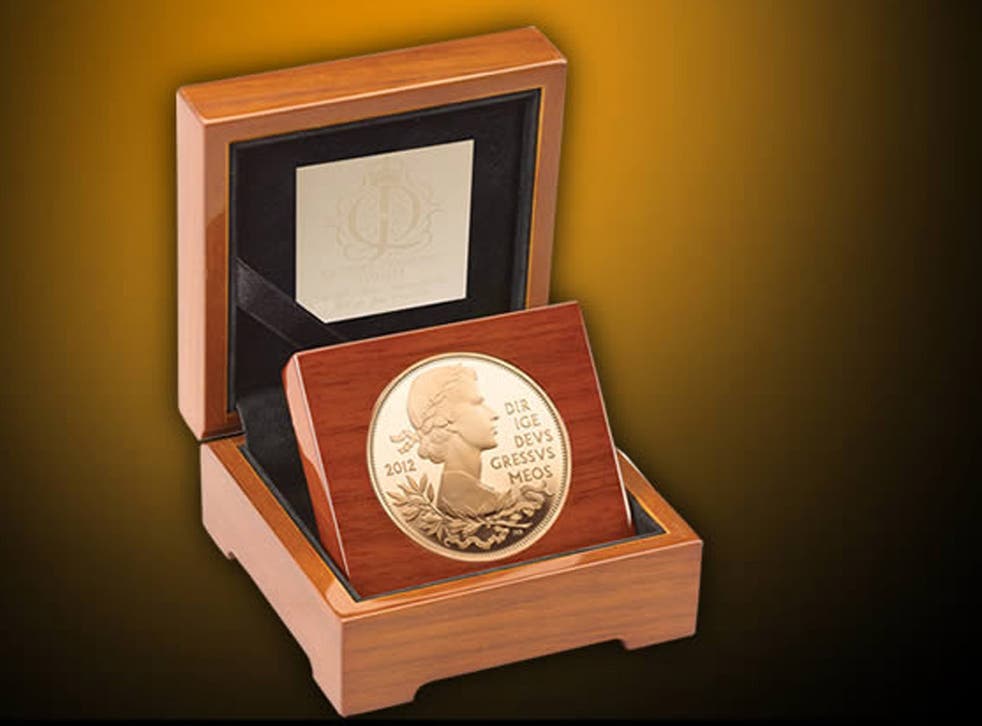 The Royal Mint is being accused of exploiting the general public with overpriced commemorative coins that have minimal investment value.
After 38 years as a Royal Mint agent, a leading numismatic dealer with 57 years in the business, is now refusing to trade in any more of its coins because he believes the market has been devalued by the vast numbers of issues and exorbitant prices.
Richard Lobel – the UK's biggest dealer in the secondary market for Royal Mint coins – condemns what he sees as the exploitation of people who pay up to four-figure sums for what they assume are valuable keepsakes.
He said that coins celebrating the 2012 Olympics and the Queen's Diamond Jubilee are among issues that are worth far less than the prices paid. The resale value of most non-gold coins is under 50 per cent of the original price.
Mr Lobel, managing director of Coincraft, said: "I'm tired of how many people's hearts we've had to break."
Until a few years ago, the Royal Mint issued commemorative coins for exceptional events. Now, there are dozens of issues – 68 for the Olympics alone. They include a gold £5 coin now selling on the Royal Mint website for £2,880, for which the owner might get £1,400 at most. A dealer would resell it for £1,500 to £1,600, Mr Lobel said.
Other experts echoed his criticisms. Seth Freeman of Baldwin's, numismatic dealers since 1872, said: "Once somebody's bought a set from the Royal Mint, it's worth about a quarter to a third of what you paid for it ... and I've never known anyone to get their money back, even in these days of high gold prices."
Experts believe that the Royal Mint issues too many coins, in too many different metals, while repeatedly raising prices. Mr Lobel said: "In the last four or five months, they've started charging almost £100 for a silver-proof crown. We saw it go to £49.50 and we were shocked. Then it went to £55 and we were stunned. I don't know what word we used for £99.50."
There is no real investment in older issues, he said, citing coins marking the wedding of the Prince of Wales and Lady Diana Spencer in 1981, sold then for around £39: "Today, we'd sell them for the same price." Those done for a Diana and Prince Charles overseas tour fared even worse, he added: "We melt those."
Peter Jackson, another numismatist dealer, said: "With the economic situation, people are tending to look upon coins as an investment. A lot of people don't really know what they're buying ... I think there'll be a lot of tears shed in a few years' time when people realise. The Royal Mint ... is trading on their name to such an extent that they're pumping out all sorts of things."
Ivan Macquisten, editor of the Antiques Trade Gazette, said: "I think ... the public would have serious cause for complaint if they discovered that they were paying the Royal Mint four times the price... they would pay elsewhere. Not everyone collects ... with an eye to resale ..., but to be so out of pocket the moment you buy something ... just isn't right."
But Shane Bissett, the Royal Mint's director of Commemorative Coin, argues that with sales of £150m last year, demand is strong and prices reflect the craftsmanship involved.
On being asked about the disappointment of owners about resale values, he said: "Commemorative coins are not sold as investments. They're sold to celebrate commemorative events."
Less bang for your buck: What buyers stand to lose
Olympics gold proof £5 coin
Royal Mint price: £2,880
Likely value if sold on to dealer: £1,400
The Queen's Diamond Jubilee UK Gold Proof Coin
Royal Mint Price: £2,400
Likely value if sold on to dealer: £1,300
2011 UK Mary Rose £2 Gold Proof Coin
Royal Mint price: £995
Likely value if sold on to dealer: £550
Register for free to continue reading
Registration is a free and easy way to support our truly independent journalism
By registering, you will also enjoy limited access to Premium articles, exclusive newsletters, commenting, and virtual events with our leading journalists
Already have an account? sign in
Join our new commenting forum
Join thought-provoking conversations, follow other Independent readers and see their replies