Missing Bradford family 'may already be in Syria', police say after one of sisters contacted
Khadija Dawood, Sugra Dawood and Zohra Dawood disappeared with their nine children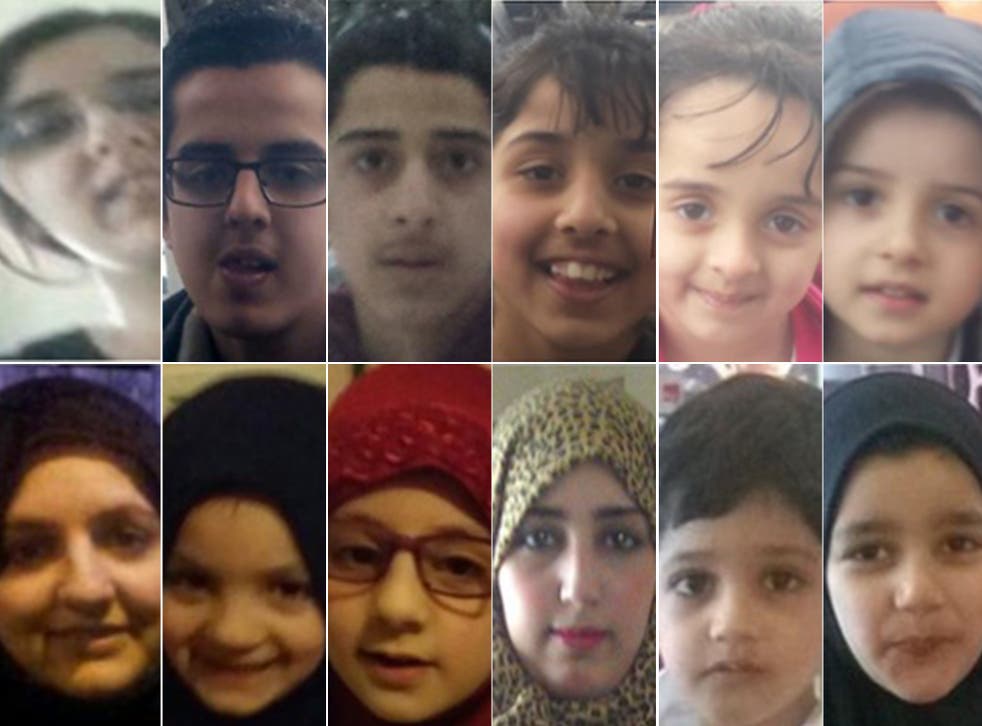 Police have said they are "extremely concerned" for the safety of a family missing from Bradford after they were contacted in Syria.
The North East Counter Terrorism Unit said at least one of the three sisters who disappeared with their nine children last week may have already reached Isis territory in the war-torn country.
Khadija Dawood, 30, Sugra Dawood, 34, Zohra Dawood, 33, and their children have not returned to the UK from a trip to Saudi Arabia.
A spokesperson said the information that they were already in Syria was "uncorroborated" but would be fully investigated.
Assistant Chief Constable Russ Foster, of West Yorkshire Police, said: "We are extremely concerned for the safety of this family, especially the nine children aged between three and 15 years.
"The family have reached out to Khadija, Sugra and Zohra, in the hope that they hear their messages and we encourage them to make contact with us so we can return them and the children safely to their families who are extremely worried about them.
"We would urge anyone with information about the family's whereabouts to come forward and speak to police so the family can safely return to the UK."
He appealed for anyone with information that could help locate the family to get in touch with police urgently.
"We are concerned about anyone who has or is intending to travel to the part of Syria that is controlled by the terrorist group calling themselves Islamic State," Assistant Chief Constable Foster said.
"It is an extremely dangerous place and not a place where young children should be taken.
"The choice of returning home from Syria is often taken away from those under the control of Islamic State, leaving families in the UK devastated and with very few options to secure their loved ones safe return."
The news appears to confirm fears voiced by their fathers, who contacted police on 11 June after the family failed to return on their booked flight after an Islamic pilgrimage to Medina.
Issuing an emotional appeal for them to come home, two of the husbands pleaded for the women to contact them.
His voice cracking with emotion, father-of-five Akhtar Iqbal said: "I am shaking. It's been too many days. I don't know where you are. Please come back home, so we can live a normal life.
"I miss you, I love you. All of you, I love you a lot. I can't live without you."
Police confirmed yesterday that all 12 family members had boarded a flight to Istanbul a week ago, according to the husbands' lawyer, stoking fears they planned to cross the border into Syria.
The women's brother is reportedly fighting with Isis extremists, who have claimed swathes of Syria since they established a so-called Islamic State a year ago.
The North East Counter Terrorism Unit has been working with relatives and the Turkish authorities in attempts to track the Dawood sisters and their children.
Timeline: The emergence of Isis

Show all 40
Their disappearance came in a week that saw the reported death of two British militants fighting with extremist groups abroad.
Talha Asmal, described as an "ordinary Yorkshire lad", reportedly blew himself up on Saturday aged 17 during an Isis assault on an Iraqi oil refinery.
A day later, a British Muslim convert called Thomas Evans was killed fighting with al-Qaeda affiliate al-Shabaab in Kenya.
Join our new commenting forum
Join thought-provoking conversations, follow other Independent readers and see their replies