'Vile' Mother's Day cards featuring Jimmy Savile and Karen Matthews spark outrage
'Humour is subjective and most of the feedback I have received has been positive,' artist tells The Independent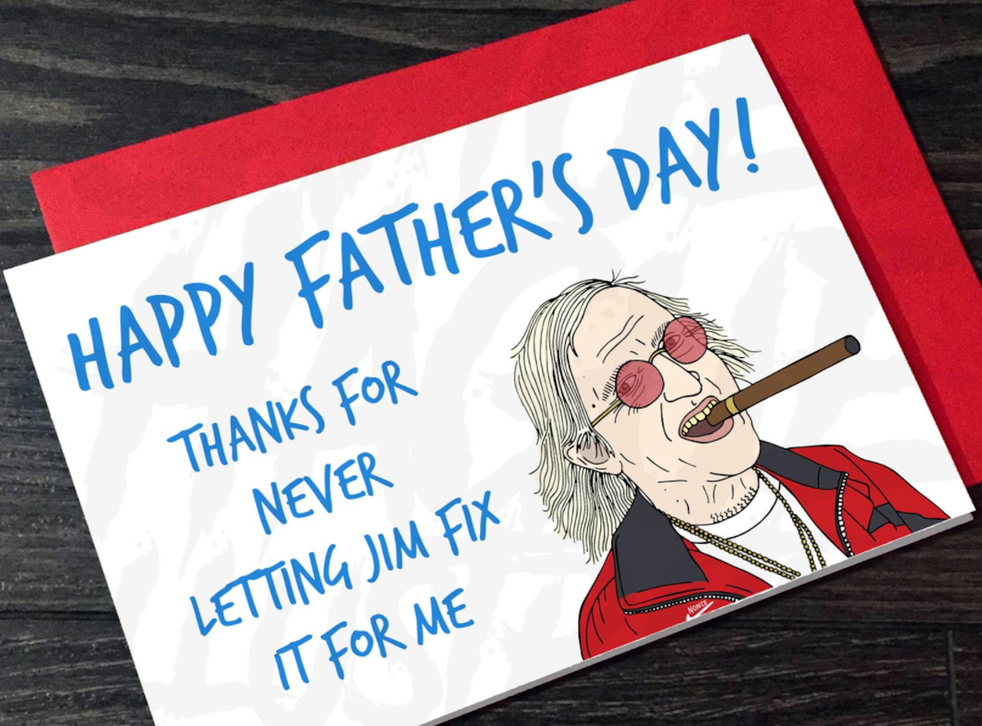 A series of provocative Mother's Day cards that feature Jimmy Savile, Josef Fritzl and Shannon Matthews have been criticised by charities and members of the public.
Designed by artist Samuel Hague, he sold them on online marketplace Etsy before the firm removed them from sale following a number of complaints, including one from leading children's charity the NSPCC.
One of the cards features an illustration of Jimmy Savile, alongside the caption: "Thanks for never letting Jim fix it for me."
Another features a picture of Karen Matthews, who was jailed for eight years in January 2009 for a plot to abduct her daughter Shannon.
The nine-year-old was found in the base of a divan bed.
Mr Hague's card features the words: "Thanks for never hiding me under a bed."
A NSPCC spokesperson said: "Using the trauma of child abuse to sell these vile greetings cards is thoughtless and irresponsible."
They added: "We would urge this seller to reconsider and to remove these cards from sale immediately."
Members of the public also expressed their outrage on social media.
Hannah Cooke labelled Mr Hague "vile" and said the designs were "sick" in a Facebook post.
UK news in pictures

Show all 50
"Who would find this sh*t funny?" she wrote.
But Mr Hague, from South Normanton, Derbyshire, told The Independent he was surprised about the criticism and said the reaction to his designs had been mostly positive.
"I choose to express myself through my artwork. Humour is subjective and most of the feedback I have received has been positive," he said. "Many comedians use dark humour and no one ever bats an eyelid so I didn't expect this response from the media. I will keep the designs on sale. However, if anyone personally involved was upset by any of the cards I would remove it out of respect."
He also said despite the criticism, he had not received any abusive messages.
Etsy has since unlisted the items, telling the 29-year-old that the designs were "not an appropriate fit for Etsy."
"Your listing fee has been refunded to you, but you may not relist this item," the site told Mr Hague. "We're always thinking about the best place to draw the line when it comes to balancing freedom of expression with our policies. Although we appreciate your creativity, we don't allow items that are demeaning to people with disabilities, like Harvey."
Register for free to continue reading
Registration is a free and easy way to support our truly independent journalism
By registering, you will also enjoy limited access to Premium articles, exclusive newsletters, commenting, and virtual events with our leading journalists
Already have an account? sign in
Register for free to continue reading
Registration is a free and easy way to support our truly independent journalism
By registering, you will also enjoy limited access to Premium articles, exclusive newsletters, commenting, and virtual events with our leading journalists
Already have an account? sign in
Join our new commenting forum
Join thought-provoking conversations, follow other Independent readers and see their replies