Muslim converts 'vulnerable to Isis radicalisation', research finds
Westminster attacker Khalid Masood and Lee Rigby killers among British terrorist who converted to Islam
Lizzie Dearden
Home Affairs Correspondent
Wednesday 25 October 2017 00:12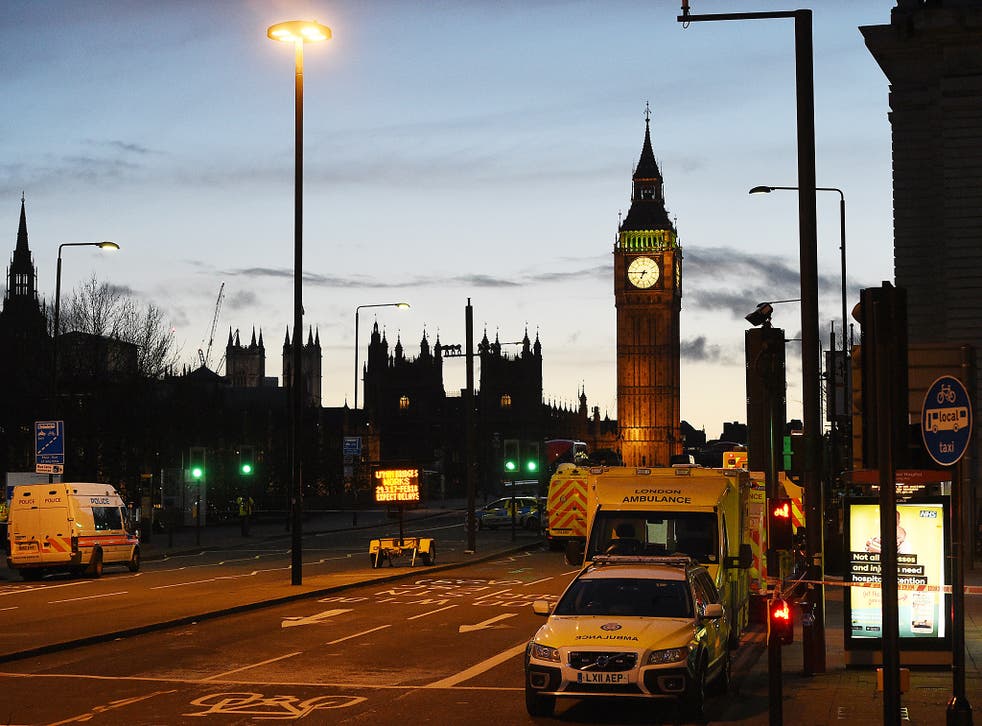 Muslim converts can be vulnerable to radicalisation because their "vacuum of knowledge" leaves them ill-equipped to reject extremist ideology, a new report has warned.
Research by the Henry Jackson Society (HJS) think-tank found that although the vast majority of converts to Islam are "peaceful and law-abiding", they are over-represented among Isis' foreign fighters and have perpetrated major terror attacks.
"When taken together with other aggravating factors such as possession of a criminal record, paternal absence, and exposure to the messages of radical preachers, the process of conversion can indicate a vulnerability to extremism," the report concluded.
"Converts are often more malleable and vulnerable to radical rhetoric, often combining enthusiasm to change the world with a vacuum of knowledge about different interpretations of Islam."
Analysts argued that many "dawah" groups working to convert followers to Islam preach fundamentalist Salafi teachings, while Isis has deliberately tailored its propaganda to appeal to those with little religious knowledge.
Dr Julia Rushchenko, an associate fellow at the HJS Centre for the Response to Terrorism and Radicalisation, said jihadi groups have proven capable "of luring a wide range of individuals from across Europe", adding: "Policy-makers and practitioners must be alert to this specific but understudied danger, if they are to counter extremism effectively."
The research found that "born-again Muslims" who rediscover their faith are also at risk of being drawn into extremism, as are prisoners and people with existing grievances who could seek redemption through jihad.
A mounting body of evidence points to what has been dubbed a "crime-terror nexus", where young people involved in gangs or violent crime are tempted by Isis' problems of action, salvation and purpose.
Those who convert to Islam in prison or the probation system fall into both groups, being left doubly vulnerable to radicalisation.
A study for the United Nations Office of Counter-Terrorism found that the group's foreign fighters in Syria tend to come from disadvantaged backgrounds, have low levels of education and employment, and "lack any basic understanding of the true meaning of jihad or even the Islamic faith".
The research found that most of the militants surveyed were "novices" in their professed religion and some did not know how to pray properly.
Among the Isis fighters who converted to Islam in the UK is Harry Sarfo, a former Royal Mail postman who is now in a German prison after fleeing the group's territories in Syria.
Born into a Ghanaian Catholic family, he told The Independent how he became interested in Islam through speeches he heard during lunch breaks at a sixth form college in east London.
"One of my best mates of Bangladeshi origin started to become more religious and we started to have long conversations about religion, purpose and the hereafter," Sarfo said.
Met Police announce that terror perpetrator Khalid Masood was born Adrian Russell
"I accepted Islam by the age of 20, in a small mosque in east London where friends of mine regularly attended."
He quickly became devout, praying five times a day and making pilgrimages, but it was not until he met an al-Qaeda recruiter in a German prison while serving a sentence for robbery that Sarfo "learned the ideology of tawheed and jihad".
Among other converted Isis supporters is Khalid Masood, who killed five people and injured dozens of others in the Westminster terror attack in March.
Muslim converts have also carried out other terror attacks in the UK, including 7/7 bomber Germaine Lindsay and Michael Adebolajo and Michael Adebowale, who murdered soldier Fusilier Lee Rigby in Woolwich.
They also rank among known extremists who have travelled to Syria and Iraq, including the "White Widow" Sally Jones – who has reportedly been killed in a US drone strike – and Mosul suicide bomber Ronald Fiddler, who called himself Abu Zakariya al-Britani.
Al-Qaeda has also drawn on converts, such as the "shoe bomber" Richard Reid, a Londoner who became a Muslim at Feltham Young Offenders Institution before going on to attempt downing American Airlines Flight 63.
HJS' research called for authorities leading counter-extremism efforts including Prevent to recognise that "the appeal radical Islam as an ideology can extend well beyond communities historically associated with" the religion.
A separate report published by the think tank in March found that 16 per cent of those who committed Islamist terror offences in the UK between 1998 and 2015 were converts – far above the population within the Muslim community as a whole.
It cites figures that show the overall number of British Muslims who were converted rather than born into the religion rose from 60,000 in 2001, to 100,000 in 2010.
Timeline: The emergence of Isis

Show all 40
At present, around 5,000 British people convert to Islam every year - most of them women.
The report came as separate research from The Soufan Center warned that thousands of Isis fighters have already returned to their home countries amid confusion over the number of foreign jihadis remaining in the dwindling caliphate.
At least 425 British Isis members have so far returned to the UK, where many are feared to have "disappeared" from the view of security services.
Rory Stewart, an international development minister, previously argued that the only way to deal with most potential returnees was to kill them.
But Max Hill QC, the independent reviewer of terrorism legislation, has instead called for a focus on "reintegration" in cases where authorities have decided individuals who return should not face prosecution.
He said it was right that security services have left space for those who travelled out of a sense of naivety, at a young age and who return in a "state of utter disillusionment" to be diverted away from the criminal courts.
Richard Barrett, the author of the Soufan report, said: "As the so-called Islamic State loses territorial control of its caliphate, there is little doubt that the group or something similar will survive the worldwide campaign against it so long as the conditions that promoted its growth remain.
"Its appeal will outlast its demise, and while it will be hard to assess the specific threat posed by foreign fighters and returnees, they will present a challenge to many countries for years to come."
Register for free to continue reading
Registration is a free and easy way to support our truly independent journalism
By registering, you will also enjoy limited access to Premium articles, exclusive newsletters, commenting, and virtual events with our leading journalists
Already have an account? sign in