Muslims offer 'wonderful' gesture of support to local synagogue after it is daubed with swastika graffiti
The attack on the Jewish temple has been compared to incidents suffered by mosques targeted with graffiti and pigs heads
Natasha Salmon
Saturday 14 October 2017 17:41 Comments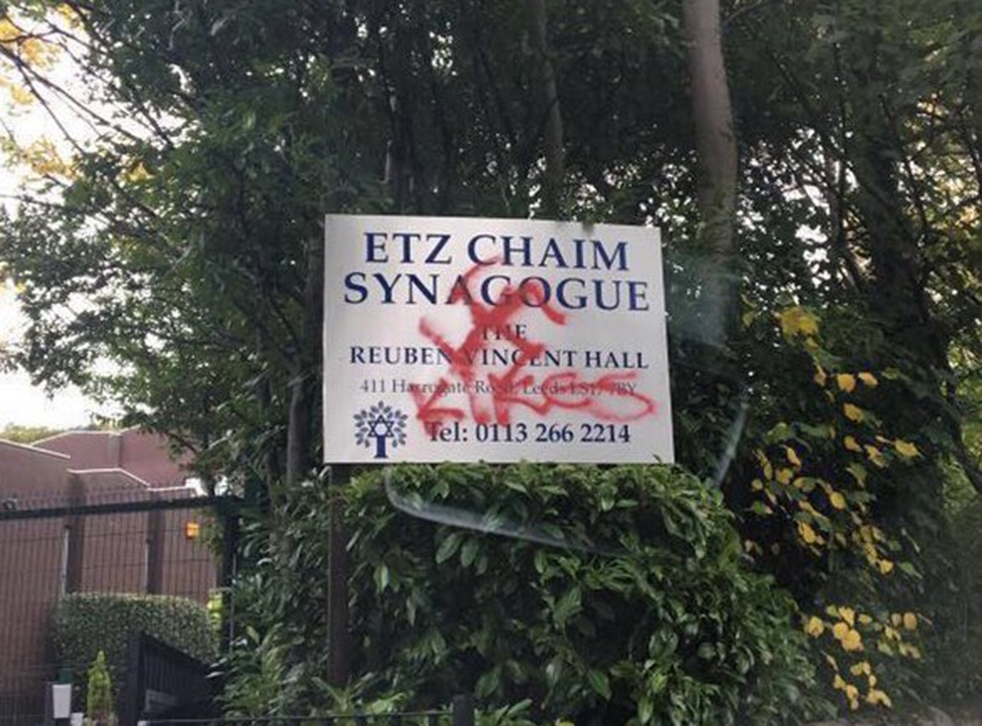 A group of Muslim men have offered a "wonderful" gesture to their local Jewish community, after a synagogue was targeted with racist graffiti.
The swastika and a racial slur were daubed on the sign outside the Etz Chaim synagogue in Leeds on Tuesday night, shocking the community.
In response, four local Muslim men brought flowers to show support and solidarity, where they were welcomed by the synagogue.
A members of the Etz Chaim community, Harry Brown, commented on Facebook: "I was truly humbled by [the] amazing gesture – the gift of flowers and your support.
"This is what we want to see, and equally the Jewish community should reach out not only to Muslim faiths but to all other faiths.
"From an unpleasant episode came a wonderful outpouring of support which the whole community appreciates."
The instigator of the gesture was 36-year-old Shahab Adris, the Yorkshire and Humber regional manager of Mend, a not-for-profit company which hopes to reduce Islamophobia and increase engagement and development within British communities.
Speaking to The Independent, Mr Adris said: "When I was first shown the images of the graffiti, I was disgusted. Unfortunately it is something we are accustomed to in the Muslim community, and it is the same as a mosque being desecrated with a pig's head, or similar vile graffiti.
"I asked around if people would like to come with me, and four of us went with a bunch of flowers to show our support and empathy."
Mr Adris said they arrived at the synagogue at the end of a service. "Some of our group had been a bit nervous as they had never been to a synagogue before. We didn't know how they would react to a group of quite obviously Muslim men standing outside."
But the men were greeted by the rabbi and immediately welcomed into the synagogue. Mr Adris said: "We spent 40 minutes discussing religion and how we can work together to promote love and peace. Not the hatred shown by those who had left the graffiti."
He hopes to continue to "build stronger ties" with the Jewish community, other religions and even the people who may have painted the graffiti.
"If these people are found I would definitely want to engage with them and speak with them," he said. "We must continue to work within local communities to dispel misconceptions and also hatred – it is important.
"It extends to other faiths too. Last night I helped cook dinner for 60 people with the All Hallows Church in Leeds; working in local communities is the best way forward.
"We can spread love and not hate, and get rid of the misconceptions held about Islam as well as Judaism."
Others also praised his actions on Facebook, with Elsje Prins commenting: "Thank you for your support and standing up against racist behaviour.
"It is very much appreciated and like […] others have already mentioned, I would very much like to be part of a dialogue and help to develop our connections. Your actions show the way forward."
In a statement on their website, the Leeds Stand Up to Racism group wrote: "We condemn in the strongest terms the recent foul antisemitic attack on the Etz Chaim synagogue in Leeds, and offer our full solidarity and support to the worshippers at Etz Chaim and the wider Jewish community in Leeds.
"Leeds is a proud multicultural and multi-faith city in which people of all religions and none live happily side by side.
"The person or persons who carried out this shameful attack represent a tiny fraction of our population, and their Nazi- and hate-filled ideology and behaviour is not welcome here or anywhere."
Police said they were treating the original incident as a hate crime, and that patrols in the area had been stepped up.
Register for free to continue reading
Registration is a free and easy way to support our truly independent journalism
By registering, you will also enjoy limited access to Premium articles, exclusive newsletters, commenting, and virtual events with our leading journalists
Already have an account? sign in
Join our new commenting forum
Join thought-provoking conversations, follow other Independent readers and see their replies