6 charts which show the employment barriers faced by British Muslims
Unemployment rates among Muslims are more than double that of any other community in the UK
Siobhan Fenton
Health and Social Affairs Correspondent
Thursday 11 August 2016 19:26 Comments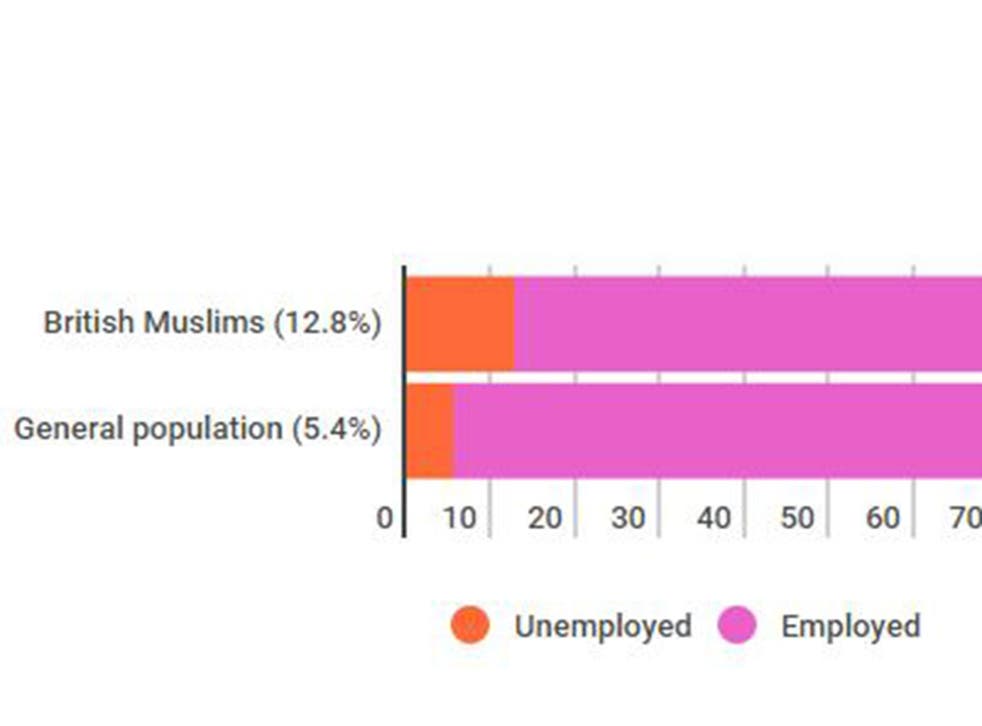 Muslim people are much more likely to be unemployed than any other faith group in the country, a House of Commons committee has warned in a report outlining stark differences in the social and economic experiences of different communities in Britain.
Commissioned by the Women and Equalities Committee, the report 'Employment Opportunities for Muslims in the UK' raises concerns that not enough is being done to ensure British Muslims are afforded the same employment opportunities as the rest of society.
12.8 per cent of Muslims are unemployed, compared to 5.4 per cent of the general population.
Within this figure, a significant gender divide emerges, as 65 per cent of unemployed Muslims are women.
It is unknown if this gender disparity is due to Muslim women being more visible due to wearing more overt religious attire such as a hijab, meaning that employers are able to identify their religion more readily and subsequently discriminate against them. Or conversely, if cultural attitudes regarding gender in Muslim communities mean they are more reluctant for female community members to work.
Research has found 44 per cent of unemployed Muslim women say they are unable to work because they look after the home, compared to 16 per cent of unemployed women among the wider UK population.
Research elsewhere has indicated one in 4 employees will admit to being reluctant to hire Muslim women due to concerns they will put family commitments and caring duties above their professional duties.
Similarly, other research has shown British Pakistani women are much more likely to be asked whether they have plans to get married or have children, with 1 in 8 being asked, compared to 1 in 30 white women.
The report also noted many Muslims feel the Prevent programme is a source of fear and anxiety among their communities, due to concerns it unfairly impacted on them. It states: "In the course of this inquiry we came across individual Muslims who were reluctant to engage with us for fear that our inquiry was part of the Prevent programme.
"During our visit to Luton, Muslim participants told us government interventions made them wary and that they felt they were being treated as a suspect community. The Prevent strategy was cited as a significant source of tension."
It is feared this may make it harder for government strategies to tackle unemployment among Muslims, as they could subsequently be less likely to engage with statutory agencies due to these concerns, meaning they are further alienated from support and resources.
UK news in pictures

Show all 50
Responding to the report, Conservative MP Maria Miller told the committee: "This report underlines the positive contributions of Muslims across the UK, and the urgent need to make equality of opportunity a reality for people of every faith and background."
A Government spokesperson said: "The government is committed to making Britain a country that works for everyone. We want all people, regardless of their faith or gender to have access to the same opportunities so that they can reach their full potential."
Register for free to continue reading
Registration is a free and easy way to support our truly independent journalism
By registering, you will also enjoy limited access to Premium articles, exclusive newsletters, commenting, and virtual events with our leading journalists
Already have an account? sign in
Register for free to continue reading
Registration is a free and easy way to support our truly independent journalism
By registering, you will also enjoy limited access to Premium articles, exclusive newsletters, commenting, and virtual events with our leading journalists
Already have an account? sign in
Join our new commenting forum
Join thought-provoking conversations, follow other Independent readers and see their replies