Mystery poet 'the Bored Baker' leaves haiku poems in packets of Sainsbury's cookies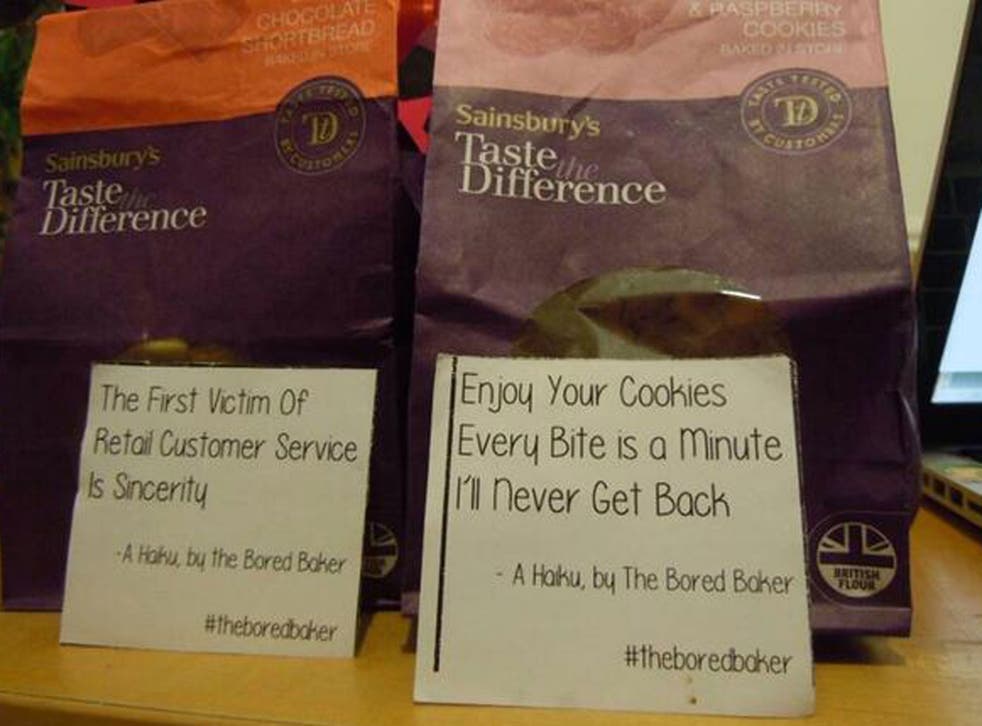 A mystery baker has taken to expressing their disdain at work by penning haiku poems and covertly slipping them into packets of Sainsbury's Taste the Difference biscuits.
Customers at a branch of Sainsbury's Local in Mornington Crescent, Camden, were surprised to find three-line, 17 syllable poems tucked into packets of cookies by the baker on their last shift at work.
Each haiku bemoaned the author's apparent "displeasure" at the job, evident in one which read: "Seven pound an hour/ Is the price of my labour/ Loyalty costs more."
The poet also left the note: "Enjoy your cookies/ Every bite is a minute/ I'll never get back" in one packet, while another customer opened theirs to find: "The first victim of/ retail customer service/ is sincerity."
A somewhat more humorous haiku read: "Taste the difference/ I can't taste the difference/ Maybe it's my fault," while another slightly more questionable one joked about spreading HIV. "Been sneezing all day/ Good thing HIV cannot/ Be passed on like that."
Each poem is signed off: "A haiku, by the Bored Baker" and a Twitter account with the handle @theboredbaker has also been set up after people began posting pictures of the poems on social media.
The author's identity remains unknown, although Sainsbury's were quick to assure shoppers the person was no longer employed by the company.
A spokesperson said: "As soon as we realised one of our bakers had been putting notes in a small number of cookies, we immediately checked them and withdrew them from sale.
"Obviously this should never have happened and we apologise to anyone who was affected."
Join our new commenting forum
Join thought-provoking conversations, follow other Independent readers and see their replies