Army barracks housing refugees deemed 'not acceptable accommodation' seven years ago
Priti Patel says it is an 'insult' to say the buildings are not good enough, because they previously housed 'our brave soldiers'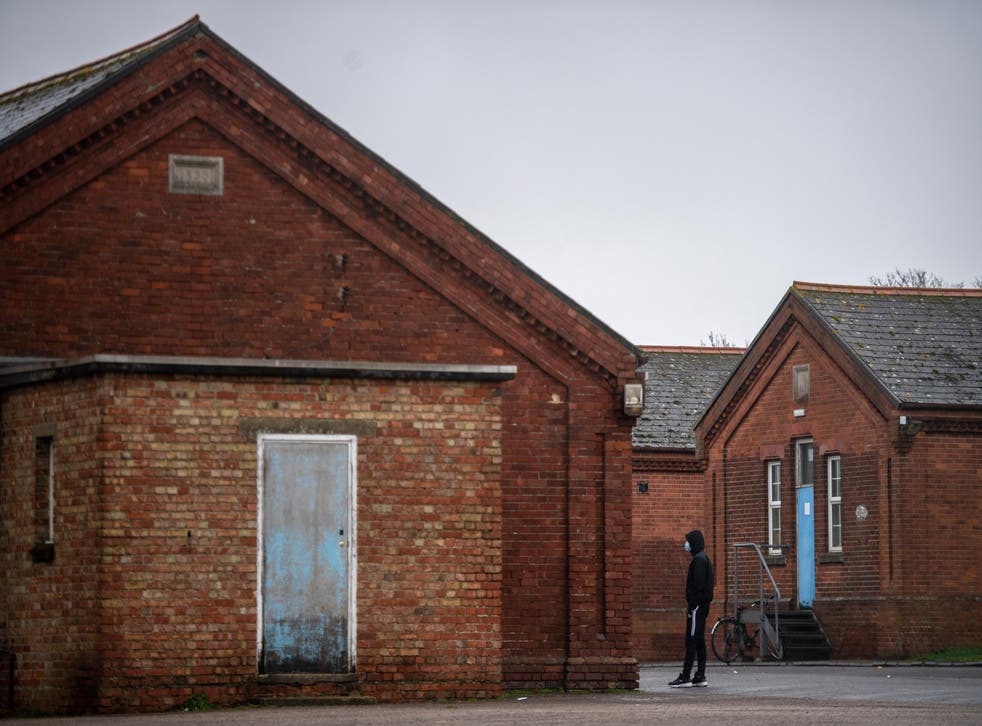 A former military site being used to house refugees was deemed not to meet "acceptable standards for accommodation" seven years ago, documents show.
It has also emerged that ministers acknowledged in 2013 that Napier Barracks in Folkestone, Kent – which was repurposed as asylum seeker accommodation last September – was in "poor condition", and pledged to invest in "better" facilities for military personnel.
The use of the barracks to house asylum seekers has attracted mounting concern from doctors and NGOs over living conditions on the site and an alleged lack of access to healthcare and legal advice.
The Home Office has repeatedly claimed the barracks – which have not been used as permanent accommodation for military personnel in over a decade – offer a good standard of housing, describing it as an "insult to say they are not good enough for asylum seekers", because they previously housed "our brave soldiers".
However, a report into the facility by CgMs Consulting in 2014 found that the blocks, built at the end of the 19th century, "were never intended for long-term use" and should be demolished.
The document, published by Folkestone and Hythe Council as part of a planning application to build homes on the site in 2014, described the barracks as "derelict" and "surplus to requirements".
The council approved planning for a 355-home development on the site of the Napier and Burgoyne barracks – which form part of a larger military site called the Shorncliffe Garrison – on 18 September last year, at the same time as the Home Office started to house asylum seekers on the site.
A separate report in 2018 – also published by Folkestone and Hythe District Council, as part of its "heritage strategy" – found that the barracks were "currently vacant or neglected" and "presented a number of challenges in securing a long-term and viable future".
It went on to state: "Reuse of barrack buildings for example will require investment both in the fabric of the structures and in services to support any reuse.
"The longer these buildings remain unused the greater the risk of serious deterioration, and as such, seeking a sustainable solution for these sites should be a priority."
In 2013, the then deputy prime minister Nick Clegg told the House of Commons the infrastructure at the Shorncliffe Garrison was "old, in poor condition and expensive to heat, light and maintain".
He said the Ministry of Defence (MoD) was therefore starting to redevelop the garrison to deliver a "long-term, sustainable estate".
A month later, the government published an announcement that the site was up for demolition because the MoD wanted to invest in "better" facilities for military personnel and "modernise" the military estate, describing parts of Napier Barracks and the military site around it as "obsolete".
At the time, Brigadier Simon Wolsey OBE, Commander of 2 (South East) Brigade, which was based at the Shorncliffe Garrison, said: "This project is mutually beneficial in that it will see the disposal of unused land and outmoded buildings in order that purpose-built modern accommodation can be provided for our personnel."
It comes as the UK's immigration and prison watchdogs begin an inspection of Napier Barracks, along with another military site housing asylum seekers in Pembrokeshire, this week amid mounting concern about conditions at the sites.
The Independent understands that the number of asylum seekers living at Napier – which previously stood at around 400 – was dramatically reduced last week as many people were moved to hotels, with around 100 remaining.
A Covid outbreak at Napier Barracks last month led to a ban on residents leaving the site, with more than 120 people having since tested positive.
The Home Office has been approached for comment.
Register for free to continue reading
Registration is a free and easy way to support our truly independent journalism
By registering, you will also enjoy limited access to Premium articles, exclusive newsletters, commenting, and virtual events with our leading journalists
Already have an account? sign in
Register for free to continue reading
Registration is a free and easy way to support our truly independent journalism
By registering, you will also enjoy limited access to Premium articles, exclusive newsletters, commenting, and virtual events with our leading journalists
Already have an account? sign in
Join our new commenting forum
Join thought-provoking conversations, follow other Independent readers and see their replies