'Neo-Nazi' arrests: Calls for extremism inquiry after British soldiers are detained on far-right terror charges
Exclusive: Politicians say authorities must not assume alleged National Action members are 'contained'
Lizzie Dearden
Home Affairs Correspondent
Wednesday 06 September 2017 19:15 BST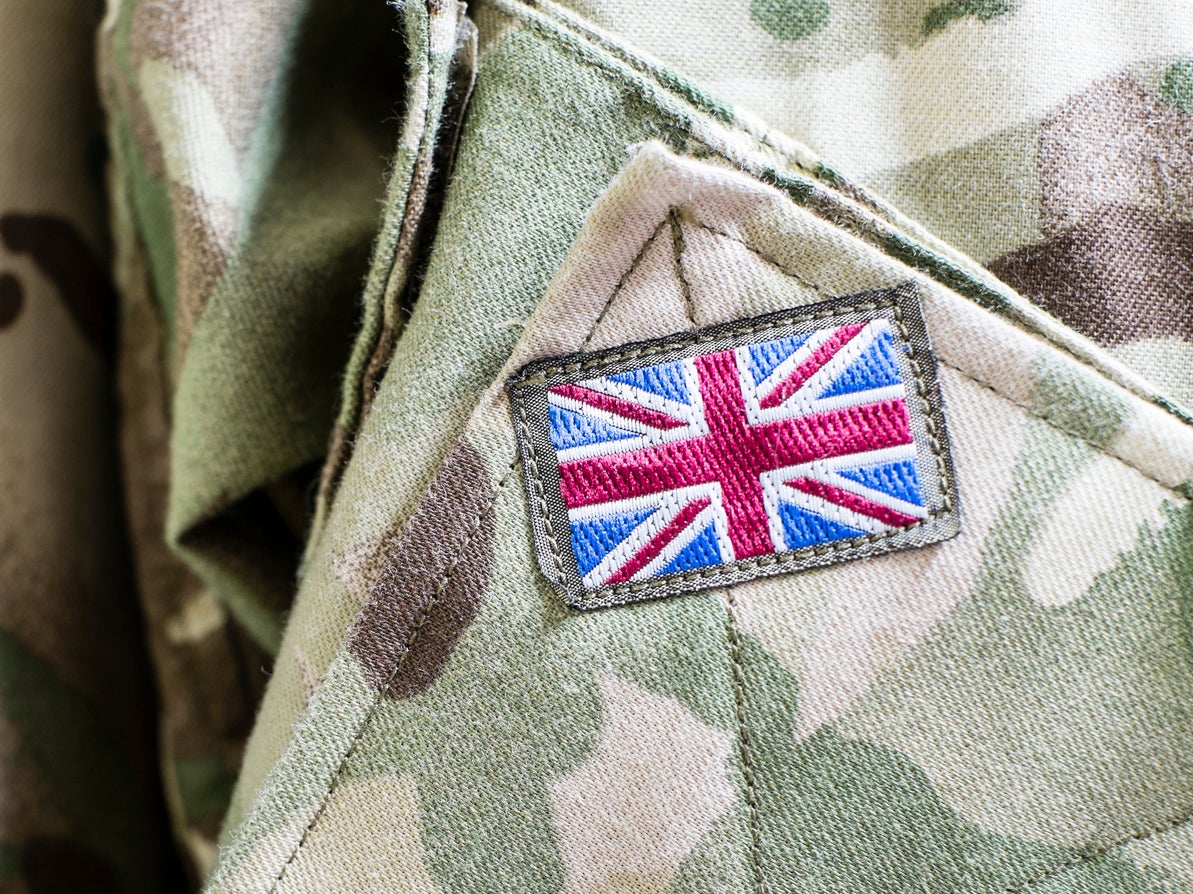 The Government is being urged to launch an inquiry into far-right extremism in the armed forces after four soldiers were arrested for being alleged members of a banned neo-Nazi group.
The men were detained on suspicion of terror offences in Brecon, Ipswich, and at a military base in Cyprus, alongside a civilian who is also suspected of being a National Action member.
The Independent understands the Ministry of Defence (MoD) is treating the first arrests of their kind as an isolated case and has no plans to launch a wider investigation into extremism.
The Liberal Democrats' Shadow Home Secretary, Ed Davey, praised the "swift action" against arrested soldiers.
"But questions remain over whether the armed forces are consistently monitoring for extremist activity in their ranks," he told The Independent.
"The Liberal Democrats have challenged the government to make clear what oversight is in place to track any extremism – it is not enough to simply assume this is a contained example."
The Green Party warned that cases abroad showed that serving members of the armed forces are "vulnerable to recruitment" from far-right groups.
Co-leader Jonathan Bartley said: "The Government's failure to launch an inquiry into extremism within the armed forces suggests it is afraid of what it will find.
"We must protect serving and retired personnel by providing training to spot the signs of radicalisation, and upping the support and mental healthcare provision available.
"In the UK we have already seen far-right groups target members of the armed forces on social media, and the Government cannot bury its head in the sand and hope it will go away."
Mr Bartley cited a recent case in Germany, where a soldier known as Franco A was found posing as a Syrian refugee to launch a "false flag" terror attack to be blamed on asylum seekers.
He was also a neo-Nazi, with investigators discovering an assault rifle case carved with a swastika and Third Reich pamphlet in his barracks room, where the letters HH [Heil Hitler] were inscribed on the wall.
As criminal proceedings continue, both Angela Merkel's government and the military have launched investigations into a suspected network of extremists and radicalisation in the Bundeswehr.
The German defence minister, Ursula von der Leyen, came under fire for her handling of the case after attacking "weak leadership" following the discovery of 275 suspected right-wing extremists within Germany's military.
"The Government should follow Germany's example by investigating what is happening in its own military, and taking extra measures to stop extremism taking hold," Mr Bartley added.
Irene Mihalic, a member of the German parliament who has campaigned on the case and sat on inquiries into neo-Nazi terrorism, urged the UK to learn lessons from its ally.
"It is extremely important that ... both government and investigators not only consider the individual perpetrators, but also consider the potential of a network of perpetrators right from the outset," Die Grünen's home affairs spokespersontold The Independent.
"Otherwise there is a real risk that the possibility of a right-wing terrorist network will be lost in the course of the investigation, as was the case in Germany for many years in the investigations of the 10 supposed murders by the National Socialist Underground.
"It is unthinkable that such right-wing extremist plots are prevented only through fortunate coincidence, as seems to have been the case with Franco A."
David Hanson, a former crime and policing minister under the Labour government, also called for far-right groups had to be dealt with alongside the threat from Islamist extremists.
The MP told the BBC he had persistently raised the alarm since a neo-Nazi attack in Mold in 2015, where a man attempted to behead a Tesco shopper in revenge for the murder of Fusilier Lee Rigby.
"[There is] a need to focus not just on Islamic extremism, which is absolutely important to do so, but also to look and make sure we are examining right wing, far right extremism, because the last thing we want in this country is to have a polarised position where we have both Islamic terrorism and right-wing extremist terrorism," Mr Hanson said.
Sir Michael Fallon, the Defence Secretary, said was "concerned" by Tuesday's arrests when asked whether enough was being done to stop radicalisation the armed forces.
"I can't comment on individual cases but I think you've seen from what happened yesterday that very swift action is taken," he told BBC Radio 4's Today programme.
"This is a proscribed organisation with abominable views – a white supremacist, antisemitic, homophobic organisation that is banned.
"Not only is it illegal, but its values are absolutely nothing to do with the ethos and values of the armed forces.
"I'm as concerned as you are and you can see that action is being taken."
All recruits to the armed forces undergo a strict vetting procedure, which includes checks on their criminal history, political views and affiliations and can take up to nine months.
Evidence of radical views, discrimination and racism can be reported confidentially and investigated and disciplined by military authorities.
"The armed forces have robust measures in place to ensure those exhibiting extremist views are neither tolerated nor permitted to serve," a spokesperson for the MoD said.
Four men, including a civilian, were arrested in the UK, while a fifth suspect, who is understood to be in the Royal Anglian Regiment, was detained by the Royal Military Police at Britain's Dhekelia base in Cyprus.
A 22-year-old from Birmingham, a 32-year-old from Powys, a 24-year-old from Ipswich and a 24-year-old from Northampton were detained by West Midlands Police as part of a "pre-planned and intelligence-led" operation, but the force said there was no threat to the public's safety.
A spokesperson said they suspects were arrested "on suspicion of being concerned in the commission, preparation and instigation of acts of terrorism under Section 41 of the Terrorism Act 2000; namely on suspicion of being a member of a proscribed organisation (National Action) contrary to sec 11 of the Terrorism Act".
One of the men is believed to have been serving in Royal Electrical and Mechanical Engineers (REME), while at least one other is in the Royal Anglian Regiment.
All four are being held at a police station in the West Midlands and a number of properties are being searched, while the fifth man will be flown back to the UK from RAF Akrotiri in Cyprus.
National Action became the first extreme right-wing group to be banned in the UK in December.
Being a member or inviting support for the group is a criminal offence carrying a sentence of up to 10 years' imprisonment but investigations have shown its members are still meeting in secret.
The Government's list of proscribed terror groups describes National Action as "a racist neo-Nazi group" that was established in 2013 and had several branches in the UK that launched provocative protests and activity aimed at intimidating local communities.
National Action spokesman says he's a Nazi whose role model is Hitler
"Its activities and propaganda materials are particularly aimed at recruiting young people," the document says.
"The group is virulently racist, antisemitic and homophobic. Its ideology promotes the idea that Britain will inevitably see a violent 'race war', which the group claims it will be an active part of.
"The group rejects democracy, is hostile to the British state and seeks to divide society by implicitly endorsing violence against ethnic minorities and perceived 'race traitors'."
National Action, which describes itself as a "National Socialist youth organisation", was known for using the phrases "Hitler was right" and "Britain is ours, the rest must go" at marches and online.
Its online propaganda included images showing members performing Hitler salutes inside a German concentration camp, praise for the man who murdered Jo Cox and posts "glorifying terrorism".
National Action's slogan "death to traitors, freedom for Britain", was the only statement given by Thomas Mair in court.
The trial of a 17-year-old boy found guilty of making a pipe bomb discovered in his Nazi memorabilia-filled bedroom also heard of his links to National Action.
Police said 22 suspected members or associates of the group were arrested in 2016, amid concern over a spike in the number of far-right radicals reported to the Government's counter-extremism programme.