Right-wing figures ridiculed for outrage at 'jihadi terror attack' that turned out to be car crash
Nigel Farage, Katie Hopkins and Tommy Robinson, among others, were accused of exploiting incident after whipping up 'hysteria' on social media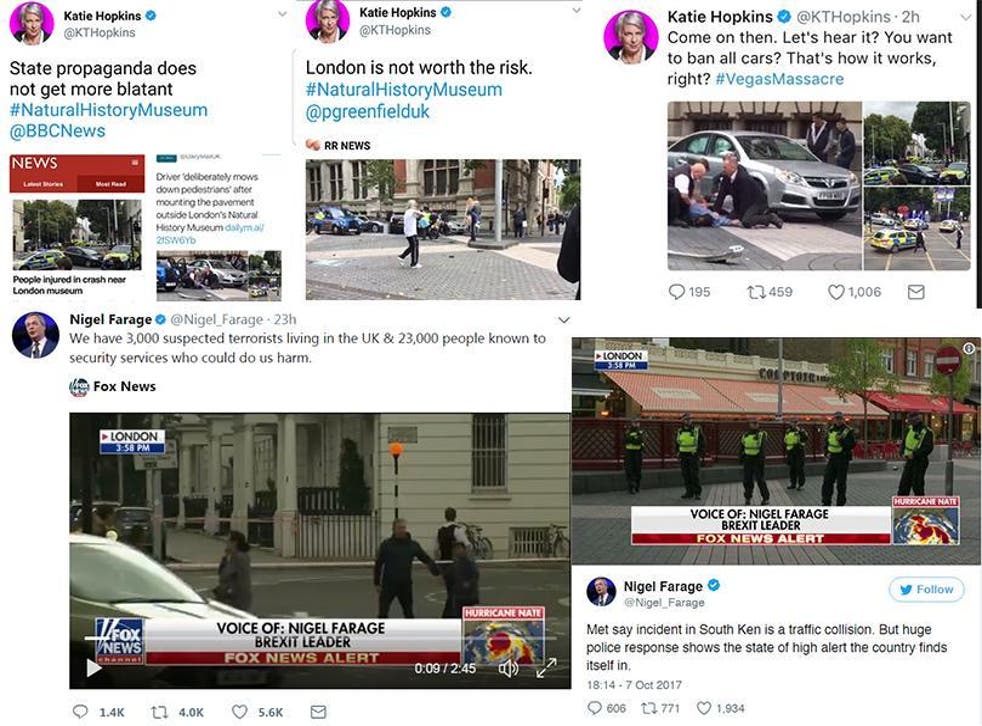 A number of right-wing figures have been widely ridiculed after they hastily labelled a London car crash a "terror attack".
Nigel Farage, Katie Hopkins and Tommy Robinson were accused of exploiting the accident outside the Natural History Museum to further their own political agenda.
Just minutes after the crash on Saturday afternoon, Mr Farage gave an interview to Fox News claiming the police were "clearly not only treating this as a terrorist incident, but it looks to me like they expect there could be more".
He subsequently tweeted the audio clip, with the caption: "We have 3,000 suspected terrorists living in the UK & 23,000 people known to security services who could do us harm."
Meanwhile, Hopkins sent a series of inflammatory tweets, warning tourists: "Right now, London is not worth the risk" and apologising for the "state" of the city.
The MailOnline columnist also accused the BBC of peddling "state propaganda", despite no confirmation from authorities that the attack was terror related.
Later, English Defence League (EDL) founder Robinson, whose real name is Stephen Yaxley-Lennon, arrived at the scene with a camera crew in tow.
When approached by The Independent to discuss his motives, Robinson declared the incident a "jihadi terror attack" despite no formal recognition of this being the case by the authorities.
A police officer intervened during the discussion, telling him authorities had not confirmed if it was a terror incident at the time of the discussion.
Subsequently, police said it was a road traffic accident and not terror related.
Hopkins was forced to backtrack after her error became clear, tweeting: "I am deleting all tweets from the last two hours. I hope you stay safe. Xx"
But social media sites were flooded with screenshots of the messaging and heavy criticism of the trio.
Brendan Cox, the husband of late Labour MP Jo Cox, wrote: "What yesterday showed was Farage/Hopkins etc will seek to spread fear & panic at every given chance. They do the job of terrorists for them."
Labour MP Wes Streeting wrote: "Not being treated as a terrorist incident, but that doesn't stop Farage from telling Fox that it is."
Eleven people were injured in the collision although none of their injuries are believed to be serious.
The 47-year-old driver was arrested at the scene and has now been released under investigation, Scotland Yard said.
Join our new commenting forum
Join thought-provoking conversations, follow other Independent readers and see their replies