Nepal earthquake: RAF helicopters fly out for aid mission as British nationals remain missing
Three Chinooks will be helping reach remote areas cut off by the disaster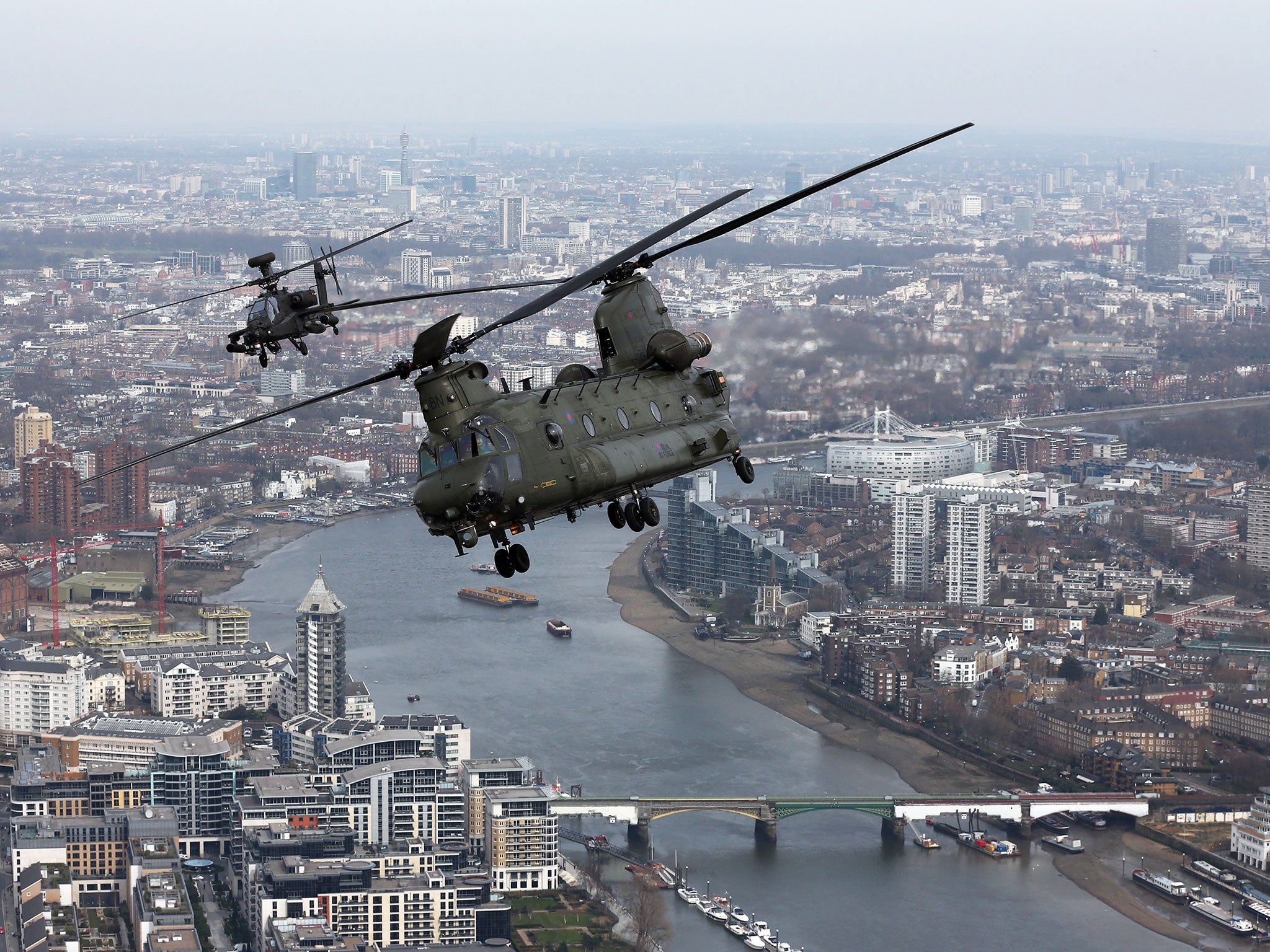 British military helicopters are to fly to Nepal to help reach survivors of the earthquake that killed more than 6,200 people.
Millions more are in dire need of emergency medicine, food, clean water and shelter following the disaster on Saturday.
Three Royal Air Force Chinooks are being sent as part of the UK's aid effort, which also includes £2.5 million funding for the UN's Humanitarian Air Service.
Justine Greening, the International Development Secretary, said the helicopters would arrive over the coming days to help aid reach isolated areas cut off by damaged roads and mountainous terrain.
"These highly versatile Royal Air Force helicopters and UN aircraft will mean life-saving aid supplies can be moved around Nepal and reach people in remote communities cut off by the earthquake who are in desperate need," she added.
"Conditions in Nepal are dire, but the UK is determined to do everything it can to help support Nepal and its people."
The first helicopter left RAF Brize Norton, in Oxfordshire, around midday on board an Antonov commercial freight aircraft.
The Government has pledged £15 million towards the relief efforts in Nepal so far, including specific funding for a rapid response facility, the British Red Cross, medics and matching public donations.
Staff from the British embassy are also assisting around 300 British nationals caught up in the disaster and around 100 people between the ages of four months and 70 returned home yesterday.
According to a Red Cross missing persons list posted online, 28 people from Britain and Ireland remain unaccounted for following the 7.8 magnitude earthquake.
Hemchandra Rai, a 42-year-old father of three who lived in Hong Kong, has been confirmed dead, while many more families are continuing their agonising wait to hear if their loved ones survived.
Reports that a second Briton was among those killed in an avalanche at the base camp on Mount Everest are still being investigated.
Powerful earthquake hits Nepal
Show all 44
Matt Carapiet, 23, was trekking in the Langtang valley when the earthquake hit and has not been heard from since.
Family friend Rob Bailey said the architecture student's family, in Kent, felt "frustrated" and let down by the Foreign and Commonwealth Office's (FCO) efforts.
"They are going through absolute hell at the moment - there is no other way to describe it," he added.
A spokesman for the FCO said teams "working round the clock" had helped more than 350 British nationals so far and were in regular contact with search and rescue teams trying to locate them.
"We've deployed two emergency response FCO teams to locate and assist British nationals in remote areas," he added.
"They've assisted eight British nationals who were rescued from Dhunche and who are now in Kathmandu being supported by embassy staff."
British Army Gurkha engineers arrived in the Himalayan country yesterday along with 18 tonnes of aid supplies that included shelter kits and solar lanterns.
They spent last night constructing a water purification system to provide safe drinking water for people living in a camp in Kathmandu who lost their homes in last week's earthquake.
A British doctor who travelled to Nepal, described harrowing scenes watching people dig their relatives out of rubble with their bare hands as hope of finding survivors fades.
Richard Lyon, a consultant in emergency medicine with NHS Lothian, is part of a specialist unit of search and rescue experts, firefighters, medics and engineers flown out by the UK International Search & Rescue Team (ISAR).
"The humanitarian impact here is enormous, with many deceased in the streets when we arrived, limited power supply and water in the city running very low," he added.
"The imminent arrival of more Gurkhas and Chinook helicopters will be invaluable."
Additional reporting by PA
Join our commenting forum
Join thought-provoking conversations, follow other Independent readers and see their replies