New Year Honours: Officer who witnessed Westminster attack among police recognised
Federation calls for officers who took on London Bridge attackers to be fully recognised next year
Lizzie Dearden
Home Affairs Correspondent
Friday 29 December 2017 23:38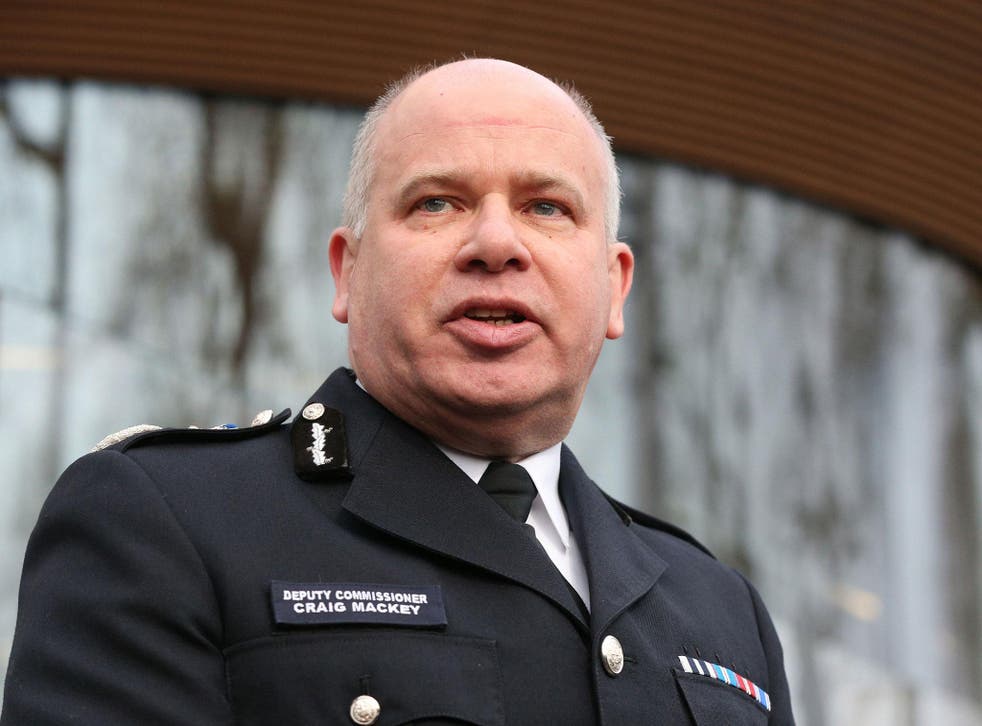 A senior police officer who witnessed the Westminster terror attack is among those recognised for their service in the New Year Honours.
Craig Mackey, the Assistant Commissioner of the Metropolitan Police, has been awarded a knighthood for achievements throughout his long career in policing
While the acting head of the Metropolitan Police, he was being driven past the Houses of Parliament when Khalid Masood ploughed a car into pedestrians and stabbed one of his own officers to death in March.
Sir Craig confirmed he was a key witness to the brutal attack on PC Keith Palmer and carried out his "duty to secure evidence" in the aftermath of the atrocity – which was to be the first of five terror attacks in England this year.
His knighthood is not related specifically to the Westminster attack, with the deadline for nominations meaning that honours will be awarded over the response to terror attacks and the Grenfell Tower fire next year.
Scotland Yard praised Sir Craig's role in reforming the force, which is enacting controversial measures to save £400m by 2020 amid a funding dispute with the Government.
He also launched a major initiative to improve community trust over stop and search, as well as pushes for increased diversity among police - with half of the UK's black and ethnic minority officers now serving in the Met.
Westminster attack: Vigils are held around the UK
Sir Craig said he was "amazed and deeply honoured" by the knighthood, adding: "I truly believe it is a recognition not just for me but for the dedication of all the men and women of the police service that I have had the privilege to serve with during the last 33 years.
"It comes at the end of what has been an extraordinarily difficult year, when so many of our officers have demonstrated huge courage, compassion and professionalism in the very worst of circumstances.
"Also, most importantly I must mention my wife Debbie. It would simply not have been possible for me to have had this career without her love and unstinting support. Both professionally and personally, I consider myself to be a very lucky man."
Terrorism was a recurrent theme among the dozens of police officers honoured for their service and officers who were injured while trying to stop the London Bridge attack and who responded to atrocities in Manchester, Westminster and Finsbury Park expected to feature heavily in 2018.
The Police Federation, which represents 120,000 officers, is calling for "appropriate recognition" for two unarmed officers who were severely injured taking on three armed Isis supporters Borough Market in June.
"These nominations [for PC Charlie Geunigault and British Transport PC Wayne Marques] have been acknowledged by Government and assurance given that they are receiving the attention they deserve," a spokesperson said.
PC Palmer's heroism was officially recognised with a posthumous award of the George Medal earlier this year.
PC Matthew Hone, of City of London Police, was awarded a Queen's Police Medal (QPM) after being praised by superiors as a "leader in the field of counter-terrorism and someone who regularly goes above and beyond the call of duty".
"The effects of his work in disrupting the activity of not just terrorists, but also other criminals, have been clear to see in the City and have contributed to other forces across the UK using similar tactics with their own officers to keep the public safe. I would like to take this opportunity to offer my sincere congratulations to Matt on behalf of the whole force," Commissioner Ian Dyson said.
London Bridge Terror Attack

Show all 16
The policing minister, Nick Hurd, said PC Hone's "innovative approach" to crime prevention has delivered real results.
"It is also encouraging to see that more than half of the QPMs continue to be awarded to rank and file police officers, in recognition of their hard work in keeping our communities safe," he added.
Several Metropolitan Police officers and staff were recognised in the annual list, with Acting Detective Inspector John Simm being made an Officer of the Order for his services to national security and counter-terrorism.
DCI Simm, who is attached to the Met's Counter Terrorism Command, said the "great personal honour" was a reflection of the work carried out by the entire team in a year that saw nine terror plots foiled in the UK.
"They have and continue to support me, and who go above and beyond day in and day out as part of our counter-terrorism operational response," he added.
Scotland Yard colleague Paul Lockhart gained a QPM for his service.
Mr Lockhart, who has recently retired after a 360-year-career, is a "super recogniser" with exceptional abilities to identify and trace suspects and helped crush several prolific criminal networks.
"Policing has always been my passion and the highest priority is always the victims of crime," he said. "I hope I have served them well."
Chief Superintendent Richard Wood was also awarded a QPM after overseeing crime reduction as the borough commander of Lambeth - once described by HM Inspectorate of Constabulary as one of the most challenging policing environments in Western Europe.
He said being a police officer was a "childhood dream", adding: "This award demonstrates the opportunities that policing offers to those from a humble background and it is equally representative of the many dedicated and talented colleagues I have worked with over the years; indeed this is their award as much as it is mine."
Also receiving a QPM is retired PC Neill Tully, who was a youth engagement officer in Bromley and recruited vulnerable and troubled children to the police cadets.
Scotland Yard's assistant director of legal services, Naz Saleh, was made a Commander of the Order of the British Empire (CBE) after working on contentious cases including the inquest into Princess Diana's death and public inquiries.
She has trained officers on the "lawful exercise of their powers", the force said, calling her a "role model both to women and to members of minority communities" as the most senior female member of its non-officer staff.
A British Empire Medal (BEM) was awarded to Detective Superintendent Fiona McCormack, who is a murder detective currently working on the criminal investigation into the Grenfell Tower fire, for services to policing and education.
Sergeant Stephen Collingwood, former Inspector Rodney Paul Feichtinger; and Inspector Douglas Ian Thompson, from royalty and specialist protection, were made members of the Royal Victorian Order (MVO).
Cressida Dick, Commander of the Metropolitan Police, said: "I congratulate these extraordinary members of the Met who have dedicated their working life to policing and to protecting and serving London. They have achieved some amazing accomplishments.
"It is to their credit that they are role models to all, for their commitment, hard work and innovation.
"I am very proud of them all, as they should be of themselves. To be honoured in this way is so very special and richly deserved."
The next most-honoured force was the Police Service of Northern Ireland (PSNI), with six officers recognised.
Two QPMs were awarded to Superintendent Alywin Barton and retired Detective Inspector Jeremy McFarland for services to policing and the community.
Officers who requested their names not to be publicised were also recognised with two BEMs and two MBEs.
In South Wales Police, Chief Constable Matt Jukes was awarded a QPM after a career spanning violent drugs gangs and counter-terrorism, seeing him represent British policing at the G8.
Sergeant Gary Evans – whose father Bob was awarded the QPM three decades ago – was awarded the BEM for his services to policing and the community in South Wales.
The Assistant Chief Officer at Durham Constabulary, Gary Ridley, was made an OBE for his services to policing after entering the field from local government.
A former Kent Police inspector, Joseph Holness, was upgraded from a QPM to an OBE for his work founding the National Police Memorial Day.
He started the annual event – which is now supported by the royal family and Government, in 2000 following the death of a fellow officer who was run over and killed while on duty in Margate.
"I'm so pleased the National Police Memorial Day has become such an important annual event and I'm humbled and honoured to have my efforts rewarded in this way," he said.
Other officers awarded including a PC who tackled an armed robber while shopping off-duty with her son.
Calum Macleod, the incoming Chair of the Police Federation of England and Wales, said: "We extend huge congratulations to everyone who has been recognised with these prestigious honours for exemplary service and commitment.
"We are thankful every day for the sheer heroism and commitment shown by officers throughout the country and we will never lose sight of the sacrifices made or forget those who gave their lives to protect us."
Register for free to continue reading
Registration is a free and easy way to support our truly independent journalism
By registering, you will also enjoy limited access to Premium articles, exclusive newsletters, commenting, and virtual events with our leading journalists
Already have an account? sign in