Cancer patient forced to sleep in hospital 'cupboard' due to bed shortage
'There was equipment all up the shelves alongside me and clinical staff kept coming in to pick things up for other patients'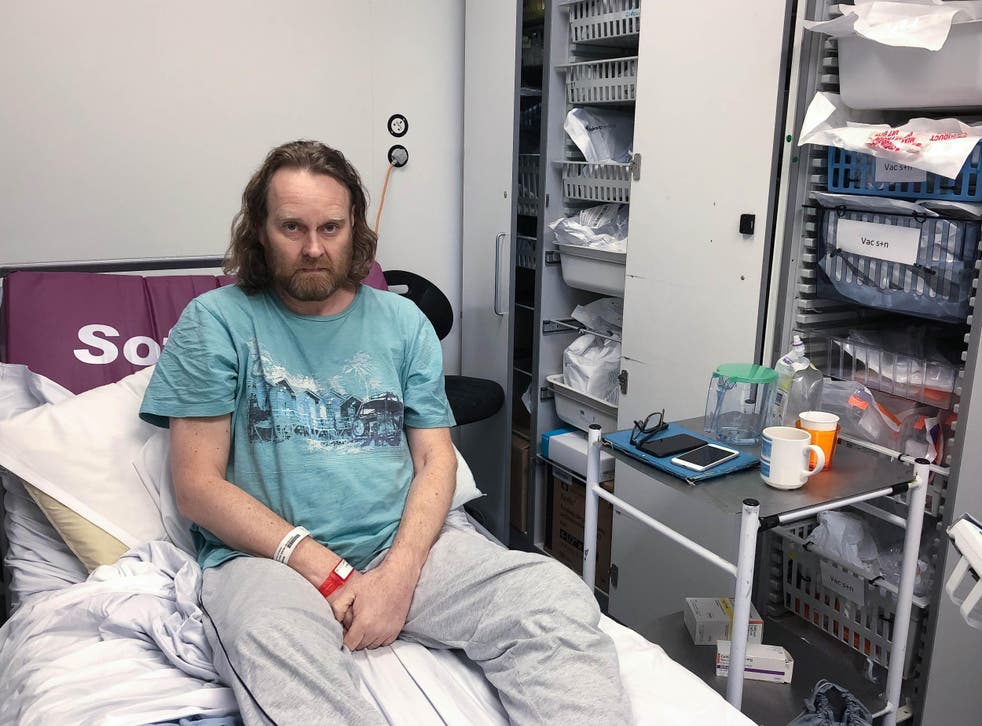 A cancer patient slept in what he described as a "cupboard" as he recovered from an operation because of a shortage of hospital beds.
"There was equipment all up the shelves alongside me and clinical staff kept coming in to pick things up for other patients," said Martyn Wells. "Some of them were apologetic, but others just shook their heads in disbelief."
The 49-year-old IT manager added: "They were embarrassed, that's the best way to describe it."
Mr Wells said that he woke up in a small, windowless room after having part of his stomach removed at Birmingham's Queen Elizabeth Hospital.
Diagnosed with stage four malignant melanoma earlier this year, he went under the knife after tumours were discovered.
When he complained to a nurse, he was told the room was a "clinical decisioning space" and a bed shortage was to blame.
"I almost feel guilty for complaining, because the surgeons that operated on me saved my live," he said. "But there must be something very wrong with the system if this is what's happening to ill people like me. I feel for the employees as well, because they can't do much else without the central funding,"
He added: "For me, this whole incident encapsulates the issues that we have in the NHS today," he said. "What on earth is the logic between putting a stage four cancer patient in a broom cupboard? I don't understand it."
Mr Wells said the room was a 50-metre walk from the toilets.
"Having to stagger down to go the loo was humiliating - it's an awfully long way to walk for someone that has just had their stomach removed," he added.
A spokesman for the University Hospitals Birmingham NHS Foundation said: "We are sorry Mr Wells is unhappy with his situation. The trust has a standard operating procedure for capacity escalation and a full capacity protocol which are strictly followed to ensure the safe care of all of our patients.
UK news in pictures

Show all 50
"When a ward reaches maximum capacity a patient who is clinically fit for discharge may be moved into a consultation room to allow another patient with clinical needs to be transferred onto the appropriate ward.
"The consultation rooms such as the one occupied by Mr Wells are fully equipped clinical areas and are used to support capacity management across the hospital. The dignity and safe care of all of our patients remains our priority."
Register for free to continue reading
Registration is a free and easy way to support our truly independent journalism
By registering, you will also enjoy limited access to Premium articles, exclusive newsletters, commenting, and virtual events with our leading journalists
Already have an account? sign in
Register for free to continue reading
Registration is a free and easy way to support our truly independent journalism
By registering, you will also enjoy limited access to Premium articles, exclusive newsletters, commenting, and virtual events with our leading journalists
Already have an account? sign in
Join our new commenting forum
Join thought-provoking conversations, follow other Independent readers and see their replies