NHS charging rules: Doctors and nurses accuse Government of 'deliberate cruelty' with upfront payments and ID checks
'The introduction of immigration checks has made racial profiling an NHS policy and already we are seeing an alarming number of people singled out and threatened by the system'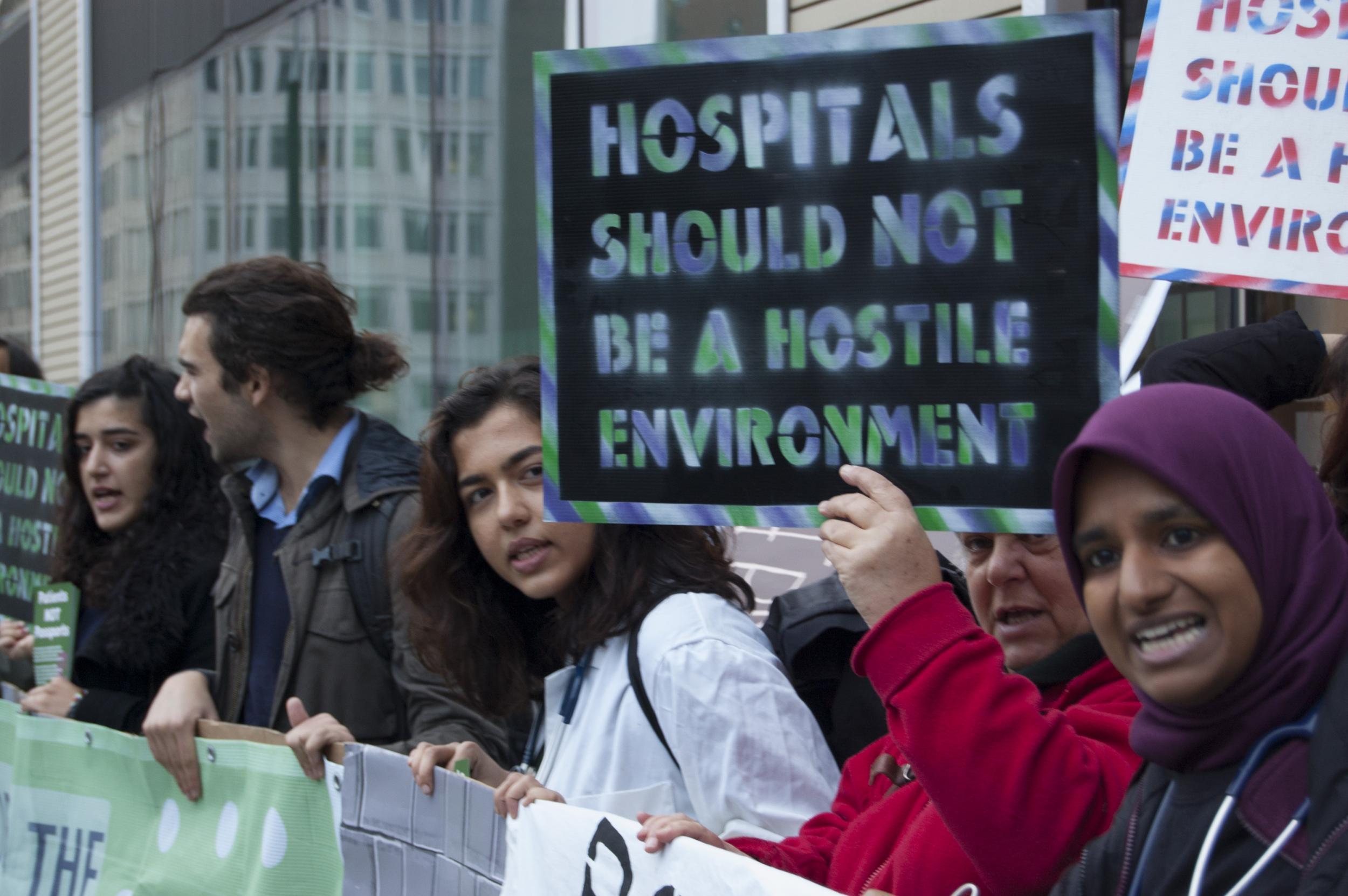 Doctors and nurses have accused the Government of "deliberate cruelty" as new NHS charging rules come into force, which they claim will leave many vulnerable people unable to afford essential healthcare services or becoming too afraid to access them.
NHS staff and patients, with campaign group Docs Not Cops, have set up up an immigration checkpoint outside the Department of Health to protest the introduction of immigration checks and upfront charging for NHS patients.
The new regulations will extend charging rules and build on existing policy for billing overseas visitors in NHS hospitals. Every hospital department in England will now be required by law to check patients' eligibility and charge upfront for care.
Obligatory upfront charging in hospitals is being introduced in parallel with the extension of charges to NHS community services, such as health visiting, school nursing, community midwifery, community mental health services, abortion services and district nursing.
If a patient cannot prove they are entitled to free care, they will have to pay the estimated price for their treatment up front, unless it is considered by the doctor to be "urgent" or "immediately necessary", in which case the charge will be made at a later date.
Campaigners, including NHS doctors and nurses, are warning that the human impact of the new rules will be huge, leaving many vulnerable people, including sick schoolchildren and women seeking abortions, no longer able to afford essential services or becoming too afraid to access them.
There are also concerns that more migrants will be deterred from accessing urgent care in the first place due to fear that they will be flagged to the Home Office if they can't pay up.
Evan Luckes, an A&E nurse at the Royal London hospital who is taking part in the protests, told The Independent he was shocked to find that while he was recently caring for a critically ill woman, her family was being asked to fill out forms to prove her eligibility for free healthcare.
"The reality is that these checks will have a devastating impact in every area of the NHS. Just this week I was caring for a critically ill woman with sepsis whilst at the same time her family were being given forms and asked to justify her eligibility," he said.
"There is a particular cruelty in a system that exploits people in their time of need and monetises the suffering of their loved ones. Even though A&E is exempt from charging the checks still happen at the front door making people too afraid to access the care they need at the time the need it."
Leonie, an NHS midwife who is joining the action against the new charging rules, said: "The introduction of immigration checks has made racial profiling an NHS policy and already we are seeing an alarming number of people singled out and threatened by the institutions that are supposed to be caring for them.
"You can be sure that for every woman who speaks out there are many that feel unable to do so, many who don't go back for the treatment they need, and many whose health will suffer as a direct result.
"There is a deliberate cruelty in the Government piloting these checks in maternity services, targeting women who are already pushed to the margins of society and who will find it hard to get support to challenge these letters and get the care they deserve."
Elle, a cardiology trainee at St Thomas' Hospital, who was also taking part in the protests, claimed the Government's new policy was "not about saving money", highlighting that so-called "health tourism" only accounted for 0.3 per cent of the NHS budget.
"It is a high price to pay for the pain and suffering this will cause to people now too afraid to access healthcare. This culture of fear will destroy the compassionate and trusting relationship NHS workers have with patients," she added.
Research seen exclusively by The Independent has revealed pregnant and seriously ill migrants are already going without medical care because they are afraid of receiving bills they cannot pay and subsequently being referred to the Home Office.
A third of vulnerable migrants requiring medical treatment had been deterred from seeking timely healthcare because of fears around the NHS charging process, raising concerns that the new regulations will only intensify this problem.
Health news in pictures
Show all 40
Responding to the criticism, health minister Lord O'Shaughnessy said: "The NHS is a cherished national institution that is paid for by British taxpayers. We have no problem with overseas visitors using our NHS as long as they make a fair financial contribution, just as the British taxpayer does.
"The new regulations simply require NHS bodies to make enquiries about, and then charge, those who aren't entitled to free NHS care. All the money raised goes back into funding and improving care for NHS patients.
"We are clear that some vulnerable groups are exempt from charging and the NHS will never withhold urgent and immediately necessary treatment."
Join our commenting forum
Join thought-provoking conversations, follow other Independent readers and see their replies