NHS-funded abortion ban upheld by UK Supreme Court due to government's 'respect' for Northern Ireland Assembly
Judges reject appeal from mother and daughter in narrow ruling with a three to two majority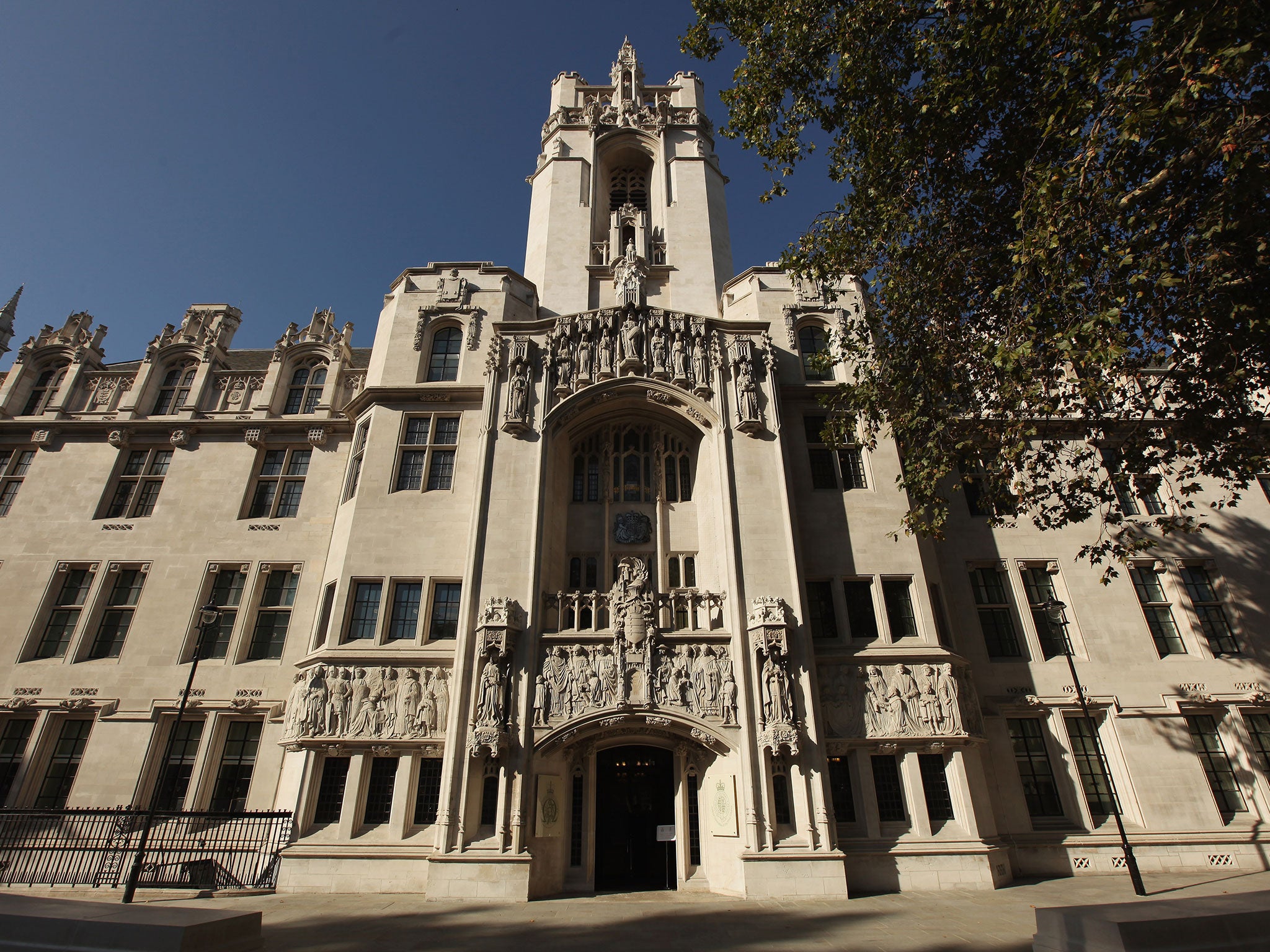 Women from Northern Ireland are not entitled to receive free abortions on the NHS in England, the Supreme Court has ruled.
Judges at the UK's highest court announced their decision to narrowly reject an appeal by a mother and daughter with a three to two majority.
The three judges who dismissed the appeal argued for the need to "afford respect to the democratic decision of the people of Northern Ireland".
The news comes as Theresa May holds talks with the Democratic Unionist Party (DUP) – which has long opposed abortion – about backing a minority government.
The 20-year-old woman at the centre of the appeal was 15 in October 2012 when she and her mother, both of whom cannot be named for legal reasons, travelled from Northern Ireland to Manchester.
She was told she had to pay hundreds of pounds for a private termination because she was excluded from free abortion services.
More than 724 women travelled from Northern Ireland to England for abortions in 2016, according to the British Pregnancy Advisory Service (Bpas).
Announcing the Supreme Court's decision, Lord Wilson said the justices had been "sharply divided" about the outcome.
The UK's own abortion ban, explained in 3 minutes
The Court's deputy presidents Lady Hale and Lord Kerr said they would have allowed the latest appeal, because "the policy is incompatible with the Convention rights of women from Northern Ireland."
"The difference in treatment by the NHS in England between women from England and women from Northern Ireland cannot be justified by respect for the democratic decisions made in Northern Ireland as to what will be provided by the NHS there," they wrote in the judgement.
However, Lord Wilson, Lord Reed and Lord Hughes said these views "command considerable respect", but dismissed the appeal because to allow the ruling would contribute to "both a substantial level of health tourism into England from within the UK and from abroad and a near collapse of the edifice of devolved health services".
"Although this court must acknowledge respect for the ethical 'pro-life' convictions which inform the law in relation to abortions in Northern Ireland ... it remains easy to understand why the plight of women who find themselves in unwanted pregnancy there is deeply unenviable," they said.
They said travelling to the UK for abortion services did not represent a "special case", as it is "easy to think of other people suffering a grave medical condition who could mount an equally convincing special case".
The mother and daughter originally lost their action in London's High Court in May 2014 when a judge ruled that the exclusion was lawful, and suffered a further defeat at the Court of Appeal in 2015.
The High Court judge concluded that the Health Secretary was entitled to adopt a residence-based system so that women resident in Northern Ireland are not entitled to benefit from NHS abortion services in England, even though they are UK citizens.​
The young woman, who is referred to as A and her mother as B, have now vowed to take their case to Europe. They said in a statement: "We are really encouraged that two of the judges found in our favour and all of the judges were sympathetic to A's situation.
"We have come this far and fought hard because the issues are so important for women in Northern Ireland.
"For this reason, we will do all that we can to take the fight further. We have instructed our legal team to file an application with the European Court of Human Rights in Strasbourg, to protect the human rights of the many other women who make the lonely journey to England every week because they are denied access to basic healthcare services in their own country."
Thousands march in Dublin for Irish abortion rights
Show all 5
Ann Furedi, chief executive of Bpas said it was "morally right" to provide NHS-funded abortions to women in Northern Ireland in England.
"NHS-funded abortion care may not have been declared a legal right for Northern Irish women today, but it is morally right to provide it," she said. "724 women travelled from Northern Ireland to England for abortion care in 2016. They deserve the same care and compassion as all other UK citizens."
Martha Spurrier, director of Liberty, said: "The UK Government can and must take a stand against laws which criminalise abortion.
"Will ministers continue to turn a blind eye to the suffering caused by these antiquated laws – or will they challenge their DUP partners and push for a change supported by the majority of Northern Ireland's population?"
Additional reporting by Press Association
Join our commenting forum
Join thought-provoking conversations, follow other Independent readers and see their replies