NHS boss warns Jeremy Hunt seven-day service is 'impossible'
Funding crisis means bosses will have to make 'unpalatable' decisions that could include shutting services, charging patients, relaxing targets and laying off staff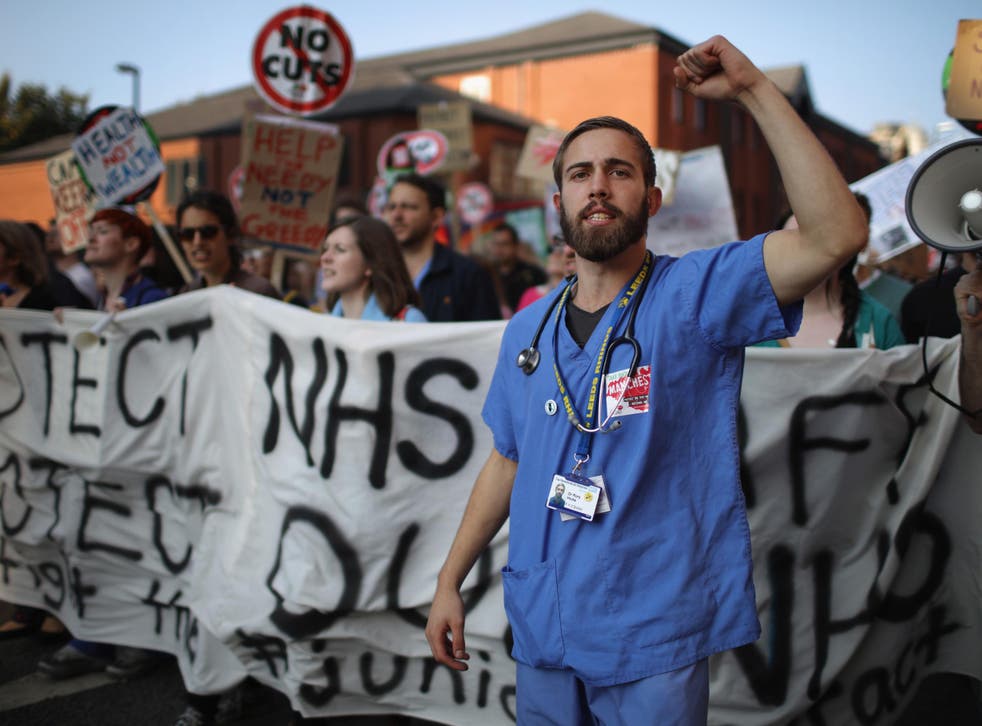 Jeremy Hunt's vision for a seven-day NHS is "impossible" to deliver with current levels of funding and staffing that have left it at brekaing point, according to one of the country's most senior health officials.
NHS Trust chairs and chief executives said they were sounding a "warning bell" to ministers, days after the health service released its worst performance statistics to date for services such as A&E, planned operations and ambulance response times.
"Years of underfunding means the NHS is increasingly failing to do the job it wants to do, and the public needs it to do, through no fault of its own," said Chris Hopson, chief executive of NHS Providers, the organisation's largest trade body.
Hospitals now face "impossible" demands, he said.
Unless the NHS is given extra funding in the Autumn Statement in November, it will have to make "unpalatable" decisions that could include 'draconian' rationing of access to care, relaxing performance targets, shutting services, extending and increasing charges, and laying off staff.
"We face a stark choice: invest the resources required to keep up with demand or watch the NHS slowly deteriorate," Mr Hopson said, in an article published in the Observer, which detailed a grim prognosis for UK healthcare.
"It is impossible to provide the right quality of service and meet performance targets on the funding available. Something has to give."
The NHS is facing the kind of decline last experienced in the 1990s, according to NHS Providers, which speaks for hospital trust chairs and chief executives, citing widespread breaches of performance targets, chronic understaffing and huge overspends by hospitals.
"It is now time for our national health chiefs and political leaders to acknowledge publicly that the NHS can no longer deliver what is being asked of it for the funding available," Mr Hopson said, going on to catalogue the service's failings.
"In the first three months of this year, only four of the 138 large A&E departments saw the required 95 percent of patients within four hours. One in 10 patients had to wait more than four hours, the highest level at this time of year since 2003-04," he said.
"Waiting lists for operations, with 3.9 million patients, are now at their highest point since December 2007. The three million mark used to be considered a line not to cross, but experts have suggested the waiting list target is irrecoverable.
"There are similar problems of dropping performance against cancer and ambulance standards, with mental health and community services under similar pressure
He added that the NHS ended the last financial year with the largest deficit in its history of at least £2.45bn.
"These challenges are being matched by unprecedented staff shortages, including nurses, key specialists, GPs and emergency doctors. These have led to closures of A&E departments and other services, unsustainable pressure on GPs and, in 2015-16, an unaffordable extra £3.6bn agency staff bill," he said.
He linked the failings to wider cuts in social care, and the lack of capacity in community and mental health services. A record number of health patients cannot be discharged because social care is not available, which means "hospitals are now being asked to routinely run at capacity levels that risk patient safety".
The Commons Health Select Committee is expected to make a decision this month on whether to launch a special inquiry into the state of the NHS in England.
NHS staff strike: Midwives and nurses stage four-hour walk out

Show all 17
"Trusts will, of course, do all they can to deliver efficiency savings and productivity improvements," Mr Hopson said. "But they are now saying it is impossible to provide the right quality of service and meet performance targets on the funding available."
A government spokesman told the BBC: "On the back of a strong economy, we are giving the NHS the £10bn it asked for to fund its own plan for the future, including almost £4bn this year to transform services and improve standards of care.
"We know the NHS is under pressure because of our ageing population, but we rightly expect the service to continue to ensure patients get treated quickly."
Register for free to continue reading
Registration is a free and easy way to support our truly independent journalism
By registering, you will also enjoy limited access to Premium articles, exclusive newsletters, commenting, and virtual events with our leading journalists
Already have an account? sign in
Register for free to continue reading
Registration is a free and easy way to support our truly independent journalism
By registering, you will also enjoy limited access to Premium articles, exclusive newsletters, commenting, and virtual events with our leading journalists
Already have an account? sign in
Join our new commenting forum
Join thought-provoking conversations, follow other Independent readers and see their replies